Reduce waste, save money, and enjoy healthier, more flavorful stock by making your own at home with our easy DIY vegetable, chicken, and beef recipes.
Sure, store-bought stock is convenient, but it's so easy and so much more flavorful to DIY vegetable, beef, and chicken stock. Here's why making your stock matters and how to make a delicious pot of your own. 
It's healthier. Many pre-made stocks contain high levels of sodium to punch up the flavor. By making yours at home, you can keep the salt content to a minimum, which makes for a better-for-you stock. Homemade stocks are also a great source of essential vitamins and minerals and chicken and beef stocks contain nutrients like calcium, collagen, and amino acids which are great for your joints, skin, and gut.
It's more sustainable. Whether you're looking to DIY vegetable or meat-based stock, veggies are an integral component. Cut down on waste and keep your food scraps from ending up in landfills (and producing greenhouse gas emissions), set your veggie scraps aside and freeze them until you're ready to make a stock. You can do the same with chicken and beef bones, too!   
Saves money. By using food scraps and bones you already have, you can easily reduce the number of ingredients you need to buy for your stock. Plus, at-home recipes yield much more than the 32oz carton you get at the store. 
Lasts longer. Unlike store-bought stocks that need to be used within a few days after opening, you can divide your recipe into smaller portions and freeze it for later. No wasted stock!
It will make your house smell amazing. You'll need to leave your ingredients on the stove to simmer for anywhere from a half-hour to five hours. In the meantime, the melding flavors of the veggies and meat (if using) will fill your home with savory, comforting aromas. 
Has more flavor. Because you're using fresh, real ingredients, the depth of flavor of a homemade stock always beats that of store-bought liquid or bouillon cubes. The elevated flavor profile also means the recipes you make using your stock will taste better, too!
Ready to make your own stock? Here are three basic DIY vegetable, chicken, and beef stock recipes to get you started. 
Read more: The 5 Best Foods For Brain Health
DIY vegetable stock is super easy to make and difficult to mess up. So go ahead and add as many vegetables and spices as you want! Start with this simple recipe as a base, and then make it your own by adding additional flavors and ingredients. 
What You'll Need:
Cooking oil
1 bunch of thyme
Handful of parsley
2 tsps. salt
1 tsp. pepper
2-3 bay leaves
2 medium onions
1 bulb garlic
4 large carrots
2 celery stalks
Large soup pot
*If you are using food scraps, you'll need about 4 cups of vegetables for 2 quarts of stock.
Instructions:
First, wash all your veggies. You can either soak them in the sink or give them a good scrub.
Start with the aromatic veggies. Chop two medium onions, one garlic bulb, four big carrots, two celery stalks, one bunch of thyme, and a handful of parsley so they will more easily fit in the soup pot.
Add two teaspoons of salt, one teaspoon of pepper, a few bay leaves, and a little oil of your choice.
Cook over medium heat until the vegetables start to brown and your kitchen starts to smell heavenly!
Pour in 10-12 cups of water, stir, and bring to a simmer.
Cover and simmer for at least one hour.
Strain out the vegetables. Enjoy your fresh, flavorful vegetable stock!
If you're using food scraps for your stock, be sure to avoid veggies like Brussels sprouts, broccoli, or cauliflower. But odds and ends from potatoes, leeks, fennel, mushrooms, carrots, onions, garlic, and even the stems of herbs like parsley are all fair game!
Read more: Our 7 Favorite Vegetarian Cookbooks
Not only will homemade chicken stock turn up the flavor of your favorite soups, stews, and gravies, it's also more nutrient-dense than its store-bought counterpart. At-home chicken stock is packed with essential fatty acids, protein, antioxidants, and minerals like iron. Here's how to make your own.
What You'll Need:
6-8 drumsticks
5 large carrots
2 large onions
5 celery stalks
1 tsp. garlic powder
Fresh dill to taste
*If you are using leftover chicken bones, you'll need the bones and skin from one large or cooked chicken or the equivalent of two rotisserie chickens.
Instructions:
Remove meat from drumstick bones and add both bones and meat to a large soup pot. Cover with 5 quarts of water.
Bring to a simmer over medium heat, reduce heat to low and allow to simmer for half an hour.
If the chicken is not fully cooked after half an hour, leave in for an additional half hour or until cooked through.
While the water simmers, dice your carrots, onions, and celery. Add them to the broth once the chicken is cooked.
Add garlic powder and fresh dill to taste.
Simmer on medium-low for four hours.
Check the stock every so often to ensure there is still enough water in the pot. If too much has evaporated, add more water.
After four hours, take off heat and strain.
Enjoy or freeze for up to three months!
If you want to turn this stock into a soup, simply add the chicken and vegetables back in and throw in noodles for the perfect chicken noodle soup.
Read more: 5 Recipes Bringing Us Comfort and Joy Right Now
Protein- and nutrient-rich, beef stock is great for soups, stews, or simply sipping. The collagen and amino acids that come from boiling the bones, skin, and cartilage is great for your hair, skin, and nails. They're also associated with improved gut and joint health, better sleep, and stronger immunity. Here are the recipe details.
What You'll Need:
4 lbs. beef shank or short rib bones
3 medium carrots
3 celery stalks
2 medium onions
3 bay leaves
3 garlic cloves
2 tsps. whole peppercorns
1 tsp. dried thyme
1 tsp. dried oregano
Instructions:
Preheat your oven to 450°.
In a large roasting pan, bake four pounds of meaty soup bones (like beef shanks or short ribs) uncovered for 30 minutes.
Roughly chop carrots, celery stalks, and medium onions.
Add to the same baking sheet and bake for 30 more minutes.
Drain any fat. (You'll have to keep draining the fat throughout this process)
Using a slotted spoon, transfer bones and vegetables to a large pot.
Add about half a cup of warm water to the roasting pan. Stir the water to loosen browned bits on the pan. Transfer extra juice to the pot.
Add bay leaves, garlic cloves, whole peppercorns, dried thyme, and dried oregano.
Pour enough cold water to cover the vegetables and meat. Slowly bring to a boil, for about 30 minutes.
Reduce heat to a simmer.
Leave the pot slightly covered for 4-5 hours.
Check periodically and skim off any foam that has accumulated.
If necessary, add water to keep ingredients covered during the first two hours.
When done simmering, remove beef bones and let the broth cool.
Once broth cools, strain broth through a cheesecloth-lined colander, discarding vegetables and seasonings.
Your broth is ready to use, refrigerate overnight, or freeze!
*If fat collects at the surface, remove it before reheating.
Read more: Quick and Easy 5-Ingredient Chili Recipe
Did you try our at-home stock recipes? Let us know by tagging @avocadogreenbrands on Instagram or Facebook!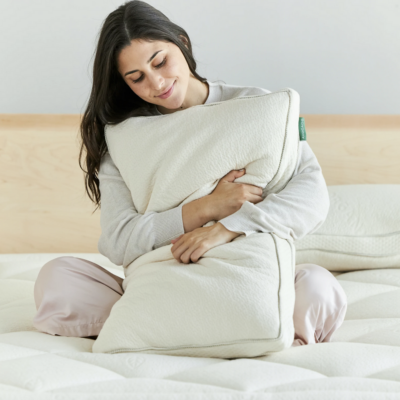 Shop Pillows
The Essential Organic Pillow Collection
Gentle, breathable, non-toxic support.
Buy Now