From soups to curries, warm up your fall evenings with these five recipes.
I love soup. Every September, when the aspens turn golden, and the evening temperatures require fleece, I start loading up my freezer. Tomato bisque, white bean stew, lentil curry, chile, chicken mushroom, goulash… I could go on. Because dipping a torn hunk of butter-slathered french bread into a hot, brothy concoction is one of life's great joys. We have a few other fall comfort food ideas, too. Here are five recipes we're warming up with right now.
#1 — Mexican Posole
I've been making this decadent posole every fall since a friend first introduced it to me after she saw it in Esquire, who published the recipe, from a chef named Matt Steigerwald, in 2008. It's a riff on the traditional Mexican stew using shredded chicken instead of pork. But hominy is the true star. The texture of the dried maize kernels delivers a perfect, gentle crunch. The flavor is bold and flavorful, spicy and warming. The dish is ideal for big groups, and, with all the garnishes (don't skimp on the lime, avocado, or radishes) and tortillas, it's plenty of dinner on its own. It also works as a side dish. Depending on my audience, I might spice it up a bit with additional jalapenos and chipotle peppers. Sometimes I double it and freeze the leftovers to eat throughout the winter — but that means a lot of chopping, so find a partner to help out. Posole is always worth it in the end. —John Davies
#2 — Simple Ribollita
My go-to comfort food recipe has always been a classic minestrone with a side of crusty bread — until I realized there was a recipe that combined the two into a single bowl! And this Simple Ribollita does it well. It's filled with hearty torn bread, dark leafy vegetables, tomatoes, and Parmesan. It's filling without being too dense and has such broadly appealing flavors that it's great for company. It's also a great vegetarian option that always pleases the meat-eaters, too. —Jessica Hann
#3 — Pumpkin Focaccia
I love everything about autumn. From finally having a reason to wear a scarf everywhere to some of the best seasonal produce of the year (hello apples, pumpkins, squash, and eggplant… I could go on), autumn is full of my favorites. For an ode to fall and to 2020 (the year of making bread) I'm sharing this recipe for Pumpkin Focaccia I found on none other than TikTok from the incredibly talented, mostly plant-based recipe developer, Nasim Lahbichi. —Laura Scott
#4 — Vegetable Risotto
Once the weather starts to turn, which is always early here in the mountains, I crave some creamy, comforting risotto. This has long been a family favorite and a request for my grandma to cook whenever I am visiting home. Risotto can be intimidating, but it really is quite easy (you don't have to cook a whole chicken for the broth like my grandmother used to do). The beauty of risotto is that you can use whatever vegetables you have on hand, but asparagus + mushroom is my go-to combo. This recipe is a great starting point for beginners. I use my favorite veggie broth instead of chicken broth. If I'm short on time, I'll cheat by not heating the broth or by adding the veggies in raw. Once you get the hang of it, experiment with different cheeses and vegetables. Half Baked Harvest uses brie and has a few tips to eliminate all of that stirring. Mangia mangia! —Annie Graybill
#5 — Coconut Curry
When I decided to become a vegetarian a few years ago, I learned that there were endless opportunities to substitute chicken with tofu. The great thing about tofu is that it's very versatile and easily absorbs whatever you mix it with — and, let me tell you, I use many spices in my kitchen. Naturally, when I found a coconut curry recipe (that originally called for chicken), I knew it was going to be a new favorite because I love everything curry. I was a bit unsure about apples and raisins at first, mixing the sweetness and the spices, but fast forward to now and I am never looking back. I made it my own by adding vegetable broth instead of chicken broth, removing the cilantro, adding carrots and celery, and replacing long-grain rice with Lundberg's Basmati rice that I pick up from my local Whole Foods. I also tried substituting the chicken/tofu with potatoes and chickpeas the other day and it's safe to say that it was just as delicious. This hearty dish is the perfect meal to warm me up when the weather is cooling down, especially when I have freshly harvested apples from upstate! —Christine Carpio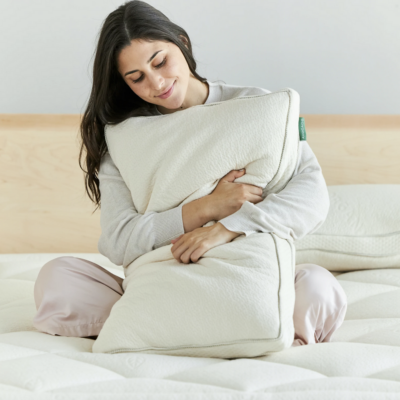 Shop Pillows
The Essential Organic Pillow Collection
Gentle, breathable, non-toxic support.
Buy Now