Filling, antioxidant-rich, and easy-to-make, our five-ingredient vegetarian chili recipe combines bold flavors and basic ingredients for the perfect plant-based meal.
This vegetarian chili recipe combines all the things I love about chili — it's hearty, comforting, and super tasty. And because it only requires five basic ingredients, it's also convenient and easy to make any time you're craving this savory, cold-weather favorite.
Why You'll Love This Quick and Easy Chili
It's just 5 basic ingredients. Most of the flavor for our chili recipe comes from a jar of salsa and your chili powder of choice. Flavored salsas are a great way to add a little zing. Plus, quality salsas tend to include ingredients like onion, garlic, peppers, tomatoes, and different seasonings that will elevate the flavor of your chili.
Cooks all in one pot. We're literally dumping everything into a pot to simmer and once it's done cooking, lightly mashing the beans to thicken.
A hearty and nutritious meal. The ingredients in this recipe provide plenty of savory flavor, but they also add a good deal of hearty nutrition, too. Red kidney beans are a great source of plant-based protein and are full of antioxidants.
Read more: Our 7 Favorite Vegetarian Cookbooks
Just As Powerful As Blueberries
I love beans because they're cheap and nutrient-dense. We often don't give beans enough credit in terms of their nutritional value because we associate a lot of antioxidant power with fruits and vegetables. However, beans are among the top five foods with the most antioxidants. One study even found that the antioxidant concentration in varieties like red kidney beans is higher than those found in wild or cultivated blueberries! Antioxidants are known to have a handful of health benefits, including lowering your risk of heart disease and certain cancers.
Read more: The 5 Best Foods For Brain Health
5-Ingredient Vegetarian Chili (Serves 4-6)
Ingredients
1 tbsp avocado oil
1 small onion, finely diced
1/2 cup button mushrooms, finely diced
1, 16 oz jar salsa
1 tbsp ancho chili powder
2, 15 oz cans of red kidney beans
1 cup water
Salt and pepper to taste
*Most people have some type of oil, water, and salt and pepper at home, so we are not counting these in the base ingredients.  
Instructions
Place a large saucepan over medium heat and warm up your oil. Add in onions and diced mushrooms and sauté them with a pinch of salt until the onions have become translucent and the mushrooms have released their moisture.
Add in the chili powder and continue to stir and sauté for two minutes. Then pour in your salsa and stir to combine.
Pour in the kidney beans and the water and bring to a boil. Reduce heat to maintain a low simmer and cook for about 15 minutes.
Take your cooking spoon and lightly mash a small portion of the beans to help thicken the chili. Remove from the stove top.
Adjust seasoning to preference, adding more salt and pepper as you prefer.
Enjoy!
Read more: Colorful Fall Harvest Sheet Pan Dinner Recipe
Did you try out our 5-Ingredient Vegetarian Chili recipe? Share it with us by tagging @avocadogreenbrands on Instagram or Facebook.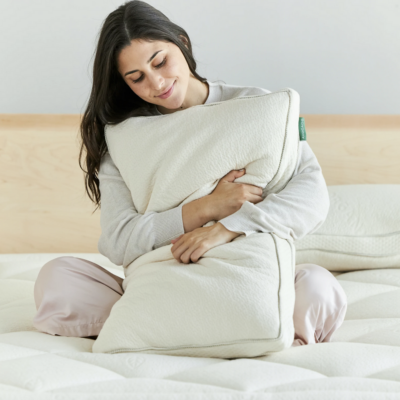 Shop Pillows
The Essential Organic Pillow Collection
Gentle, breathable, non-toxic support.
Buy Now