Our Chickpea Cookie Dough Recipe is kid-approved, made with better-for-you sweeteners, and includes all the heart-healthy nutritional benefits of legumes.
The humble chickpea. This heart-healthy legume is great for snacking, makes the perfect addition to soups and grain bowls, and is about to become your new favorite sweet treat.
We know what you're thinking — chickpeas for dessert? But hear us out. This Edible Chickpea Cooking Dough Recipe combines nutritious chickpeas with better-for-you sweeteners like maple syrup and coconut sugar for a scoopable delight you'll reach for anytime you need to satisfy your sweet tooth.
Read more: Filling and Flavorful: Chickpea Salad Sandwich Recipe
Why You'll Love This Chickpea Cookie Dough Recipe
Simple pantry ingredients. This chickpea cookie dough recipe requires a few simple ingredients that you likely already have at home, like peanut butter, vanilla extract, and oats.
Easy to make. All you need is a food processor to blend everything up. Fold in your chocolate chips, and you are ready to snack!
A satisfying treat. Thanks to the nutrient-packed nature of beans, this treat will take care of your craving for something sweet and fill you up so you don't overindulge.
Adding Beans to Desserts
Adding beans to dessert sounds like a strange idea — we're so used to enjoying beans as a savory ingredient. However, when you introduce sweeteners and creamy nut butters, this recipe transforms fiber-rich chickpeas into a tasty sweet treat. Still not convinced? I tested this recipe out on some of the world's pickiest eaters — my volunteer kindergarten class, and they loved it!
Here's are a few more facts about why adding the chickpeas to this dessert is a good idea:
Fiber. Chickpeas are known for high amounts of soluble fiber, which is important for heart health. And this particular type of fiber is especially helpful for removing cholesterol from your blood and reducing our risk for heart disease.
Plant Protein. Snacking on protein-rich snacks like this edible chickpea cookie dough not only fulfills your sweets craving, it also helps balance your blood sugars and keep your energy steady.
Iron. Legumes are a great source of iron, so incorporating iron-rich foods in most meals and snacks can help you maintain optimal levels more consistently.
Read more: Our Better-For-You Lemon Pancakes Recipe
Edible Chickpea Cookie Dough Recipe (Serves 4)
Ingredients
1, 15oz. can of chickpeas, rinsed and drained
⅓ cup natural peanut butter
2 tbsp maple syrup
¼ cup coconut sugar or organic brown sugar
3 tbsp quick oats or almond flour
1 tsp vanilla extract
½ tsp salt
½ cup dairy-free chocolate chips
Instructions
Add rinsed and drained chickpeas to a clean kitchen towel and rub the chickpeas dry, removing any excess chickpea skins.
Place chickpeas and the remaining ingredients into a high-speed food processor and process on high until completely smooth.
Scoop cookie dough into a bowl, then fold in chocolate chips with a spatula.
Store chickpea cookie dough in an airtight container.
When ready, enjoy it by the spoonful.
Read more: Healthy-ish Peanut Butter Cookie Recipe
Did you try out our Chickpea Cookie Dough? Share it with us by tagging @avocadogreenbrands on Instagram or Facebook. You can also follow Catherine @plantbasedrd for more delicious, nutritious recipes.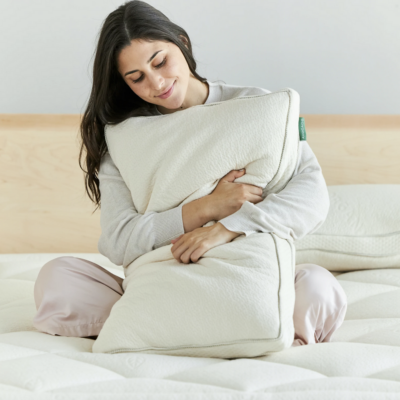 Shop Pillows
The Essential Organic Pillow Collection
Gentle, breathable, non-toxic support.
Buy Now