Plant-based protein powders are everywhere. Here's everything you need to know and the best brands to try first.
If you've perused the grocery store's health food section lately, you've probably noticed tubs of plant-based protein powder taking over the aisle. But what exactly is protein and why is everyone concerned with getting enough?
Protein is an essential macronutrient that supports the immune system, metabolic health, strong bones, lean muscles, a healthy body weight, and can even improve aging. According to experts, protein should make up 10 to 35 percent of an individual's daily calories. To put this into perspective, a person who weighs 165 pounds should get 60 grams of protein per day. (Determine your daily protein intake by multiplying your weight by 0.36.)
But depending on your needs and lifestyle — if you're big into fitness, you're a vegetarian or a pescatarian — getting enough protein is easier said than done. That's where convenient protein powders come to the rescue. Just scoop, blend, and — boom, you can drink your way to protein bliss.
And these days, everything from peas and hemp seeds to brown rice and even watermelon seeds are being used to create protein-packed powders. Whey, which contains dairy and long dominated the protein powder market, is out, and plant-based varieties are in. In fact, in 2021, the global market share for plant-based protein supplements was roughly $2.52 billion and is expected to grow 8.8 percent per year from 2022 to 2030.
With so many new options for spiking smoothies, figuring out which protein powder is right for you is a daunting task. That's why we've done the research for you.
Here's our guide to plant-based protein powders.
Read more: Our Guide to Plant-Based Milks
What You Need to Know
1.
Complete protein sources matter 
Animal proteins are known as "complete proteins" because they contain all nine amino acids that our bodies need. Plant proteins, on the other hand, often lack one or more of these essential amino acids. The solution? Opt for brands that offer a blend of plant-based proteins like peas, pumpkin seeds, and hemp or rice. When in doubt, spring for a soy-based protein powder. Soy includes all the required amino acids for overall well-being.
2.
Pay attention to serving sizes
Word to the wise: not all powders deliver the same protein content per scoop. Some brands contain as little as 10 grams per serving while others provide as much as 25 grams in a scoop. Servings per scoop vary, too. So pay attention to the serving size and protein per scoop when deciding how much protein powder you should add to your diet.
As a rule of thumb, if you struggle to eat enough protein, it's a good idea to prioritize a brand that gives you a bigger dose per serving — at least 20 grams.
3.
Be aware of add-Ins
It's common to find mushrooms, dried greens like spinach, prebiotics, and probiotics, among ingredients' lists — all of which up the nutritional ante of your powder. Just keep in mind that these additions can lower the amount of protein you're getting per serving.
What you really want to be on the lookout for is added sugars, including sugar alcohols like erythritol and xylitol, which can cause digestive issues. Added sugars don't belong in your protein blend, plus, too much sugar is linked to myriad health issues including heart disease.
Read more: Our Essential Plant-Based Pantry Guide
4.
Look for a stamp of approval
Always choose powders that are third-party regulated for quality and safety assurance by organizations like Informed Choice or NSF Certified for Sport. These companies test products for banned substances and contaminants and ensure what's on the label is actually in the product.
5.
Protein powders are for more than just smoothies
Plant-based protein powders can be used in a variety of ways that go well beyond smoothies. Try stirring a scoop into your morning oatmeal, or blend unflavoured powders into dips. You can even sneak your favorite protein powder (think chocolate or peanut butter flavors) into pancake batter and baked goods for a delicious protein boost.
Our Favorite Plant-Based Protein Powders  
Now that you know the ins and outs of plant-based protein powders, here are five we recommend trying first.
Read more: 8 Plant-based Meats We Love
Have feedback on our story? Email [email protected] to let us know what you think!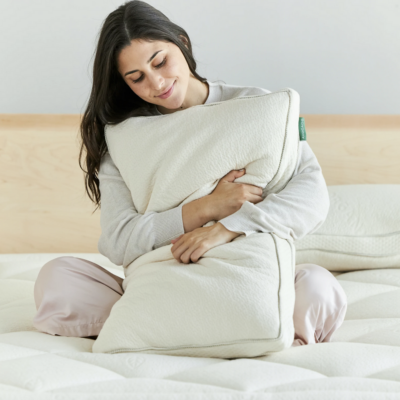 Shop Pillows
The Essential Organic Pillow Collection
Gentle, breathable, non-toxic support.
Buy Now