Antioxidants are linked to better long-term health. Add these nutritious (and delicious!) antioxidant-rich foods to your diet for a healthier body and mind.
Antioxidants get a lot of buzz — and for good reason. They protect us against free radicals, or unstable molecules, that can damage the cells in your body. As we age, our body's ability to fight off and detox free radicals declines, which can lead to the development of certain chronic illnesses, including cancer, as well as a state known as oxidative stress, which is linked to inflammation and disease. And factors like obesity, a diet high in sugar, fat, and processed foods, cigarettes, and alcohol consumption can also increase your risk of oxidative stress.
So how can you make sure you're getting enough antioxidants each day? Your diet plays a major role, says Jessica Titchenal, a licensed nutritionist. "The easiest, most inexpensive and delicious way to get antioxidants is to increase your intake of really colorful fruits and vegetables," she says.
To do this, Titchenal suggests focusing on eating a variety of whole foods, with an emphasis on options that are darker in color. Anything dark purple, green, or blue — like berries, kale, and spinach — are typically high in antioxidants.
For picky eaters, Titchenal recommends starting slow. Choose one fruit and one vegetable and experiment with different ways of preparing them. For instance, if noshing on raw spinach isn't your jam, try roasting Brussels sprouts seasoned with spices. Another easy way to consume more antioxidants is to slip a serving or two of raw greens into a smoothie. "Play around with it. Have fun with it," says Titchenal.
Everyone should prioritize a diet of antioxidant-rich food, but it's especially important for anyone who has a chronic illness, a history of cancer, or lives in an area with high pollution, which can contribute to oxidative stress, says Titchenal. Ideally, people should aim to consume at least five to seven servings of antioxidant-rich foods daily, though being consistent is more important than being perfect.
Interested in upping your intake of antioxidants? Here are seven foods to consider adding to your meal rotation.
Read more: The 5 Best Foods For Brain Health
Caffeine-lovers rejoice — your morning cup of coffee or tea can benefit more than your energy levels. Studies show that including green tea as part of a healthy diet protects against oxidative damage in humans. In fact, it's been shown that both green and black tea have much higher antioxidant activity against certain free radicals than garlic, spinach, or Brussels sprouts. Coffee also contains free radical-fighting antioxidants. Coffee consumption has even been linked to a decreased chance of developing diabetes, which may be due to its antioxidants. But Titchenal has a caveat: "I'm not talking about your typical macchiato with five shots of syrup." To reap the benefits, skip the sugar and cream.
Dark, leafy greens are a win in Titchenal's book. Kale is among the most antioxidant-rich foods a person can consume. It also contains vitamins A, K, B6, and C as well as calcium, potassium, copper, and manganese, making it a super nutritious option. Still, many people can't get on board with this cruciferous vegetable, which can have a bitter taste and tough texture when eaten raw. If you find kale hard to stomach, Titchenal suggests experimenting with a few different varieties of the vegetable — types include curly kale, dinosaur kale, redbor kale, and Russian kale — and testing a few methods of preparation. Pro Tip: massaging kale with a healthy fat like avocado or olive oil can soften the texture, making it more palatable and easier to digest.
Like kale, spinach is a powerhouse vegetable when it comes to vitamins and antioxidants. It can benefit your heart and eye health, reduce blood pressure levels, and help prevent cancer. It also packs more fiber, protein, vitamin A, calcium, and iron than kale. Plus, its soft texture and mild taste make it a little easier to palate than kale. It also blends seamlessly into smoothies, making adding a serving or two to your daily routine a breeze.
Another leafy green that deserves a little more hype — chard. The leaves of swiss chard, in particular, are packed with fiber, sodium, magnesium, flavonoids, vitamin C, and phytochemicals, which are believed to protect cells from damage that could lead to cancer. The stems are high in potassium, too. Titchenal says it's a good idea to vary the vegetables you eat because different veggies pack different antioxidants and vitamins. So if you typically reach for spinach or kale, try picking up a bundle of chard the next time you're at the grocery store.
Read more: Our 7 Favorite Vegetarian Cookbooks
Clove, peppermint, cinnamon, rosemary, oregano, sage — these herbs and spices will do more than flavor your meals. They're packed with antioxidants. A non-clinical study of rosemary showed it could help prevent cancer, and cinnamon is linked with management of heart disease. They can also counter free radicals that result from environmental impacts, like inhaling vehicle exhaust. Plus, they add a boost of flavor and color to any meal.
You probably guessed that leafy greens pack a nutritious punch, but did you know cocoa is similarly beneficial? A single serving of cocoa and cocoa products contains more antioxidants than most foods. It also touts essential minerals like magnesium, copper, potassium, and calcium. Dark chocolate that contains at least 70 percent cocoa provides 36 milligrams of magnesium per 100-calorie serving. That's about nine percent of the U.S. recommended dietary allowance. So go ahead, reach for that chocolate bar.
Another of Titchenal's favorite foods, berries are rich in antioxidants. She recommends sticking with berries that are dark blue and purple in color, like blueberries and blackberries. They're also a great source of fiber and micronutrients such as folic acid, calcium, selenium, and alpha and beta carotene. Eat them raw for a sweet treat or mix them with your spinach smoothie.
Read more: Healthy, Homemade Strawberry Chia Jam Recipe
Have feedback on our story? Email us at [email protected] to let us know what you think!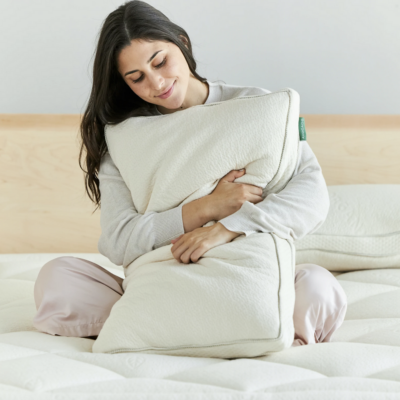 Shop Pillows
The Essential Organic Pillow Collection
Gentle, breathable, non-toxic support.
Buy Now