Make the most of berry season with this simple, homemade strawberry chia jam recipe. It's nourishing, gut-healthy, and has less sugar than the store-bought variety.
If you need a way to use up some of that summer berry bounty, look no further. This strawberry chia jam recipe is easy to make and uses minimal ingredients. Plus, with the ability to control the sweetness, you'll absolutely fall in love with this bright, beautiful, healthy homemade jam.
Why You'll Love This Strawberry Chia Jam Recipe
Only three ingredients. The best part of this jam is how simple it is. But don't be fooled by the short ingredient list — chia seeds are super nourishing and a good source of fiber and omega-3s.

Control over the level of sweetness. While this recipe does include a sweetener, you can adjust it to your preference depending on how naturally sweet your strawberries are.

It's a good way to get your daily fruit. We use real fruit in this recipe and mash it up to make the jam. So it's a fun (and delicious) way to eat your necessary daily fruits. 

Supports your gut health. One thing I love about this jam is it's loaded with chia seeds. Chia seeds are perfect for supporting gut health and help improve symptoms of constipation due to its high levels of soluble fiber. 
Read more: Healthy and Hydrating: Watermelon Passionfruit Smoothie Recipe
Why Make Your Own Jam?
Probably one of the biggest concerns I hear is store-bought jam is loaded with sugar. And while purchasing pre-made jam is convenient, if you're looking for ways to reduce your sugar intake, then this homemade strawberry chia jam recipe is for you.
Here's a breakdown of our star ingredients. Even better, this recipe can be made in the microwave or on the stovetop.
Strawberries: You can use fresh or frozen strawberries. The nice thing about using frozen strawberries is they enable you to make this recipe any time of year. You'll also get all the nutritional benefits of strawberries, including fiber and vitamin C, regardless of which version you choose.

Chia Seeds: Our thickening agent. Chia seeds absorb the moisture from the strawberries and make the spread super thick — just like store-bought jam. They're extra nutritious, too! Chia seeds provide soluble fiber and omega-3s to help promote gut and brain health.  

Maple Syrup: This is our sweetener — and I would still count this as added sugar. However, the nice thing about this recipe is that you can adjust the amount to meet your needs. Even the amount we are using here is still much less than you'll encounter with store-bought jam. Even better, if your strawberries are really sweet and in season, you might find you don't even need the syrup. 
Read more: Our Better-For-You Blueberry Lemon Pancakes Recipe
Strawberry Chia Jam Recipe
Ingredients
2 cups frozen strawberries
2 tbsp chia seeds
2 tbsp maple syrup
Instructions
Add your frozen strawberries to a medium-size saucepan and bring to medium heat to fully thaw.

As the strawberries thaw, lightly mash with your cooking spoon or spatula. 

Once completely thawed and mashed, remove from heat and add in the maple syrup and chia seeds. Give everything a good mix to combine. 

Allow the jam to sit and gel for at least 15 minutes before use. Store your jam in the fridge for a few more hours to allow it to continue to thicken to the perfect consistency.

Spread on toast, a bagel, or whatever your heart desires!
Did you try our strawberry chia jam recipe? Share it with us by tagging @avocadomattress on Instagram or Facebook.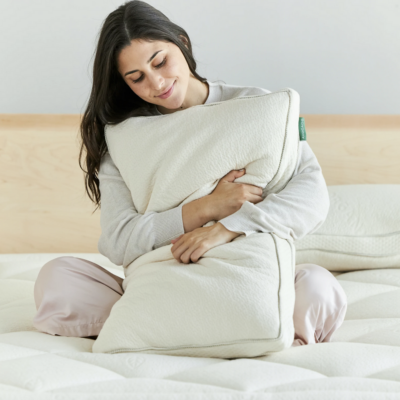 Shop Pillows
The Essential Organic Pillow Collection
Gentle, breathable, non-toxic support.
Buy Now