For sustainable snack brand Barnana, reducing food waste is good for business. 
We toss them out every day — banana peels, melon rinds, eggshells, coffee grounds. But what if you could use these common food scraps to make new, delicious foods? TikTok's Scrappy Foods movement has creators transforming potato skins into yummy, fried strips, wilted spinach into smoothie bombs, and orange peels into sweet, candied oranges.
Companies are hopping on the trend, too. Barnana, a sustainable company that produces chewy banana bites and plantain chips, uses too-ripe bananas that would otherwise go to waste to make their products. 
After harvest, almost 60 percent of banana biomass is wasted. Worldwide, we produce about 114.08 million metric tons of banana waste, releasing greenhouse gasses as the scraps decompose.
Waste is a huge issue in the global food supply chain, and a notable contributor to climate change. Globally, around 14 percent of food produced is lost between harvest and retail, and households, food service, and retail stores throw away an estimated 17 percent of all food that's produced. Food waste also accounts for 8 percent of greenhouse gas emissions — to put that into perspective, that's more than the aviation industry. 
Read more: The Tech Company Fighting Food Waste
That's why companies like Barnana are essential. Barnana reduces emissions associated with food waste by saving millions of fresh bananas and plantains from landfills each year. Not only that, their farming practices rely heavily on generations of Indigenous knowledge of the land — wisdom that is too often ignored. The concept is known as regenerative agriculture, a holistic land-management practice that prioritizes carbon sequestration in the soil while improving soil health, crop yields, water resilience, and nutrient density. At its core, regenerative farming is about minimizing waste and harmonizing agriculture with nature.
Barnana also works with a network of 1,400 smallholder farmers — many of whom are indigenous to the Amazon — and pays them a 30 percent premium for growing organic bananas and plantains using regenerative farming methods.
Read more: Why Regenerative Agriculture Produces Healthier Soil and Farms
"It's thrilling to see how lives improve for entire families once farmers start growing organic bananas and plantains for Barnana," said Maria del Carmen Narváez, CEO of Barnana Ecuador, in a press release. "They triple their monthly income and can bank on steady markets for their crops including the upcycled plantains and bananas we use in our snacks, which otherwise would go to waste as they don't qualify for export as produce."
Large-scale companies and farms aren't the only ones with a responsibility to reduce food waste. Jump on the scrappy foods trend and use scraps to make delicious food at home, too. Romaine lettuce hearts, for example, can be used to regrow fresh heads of lettuce. The next time you're chopping romaine for your salad, save the bottom to place in a pan of water and grow again. 
Read more: How to Practice Zero-Waste Cooking
Stale bread can be processed to make breadcrumbs, bones and vegetable peels make for delicious broth, and lemon halves are a great scrubber for everyday kitchen grease. You can even mix oil and vinegar with leftover bits of jam to make tangy salad dressings and use pulverized eggshells as soil fertilizer to strengthen plant roots. Ready to go all in? Here are a few more fun ways to reuse food scraps. 
Have feedback on our story? Email [email protected] to let us know what you think!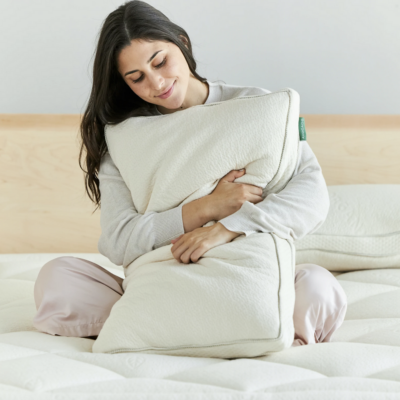 Shop Pillows
The Essential Organic Pillow Collection
Gentle, breathable, non-toxic support.
Buy Now