Environmental racism made predominantly Black communities in Louisiana a target for the oil and gas industry. Local environmental groups are taking a stand.
Once home to verdant corn fields, rich, fertile soil, and crisp clean air, an 85-mile stretch of the Mississippi River from New Orleans to Baton Rouge looks nothing like it did more than a decade and a half ago. Now, this pocket of southeastern Louisiana is peppered with oil refineries and chemical plants — more than 150 of them. The area is known as "Cancer Alley."
In this part of the state, residents step outside their homes and breathe in a distinct rotten egg smell — toxic pollutants have that effect on the air. Here, it's not uncommon to see blue sludge in roadside ditches or a golden mist falling from overhead as a result of an evening chemical release from nearby plants. And, according to recent research, cancer risk from dirty air is in the top 5 percent nationally, while respiratory hazards are in the top 10 percent.
That's why the community's recent victory against Formosa Plastics' proposed $9.4 billion mega-complex is so historic. Following years of pushback by environmentalist groups, on September 14, 2022, 19th Judicial District Judge Trudy White vacated previously awarded air permits for the petrochemical complex, citing failures by the Louisiana Department of Environmental Quality to meet its public trustee duty.
"Stopping Formosa Plastics has been a fight for our lives, and today David has toppled Goliath," Sharon Lavigne, founder and president of RISE St. James, told Earthjustice. "The judge's decision sends a message to polluters like Formosa that communities of color have a right to clean air, and we must not be sacrifice zones."
Formosa's project would have brought 10 new chemical plants to 2,400 acres along the Mississippi River in St. James Parish and 1,200 jobs to the economically impoverished, predominantly Black community. But for residents, the 800 tons of additional toxic pollution and 13.6 tons of greenhouse gasses the petrochemical complex would emit annually far outweighed any potential economic benefit. The project would have been a particular burden on children, who are more susceptible to respiratory diseases. The proposed location is one mile from an elementary school.
Read more: The True Cost of Air Pollution
Multiple factors are responsible for Louisiana's rise as a hotbed for the oil and gas industry. For one, its proximity to the Mississippi River makes it easy for large ships to import and export materials and for plants to access the water required for industrial processes. The state is also rich in oil. Since 1901, when oil was first discovered in Louisiana, the industry has drilled about 1.16 million wells. Cheap land, a lack of unions, and a 10-year property tax exemption for industrial companies are also big attractions. But the exact locations of these industrial plants have an even clearer reasoning: environmental racism.
"Racist practices are what created Cancer Alley," says Gianna St. Julien, co-author of the 2022 environmental study linking air pollution and high cancer rates in the state. "Industrial development has targeted Black and low-income communities in Louisiana, and this development has been facilitated by discriminatory zoning and permitting practices. For example, in St. James Parish, zoning changes in 2014 created industrial buffer zones around white churches, but not Black churches."
In a separate 2023 study examining the discriminatory outcomes of industrial air permitting in Louisiana, St. Julien and co-researcher Kimberly Terrell found that, as a result of discriminatory permitting by the Louisiana Department of Environmental Quality, emissions from industrial pollutants are seven to 21 times higher in industrialized communities of color than their white counterparts. Chemical manufacturing plants, in particular, contribute the bulk of emissions pollutants in communities of color in the state, followed by petrochemical and coal.
Read more: How Environmental Racism Makes Heat Islands Worse
"This research was prompted by concerns from clients represented by Tulane Environmental Law Clinic," says St. Julien. "We would often hear from residents that their communities were being overburdened with toxic air pollution and frequent diagnosis of cancer and other diseases among families and neighbors in these areas. Often the proof of burden is placed on the people living in the communities, so we wanted to evaluate the science to see if it supports their claims."
Although 2019 data from the EPA concluded that more pounds of industrial toxic air pollution are released annually in Louisiana than in any other state, studies failed to find a definitive link between high cancer rates and air and water pollution in Louisiana. At least until Tulane Environmental Law Clinic conducted its research in 2022.
"Back in the 1940s when Louisiana first created its Stream Pollution Commission, the oil industry was paying the salaries of the people that did the analysis to determine how much oil byproduct was dangerous," says Craig Colten, a former professor of Geography and Anthropology at Louisiana State University who studied community resilience, adaptation to changing environments in coastal Louisiana, water, and hazards in the American South. "There's a little conflict of interest there. It's an amazing sort of effort to influence the findings."
Of course, smoking and obesity rates, poverty, and lack of quality healthcare also prohibit a direct correlation between cancer rates in Cancer Alley and air pollution. "One of the findings from this study suggests that there are 850 cancer cases per decade that could be prevented by reducing the amount of toxic air pollution released in the state," says St. Julien. "When you consider that the most heavily polluted communities tend to be small and rural, these numbers represent a significant portion of the community. It's also important to remember that residents may die from other conditions — like respiratory disease — before they develop cancer. Respiratory disease is likely the most common health problem from pollution exposure — we just don't have the data because there's no state database for respiratory disease like there is for cancer."
But community suffering in Cancer Alley only serves to fuel environmental justice groups and resistance against new industrial plants. And they've been fighting for generations.
Read more: The Little-Known Federal Program Essential to Environmental Justice
"A few really amazing women have been at it for a long time, and there are always new people coming in. But it's the environmental justice movement that's been the biggest effort at being resilient and fighting back," says Colten.
For instance, in 1994, when Supplemental Fuels proposed a hazardous waste facility in St. Gabriel Parish in Cancer Alley, the community voted to incorporate — a move that gave them the power to keep new industrial plants out. Since then, no large plants have been approved within the city's 30-square-mile border. And in 2019, Chinese company Wanhua Chemical dropped plans for a chemical processing plant on 250 acres in St. James Parish following fierce opposition from residents and legal challenges from local environmental group RISE St. James.
Now, thanks to a continued, years-long effort by environmental activists like RISE St. James and Louisiana Bucket Brigade, massive plastics and petrochemical company Formosa Plastics won't be breaking ground in Cancer Alley anytime soon. The victory is a prime example of the power and importance of community organizing and climate activism in protecting people and the planet.
"This ruling will help the whole region from the Baton Rouge area to St. Charles Parish breathe a little easier," Scott Eustis, community science director for Healthy Gulf told Earthjustice. "It is an important step toward addressing a long legacy of environmental racism in Cancer Alley."
Read more: Black Activists Fighting For Environmental Justice
Have feedback on our story? Email [email protected] to let us know what you think!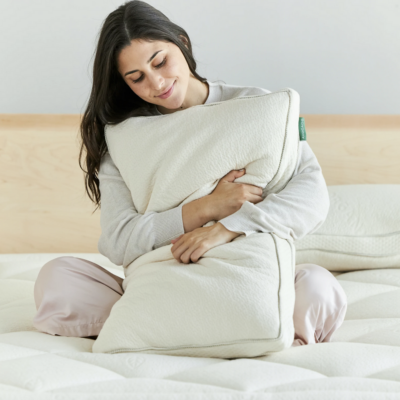 Shop Pillows
The Essential Organic Pillow Collection
Gentle, breathable, non-toxic support.
Buy Now