We're celebrating the Black environmental heroes fighting for environmental and climate justice.
The environmental movement has a long history of racism. Over the last year, many foundational conservation groups have grappled with how they perpetuate white supremacy. Some factions continue to blame environmental issues on marginalized groups. This Black History Month, we're celebrating eight Black activists who advocate for environmental justice — true heroes fighting for a more fair, equitable, and sustainable future.
Michael Regan was recently nominated to fill the role of Administrator of the Environmental Protection Agency (EPA) and, if confirmed, would be the first African American man to hold this title. The EPA regulates pollution released by cars and trucks, industrial facilities, oil and gas wells, power plants, and keeps track of U.S. carbon dioxide emissions and other greenhouse gases that cause global warming. But the truth is, environmental racism disproportionately affects low-income and Black and brown communities. That's why Michael Regan's nomination matters. With a qualified man from the Black community at the head of the EPA, we will begin to adequately address concerns that disproportionately affect Black and low-income communities. Read the full article here.
The first African American to win the Goldman Environmental Prize, Marjorie Richard's life's work has been dedicated to fighting environmental racism and holding Big Oil accountable. Richard grew up in Norco, Louisiana, a historically Black neighborhood a stone's throw from a Shell plant and Shell subsidiary, Motiva oil refinery. Richard's home sat 25 feet from the Shell Chemical plant's fence line. As more and more family and community members suffered life-altering illnesses, including cancer, birth defects, and asthma — she decided to act. In 1989, she created Concerned Citizens of Norco to hold Shell liable for the damage it was inflicting on her community. After years of tireless lobbying and activism, in 2000, Shell agreed to reduce its emissions by 30 percent, pay relocation costs for residents who lived near the plant, and contribute $5 million in community development funds — marking the nation's first relocation win in the Deep South.
Climate researcher, scientist, scholar, and mentor. Warren Washington is an internationally recognized authority on atmospheric science and climate change. Born and raised in Portland, Oregon, he has spent over 50 years contributing to advancements in climate change research and working to cultivate more diverse representation in the atmospheric sciences. The second Black man to earn a doctorate in the atmospheric sciences, Washington created atmospheric computer models in the 1960s that played an integral role in the understanding of climate change by researchers and scientists, and in 2007, along with his colleagues, won the Nobel Peace Prize for their role in the Intergovernmental Panel on Climate Change assessment conducted that same year. To learn more about Washington, check out his autobiography Odyssey in Climate Modeling, Global Warming, and Advising Five Presidents.
Also known as Planetwalker, John Francis's journey as an environmentalist began in his twenties, when he witnessed a tanker collision and oil spill in the San Francisco Bay. It impacted him so deeply, he decided to stop using motorized vehicles and walk everywhere — months later he took a vow of silence that spanned 17 years. Over the next 22 years, he walked across the U.S. and sailed and walked in the Caribbean, Argentina, Bolivia, and Chile to raise awareness about environmental issues and inspire more inclusive connections among people, cultures, and organizations around the topic of conservation. Along the way, he founded Planetwalk, a nonprofit organization focused on environmental awareness, served as a project manager for the United States Coast Guard Oil Pollution Act Staff of 1990, and has given numerous talks on the importance of preserving our planet.
MaVynee's legacy begins with her great grandfather, who founded Florida's oldest African American beach. Earlier in her life, she was an opera singer and spent years as a successful performer, singing in shows across Germany. After returning to Florida, she became committed to preserving the beach on Amelia Island that her great grandfather had founded — and eventually garnered the nickname "Beach Lady." She has spent her life dedicated to conserving the beach's sandy shores and its wildlife, eventually donating her life savings to a number of different environmental organizations and causes, and, in 2014, opened up the American Beach Museum.
Also known as the Father of Environmental Justice, Dr. Robert Bullard has made an immeasurable impact on climate activism and environmentalism. In addition to countless awards and honors — he was named one of the 13 Environmental Leaders of the Century by Newsweek in 2008. He is the recipient of Co-op America's Building Economic Alternatives Award, and Apolitical named him one of the World's Most Influential People in Climate Policy in 2019. And in 2020, the United Nations Environment Program gave him its Champions of the Earth Lifetime Achievement Award. He has written 18 books on subjects ranging from sustainable development, environmental racism, urban land use, and regional equity, among others. And his work is not done. He continues to spread the word about protecting our planet and implementing fair, inclusive environmental policies as a Distinguished Professor of Urban Planning and Environmental Policy at Texas Southern University.
Born in 1921, Betty Reid Soskin lived through the Jim Crow era, collected money and held fundraisers for the Black Panthers in Diablo Valley, California, co-founded a record store, wrote and performed her own music, and even published a memoir. And at age 99, she is the nation's oldest park ranger. Fighting for racial justice has been a central theme throughout Soskin's life, but at 85, she put on a park ranger uniform and took up a position at Rosie the Riveter World War II Home Front National Historical Park in Richmond, California. There, she takes over the park museum's theater multiple times a week and shares her story of growing up as a Black woman in America.
Jerome Foster II may only be 18 years old, but he's already made a name for himself as a leader in the climate activism movement. He has spearheaded #FridaysforFuture protests outside the White House. In 10th grade, he created, and is co-editor, of the publication The Climate Reporter. He has also testified in front of the Washington, DC District Council in defense of the Clean Energy D.C. Act — it passed in 2018 — and is executive director of OneMillionOfUS, a youth-led organization focused on providing young people with the tools to ignite systemic change in their communities, schools, and political offices. This is just the beginning. Follow him on Twitter to see first hand — and join in — his fight for racial and environmental justice.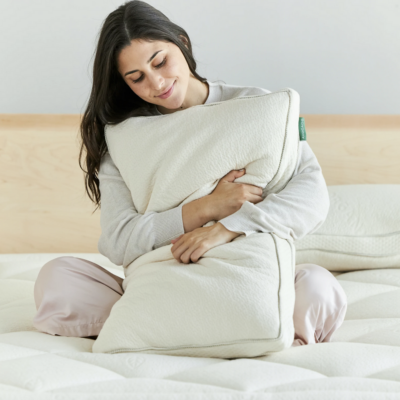 Shop Pillows
The Essential Organic Pillow Collection
Gentle, breathable, non-toxic support.
Buy Now