The Weatherization Assistance Program helps low-income families keep homes cool in the summer and warm in winter — and is one small step in addressing environmental justice in the United States.
During the last few days of June 2021, an unprecedented heat wave blanketed the Pacific Northwest in triple-digit temperatures, jeopardizing air quality, buckling roads, priming the region for wildfires, and leading to heat exhaustion among people and animals, including at least 200 deaths.
"The record-shattering extreme heat we're experiencing is just the latest example of our climate crisis and how it's impacting human health now," said Dr. Jeff Duchin, health officer for Public Health, Seattle & King County, in a statement about the heat dome, which scientists later concluded wouldn't have been possible without climate change.
It can be nearly impossible to seek relief from events like last summer's heat wave. But research shows not everyone is affected equally. In Seattle, a 2021 heat-mapping project revealed that more urbanized areas may be as many as 20 degrees hotter than less urbanized ones; hot temperatures increase the risk of illness and death from heat stroke and cardiovascular disease. A 2020 study analyzing 108 U.S. urban areas found that low-income populations and communities of color were more likely to be exposed to extreme heat due to a lack of tree cover, green spaces, and access to cooling centers.
Read more: How Environmental Racism Makes Urban Heat Islands Worse
The need for safe, secure housing during extreme weather events is part of the justification for the Weatherization Assistance Program (WAP). The federal initiative was created to assist low-income communities at the front lines of climate change by retrofitting their homes to make them warmer in the winter and cooler in the summer. This critical support from the WAP and programs like it advances the work of environmental justice — a broader movement addressing environmental- and climate-related disparities in the U.S.
When the weather is oppressively hot, the priority is simple, though often unattainable: Keep the air inside your home cool and the hot air outside, where it poses less of a threat. But many homes lack the cooling technology to maintain a comfortable living environment when temperatures climb into the triple digits, which scientists warn will become more frequent due to climate change.
That's where the Weatherization Assistance Program fits in. Low-income households bear a larger burden of the nation's energy costs, and the WAP helps address that inequity by increasing the energy efficiency of low-income homes. Homes that are energy efficient are more likely to maintain their air temperature and quality, even amid extreme weather.
Read more: Why the Number of Climate Migrants Will Continue to Rise
States and territories apply for WAP funding through the Department of Energy. However, the goals and retrofitting processes look a little different, depending on the state. In Washington, where residents face a housing crunch on top of more intense weather events, weatherization programs preserve affordable housing in addition to improving energy efficiency, ensuring household health and safety, and providing jobs. Weatherization projects are run by the Department of Commerce, and families who are at or below 200 percent of the federal poverty level, or 60 percent of state median income, whichever is greater, can apply for assistance through one of the department's 27 partnering community-action agencies and local governments.
"Folks are seeing extreme weather events, and the need to be safe indoors is increasing."
As a first step, a partner agency conducts an energy audit. Then, the agency recommends updates, including but not limited to heating or cooling system replacement, ventilation improvement and smoke and carbon monoxide alarms updates, leak repair and insulation installation, and installation of energy-efficient appliances. In Washington, an associated initiative called Weatherization Plus Health provides improvements to reduce health risks and costs for vulnerable families with a specific emphasis on reducing asthma and chronic obstructive pulmonary disease (COPD) triggers, as well as updates to avoid slips, trips, and falls.
Read more: What Is Intersectional Environmentalism?
"Folks are seeing extreme weather events, and the need to be safe indoors is increasing," says Michael Furze, an assistant director at the Washington State Department of Commerce, where he heads the State Energy Office. Crises like 2021's heat dome drive home the importance of weatherization programs for communities who face considerable health and safety risks when temperatures surge.
The federal Weatherization Assistance Program delivers an average of $372 in annual energy savings, and since its founding in 1976, has served more than 7 million households, according to the Department of Energy. This spring, the Bipartisan Infrastructure Law infused the program with an additional $3.1 billion. Not only do weatherization programs reduce utility costs and promote household health and safety, but they also ladder up to the nation's energy goals, including achieving net-zero emissions by 2050.
Read more: Your Vote Is Essential
No one program can alleviate the burdens faced by low-income individuals and families in the U.S. And funding for the Weatherization Assistance Program is just one small part of the Biden administration's environmental justice agenda, which attempts to address systemic inequities affecting vulnerable populations who bear an outsized burden of the effects of our climate era.
When it comes to environmental justice, it can be challenging to figure out how you can help. To start, individuals can stay informed (subscribe to our newsletter!), vote for officials who share your environmental values, and elevate historically underrepresented voices. This primer is a good place to begin to learn more about how to be an effective ally.
Have feedback on our story? Email [email protected] to let us know what you think!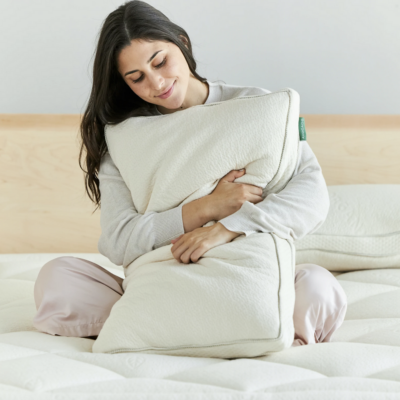 Shop Pillows
The Essential Organic Pillow Collection
Gentle, breathable, non-toxic support.
Buy Now