The cost of air pollution is millions of lives and billions of dollars. Reducing greenhouse gas emissions and investing in clean energy have the potential to ensure we don't have to pay the price of the dirty air resulting from fossil fuels.
When we talk about climate change, our warming planet is typically the first topic of discussion. We hear about the danger of burning fossil fuels, the effects of the warming planet on oceans and forests, and the ways in which our unsustainable human behaviors could lead to more natural disasters of increased intensity. But there's an equally important issue that often gets overlooked: the cost of air pollution.
Polluted air contains gases, solids, and aerosols. This kind of air is dangerous to breathe and includes everything from the smog that hangs over huge cities to the smoke that fills homes during wildfire season. The cause is almost entirely attributable to energy use and production, according to the NRDC, with the major driver being the process of burning fossil fuels like oil, coal, and gas, which releases dirty chemicals and gases into the air.
And the cost of air pollution is vast.
Read More: What Are Carbon Offsets?
Human Health
Right now, an estimated 8.7 million people die each year as a result of breathing polluted air. That means one in five deaths are linked to air pollution; it's a crisis that some experts are calling the biggest public health issue of our lifetime. In the U.S., air pollution leads to more than 200,000 premature deaths each year. This number is more than three times the number of lives lost in car accidents, and twice the number of deaths caused by opioid use, according to Vox. It's not just a ghastly human toll, it's an enormous financial loss, too. Doctors put the price tag on the annual health impacts of climate change at $820 billion. And the U.S. has relatively clean air compared to other countries; in 2015, 1.58 million people in China and 1.81 million people in India, were killed by air pollution, according to a Lancet study.
The negative health impacts of breathing polluted air can be seen over a human being's entire lifespan. Research shows exposure to smog reduces impulse control and degrades academic performance for young children. Even low-grade smog has negative effects on the kidneys, spleen, and nervous system. We also know that air pollution can lead to strokes via cardiovascular issues, as well as respiratory infections. And people who already have chronic respiratory issues, like chronic obstructive pulmonary disease or asthma, can be affected by even the lowest levels of polluted air. The quality of the air we breathe is truly paramount.
Read More: 4 Ways Our Clean Energy Future Starts With You
Environmental Health
Polluted air also has an effect on other living things, like plants and animals. Often, farmers see reductions in crop yield during times of heavy pollution, and they report that their plants are more susceptible to disease and pests; they're even less able to tolerate harsh weather. Certain studies show that air pollution reduces the quality of soil and water bodies, too, which are critical resources for healthy ecosystems and biodiversity.
Like humans, animals are likely to get sick if they come into contact with polluted air. Studies show that household pets have an increased risk of developing tumors in certain parts of the world, and dogs, in particular, are more likely to experience cardiac arrest. Birds, amphibians, fish, and insects are all susceptible to air pollution as well; acidic rivers can cause fish to die, and birds are often impacted by the exhaust released from coal-powered production plants.
Read More: What You Need to Know About the Wind Energy Revolution
What Can We Do?
The cost of air pollution is great, but there is good news: In one modeling exercise, Duke University researcher Drew Shindell looked at a scenario whereby human beings were able to reduce greenhouse gas emissions significantly between 2020 and 2070 by keeping the world's temperature from rising more than 2 degrees Celsius above the current norm. He found that this scenario would prevent 4.5 million deaths, 3.5 million hospitalizations, and 300 million lost workdays over those years — all due to air pollution. In other words, by reducing greenhouse gases and turning toward renewable energy sources, we'll be able to both save our planet and lives by keeping the air clean.
Read More: Coming Soon: Electric Trucks
This means the biggest imperative of the moment is eliminating fossil fuels — and stopping investment in new oil, gas, and coal — and instead, putting money behind renewable, clean energy. Companies large and small can make a huge impact by switching to solar and wind power (like Avocado's LA factory, which operates entirely off wind and solar energy) whenever possible. Legislation and policy also matter on a global scale. A separate study found that millions of deaths worldwide could be averted by 2040 if countries actually meet the commitments they've made under the 2015 Paris Agreement to keep the planet from warming above that 2-degree mark. This is a tall order, especially considering the United Nations recently reported the planet is on track to warm by more than 3 degrees Celsius by the end of this century.
But there is plenty individuals can do to help ensure your local and state governments meet these criteria, too. Do your research. Find out which bills support clean energy and which prop up the fossil fuel industry. Write to your senators to ask them to support policies and legislation that focus on renewable energy and protecting the environment. And exercise your right to vote. We have the power to change what the future looks like — and the cost our actions have on human, ecosystem, and environmental health — but it requires action from all of us.
Read More: What is Divestment and What's Its End Game?
Have feedback on this story? We'd love to hear from you. Send us a message on Facebook or Instagram or email us at [email protected].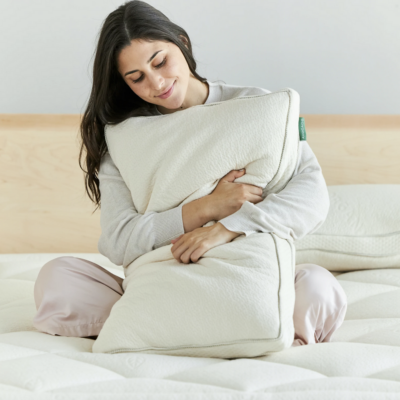 Shop Pillows
The Essential Organic Pillow Collection
Gentle, breathable, non-toxic support.
Buy Now