We still have work to do, but 2021 saw big wins in the fight against climate change. Here are the 12 wins we're excited about.
From Biden's $1.2 trillion infrastructure bill that includes measures to mitigate climate change to the 2021 United Nations Climate Change Conference (COP26), the U.S. and international community are taking the climate crisis more seriously than ever. Of course, those strides are just a start. We have to do more. Now.
Still, thanks to technological innovations, new laws from the Biden administration, and divestments from oil and gas, 2021 was a monumental year for fighting climate change. These are the most noteworthy environmental achievements over the past year — the 2021 climate change wins keeping us optimistic for the future.
Read more: Introducing Our New Podcast "A Little Green"
1.
On the Road to a Decarbonized U.S. Government
President Biden in December signed an executive order to implement a strategic plan for a carbon-neutral government by 2050. As the country's largest landowner, energy consumer, and employer, this is a monumental step forward in the fight against climate change. Under the order, the government's buildings and operations will transition to 100 percent clean, carbon-free electricity by 2030, utilize 100 percent zero-emission vehicles by 2035, and eliminate greenhouse gas emissions across federal buildings, campuses, and installations by 2045, with the goal of reducing those emissions by 50 percent by 2032 from 2008 levels.
Biden's $1 Trillion Infrastructure Bill, which passed in November, will invest $89.9 billion in public transit over the next five years, including $39 billion in new investment to modernize transit. This represents the largest federal investment in public transit in U.S. history. Under the bill, the government will also invest $7.5 billion to build out a national network of 500,000 electric vehicle charging stations to encourage the adoption of electric vehicles, reduce greenhouse gas emissions, and improve air quality. It also promises to make the largest investment into clean energy transmission and grid in American history.
Read more: The True Cost of Air Pollution
2.
EPA Moves to Regulate "Forever Chemicals"
In October, EPA administrator Michael Regan announced plans to aggressively regulate the use of perfluoroalkyl and polyfluoroalkyl compounds (PFAs). Maine also passed a law banning the use of PFAs by 2023. Better known as 'forever chemicals,' PFAs are pervasive throughout our environment. They're widely used in non-stick pans, makeup, and fabric treatments and have been found in food, humans, animals, drinking water, and air all over the world. PFAs have been linked to health problems like cancer and thyroid disease, and because they don't break down, they stay in our environment forever.
Read more: Why the Nomination of Michael Regan Is So Important
3.
Major Fossil Fuel Divestments
There will be no more fossil fuel development in Cherry Point, Washington — a major industrial hub and home to two of Washington State's five oil refineries — after local city council officials voted to ban any new projects. The area's first refinery and pier opened in 1954. The ruling prohibits any new fossil fuel refineries, coal plants, piers, wharves, and 'transshipment' facilities for transferring cargo. Ivy League colleges are jumping on board as well. Harvard (finally) announced it will fully divest from fossil fuels and allow any indirect investments to lapse, while Columbia University has pledged to end new fossil fuel installations and replace onsite infrastructure with clean, renewable energy sources.
Read more: What Is Divestment?
4.
Expansion of Animal Protections
The National Marine Fisheries Service has officially expanded the protected habitat for Washington State's endangered orca species. The expansion added 15,910 square miles of protected ocean for a total of 18,000 square miles that stretches from the Canadian border to Point Sur, California, and includes the Salish Sea. In Alaska, the Biden administration is working to reinstate environmental protections for the state's Bristol Bay, one of the world's most valuable sockeye salmon habitats. And across the Atlantic Ocean in Portugal, regional authorities have expanded a protected marine area to create what they are calling the largest fully protected marine in Europe and the North Atlantic. The reserve spans 12 nautical miles, covers a total of 1,034 square miles, and fully protects species within the area from fishing or other extractive activities.
Read more: The Sixth Extinction Is a Threat to All of Us
5.
Oil and Gas Projects Get Hit Hard
In May, climate activists won big when a Dutch court ruled that Royal Dutch Shell must reduce its greenhouse gas emissions by 45 percent by 2030, based on 2019 levels. A month later, in June and after a decades-long battle, the controversial Keystone XL pipeline project was canceled. The oil pipeline project would have carried oil sands crude from Alberta, Canada to the U.S. Gulf Coast. More recently, construction permits for a multi-billion dollar oil project planned for Alaska that would have produced 100,000 barrels of oil for 30 years were blocked by a federal judge in August, citing greenhouse gas emissions and impact on native polar bears. As of October, neither the Biden administration nor ConocoPhillips, the oil giant behind the project, have filed an appeal to the judgment.
Meanwhile, PennEast Pipeline Co. has stopped development of a $1 billion pipeline project that would have hauled natural gas from Pennsylvania to New Jersey after failing to receive water-quality certifications and wetland permits in New Jersey. L.A. County, California passed a law banning new oil and gas drilling while phasing out existing wells, making it the first in the U.S. to do so. New York state officials denied permits that would have allowed for the creation of two new gas power plants, naming greenhouse gas emissions as the reason for their decision. And following years of opposition, energy infrastructure company Tallgrass Energy Partners canceled a $2.5 billion oil export terminal and pipeline project planned for Plaquemines Parish, Louisiana.
Read more: Why Creative Agencies Are Boycotting the Fossil Fuel Industry
6.
EPA Bans Use of Dangerous Pesticide
The EPA banned a pesticide, known as chlorpyrifos, that scientists have linked to neurological damage in children. Farmers commonly use the toxic pesticide, in use since 1965, on fruits and vegetables like apples and broccoli. It's also been associated with low birth weights and other developmental issues. The ruling will effectively eliminate 90 percent of chlorpyrifos use in the U.S.
Read more: Why Herbicide Glyphosates Are So Harmful
7.
Indigenous Representation
2021 included a handful of firsts for Indigenous representation. Deb Haaland made history as the first Native American to serve as Secretary of the U.S. Department of the Interior. She is a member of the Pueblo of Laguna and a 35th generation New Mexican. The U.S. Senate unanimously approved the nomination of Charles "Chuck" Sams III as the first Native American to be appointed National Park Service director. For the first time in the organization's 73-year history, the International Union for Nature Conservation (IUNC) World Conservation Congress allowed Indigenous groups to join the conversation. Indigenous groups are known for leading environmental protection and conservation efforts, and their inclusion in the gathering means they will finally have a say in global policy that will shape the future of our planet. Twenty-three Indigenous organizations representing groups from every continent attended. And in October, the EPA announced an initiative to improve water and sanitation infrastructure for U.S. tribes to ensure they have access to safe drinking water and indoor plumbing. It's a positive step forward in addressing environmental inequalities. Native American households are 19 times more likely than white households to lack indoor plumbing.
Read more: The Indigenous Movement to Reclaim Public Lands
8.
Biden Creates Federal Office For Climate Change, Health, and Equity
In a first for the federal government and a win for marginalized communities, the Biden administration in August announced the creation of the Office of Climate Change and Health Equity. The office operates under the Department of Health and Human Services and works to address the effects of climate change on communities, specifically poor neighborhoods that are disproportionately affected. According to the New York Times, Biden requested $3 million to fund the office in 2022.
9.
Innovation in Carbon Capture
About 20 miles outside Iceland's capital of Reykjavik, 'Orca,' the world's largest carbon capture facility, has been sucking carbon out of the atmosphere since September 2021. Created through a partnership between Climeworks, a company that designs and creates direct air capture machines, and Carbfix, a company that transforms CO2 into stone, the milestone facility can remove 4,000 metric tons of carbon dioxide per year from our atmosphere. Unlike many other carbon capture technologies, Orca is powered using clean, renewable geothermal energy. The carbon dioxide extracted from the air is then injected deep underground where Carbfix turns it into stone within two years. The cost barrier to entry is steep, and Orca will need to increase its removable capabilities to make significant climate progress, but the development is encouraging. Microsoft, Shopify, and reinsurance giant Swiss Re have already signed contracts to remove carbon using Orca.
Read more: What You Need to Know About Carbon Capture
Less than 10 percent of plastics in the U.S. are ever recycled. Now, states and the EPA are working to give our broken recycling system a much-needed overhaul. In November, the EPA announced a plan to enact a national recycling strategy to improve our recycling infrastructure, reduce contamination of recyclable materials, increase equitable access for overburdened communities, reduce the climate impacts of materials management, and create a circular economy where recyclable materials are sustainably managed. Meanwhile, California passed a bill banning the use of the recycling symbol on products that are not able to be recycled in most communities. And Maine and Oregon both passed laws requiring companies to pay state recycling costs in an effort to incentivize them to produce packaging that is more easily recyclable and creates less waste.
Read more: How States Are Fixing Our Broken Recycling System
11.
Reducing Aviation Emissions and Noise Pollution
The Biden administration has pledged to lower aviation emissions by 20 percent by 2030 with the goal of achieving net-zero emissions for the aviation industry by 2050. This is a big deal. Especially considering that, in 2018, the aviation industry made up three percent of U.S. carbon emissions and nine percent of transportation sector emissions. As part of this effort, the Federal Aviation Administration awarded $100 million in grants to some of the world's largest aviation companies to aid them in reducing greenhouse gas emissions and noise pollution from flying.
12.
Tackling Methane Emissions
Half of the world's top methane emitters have signed the Global Methane Pledge to cut methane emissions by 30 percent by 2030 from 2020 levels. Led by the United States and the European Union, the initiative is crucial to limiting global warming and avoiding the most devastating effects of climate change. Like carbon dioxide, methane is a harmful greenhouse gas. But unlike CO2, methane increases warming at 80 times the rate of carbon dioxide, making removal of methane a key component of fighting climate change.
Read more: What Is a Carbon Tax?
Have feedback on our story? Email us at [email protected] to let us know what you think!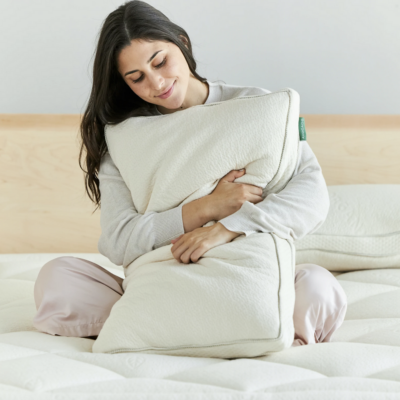 Shop Pillows
The Essential Organic Pillow Collection
Gentle, breathable, non-toxic support.
Buy Now