Women's Earth Alliance helps women environmentalists protect the planet in the face of climate change. Avocado is proud to support its essential work.
Climate change affects us all, but the burdens aren't equally shared. A recent United Nations study showed that climate change disproportionately impacts women and girls — even more so for those in marginalized groups.
In rural, developing countries, drought, heat, flooding, and storms often force women to travel longer distances for resources like firewood, water, and food for their families, putting them at increased risk of gender-based violence. When environmental disasters hit, young girls often drop out of school to help with household responsibilities, and pregnant mothers around the world face a higher likelihood of complications, health concerns, and infant mortality due to climate-related impacts.
Still, women are among the planet's fiercest advocates and stewards. That's why nonprofit Women's Earth Alliance (WEA) is on a mission to protect the environment, end the climate crisis, and ensure a just, thriving world by empowering women's leadership. Avocado is proud to support WEA's vital work by directing one percent of revenues to the organization through our partnership with 1% For the Planet.
Read more: What Is 1% For the Planet?
"The climate crisis will be solved by those who take broad-based action," says Amira Diamond, Co-Founder and Co-Director at WEA. "Avocado is investing in WEA to drive climate solutions from the ground up. WEA celebrates the integrity of this visionary company, and this summer, our partnership will help uplift more than 9,000 women-led environmental projects in nine countries."
Studies show that women are more likely than men to support environmental protection. For example, in nations where women have higher political status and influence, there are more protected land areas and carbon emissions are 12 percent lower. And in communities where Indigenous women's decision-making is included in local forest management, there's a significant improvement in forest conditions and conservation.
But in order for these environmentalists to succeed as climate champions, they need financial aid, resources, political power, and a seat at the table. As it stands, only seven percent of global philanthropic giving supports women's rights programs, while a mere 0.2 percent goes toward women-led environmental solutions.
Read more: How Indigenous Groups Are Leading the Way on Conservation
"Women's leadership is one of the greatest leverage points for increasing our collective climate resilience. Yet those who step forward to prevent environmental destruction and injustice face an uphill battle," says Melinda Kramer, co-founder and co-director at WEA. "Their bodies and health are threatened, their work is under-resourced, and their leadership is stymied. Deep structural inequities rob these leaders of their full potential to profoundly shape our communities, our values, and the future on this planet."
WEA is changing this. In some of the most environmentally threatened areas in the world, women on the frontlines of climate change are saving Indigenous seeds, planting native trees, teaching solar cooking, creating sustainable farms, providing access to safe water, and protecting land rights — all thanks to the nonprofit's training, support, and funding.
Instead of throwing money at a problem, WEA's approach is nuanced and intentional. First, the organization identifies women leaders who are already protecting their communities' natural resources, livelihoods, and health. WEA's action-oriented Accelerator program then provides them with leadership, strategy, and technical training to scale their initiatives while giving them access to a global network of peers, mentors, and funding.
"Underrepresented, under-resourced, and disconnected from other leaders, too many grassroots women leaders around the world work in isolation, and without access to information, training, or alliances with other leaders and organizations," says Diamond. "By investing in women led-groups to scale environmental solutions for change, we aim to center women's leadership to protect the environment, support communities, and create a thriving future for all."
Read more: How to Be a Climate Activist
For example, WEA recently launched a partnership with Brazilian NGO Filha do Sol in Piauí, Brazil. This area is home to the Delta do Parnaíba, a stunning yet fragile river that provides the local community with food, income, and protection from extreme weather. It is also one of the largest mangrove carbon sinks in the country. But the diverse ecosystem is threatened by rising sea levels, soil salinization, and increased temperatures due to climate change.
WEA's partnership with Filha do Sol will create a strong women-led climate coalition — the first of its kind in the region — dedicated to restoring the mangroves of the Delta do Parnaíba. This restoration effort will help protect the mangroves and support the well-being and livelihoods of thousands of community members.
Since 2006, WEA has worked with 250 on-the-ground partners to catalyze 37,871 women-led projects across 30 countries, including Indonesia, India, Nigeria, the Philippines, and the U.S.
"Many grassroots women environmental champions may not be well known yet, but they are making history," says Kramer. "Climate change is the world's problem, but women are taking the lead to solve it."
Read more: The Team Helping Female Farmers Rebuild in Central America
Follow WEA on social media and sign up for their newsletter to stay up to date on this important work!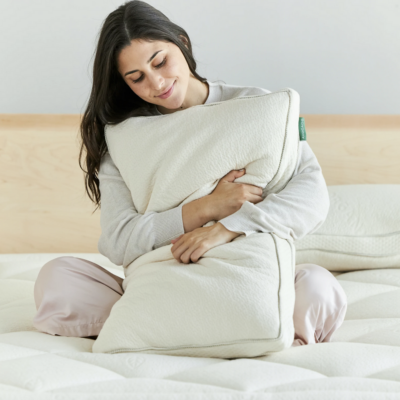 Shop Pillows
The Essential Organic Pillow Collection
Gentle, breathable, non-toxic support.
Buy Now