It's an open secret in the industry — much of the olive oil on grocery shelves isn't authentic. That's why buying from trusted brands is important. Here are our recommendations. 
Let's set the scene. You go to an authentic Italian restaurant with a few friends. The restaurant offers complimentary bread alongside olive oil and vinegar. You rip off a piece of bread from the loaf, dip it in the golden-green liquid, and wonder — as you have many times before in this situation — why this olive oil tastes so much better than anything you have at home.    
Your taste buds aren't fooling you, they're alerting you to a very real fact — 75-80 percent of the olive oil on grocery store shelves is fake. In recent years, the industry has come under fire for pervasive fraud. One of the most famous cases occurred in 2016 when Italian police uncovered more than 2,000 tons of Spanish and Greek olive oil that had been falsely labeled as Italian. And in 2019, Europol, the EU's law enforcement agency, seized 150,000 liters of low-quality olive oil being passed off as high-quality extra virgin olive oil.    
Olive oil is often a mix of lesser-quality varieties, diluted with other oils like sunflower oil, or vegetable oil that has been intentionally mislabeled. Not only does this diminish the rich, satisfying flavor, you're no longer reaping the antioxidant and anti-inflammatory benefits associated with high-quality olive oil. Real olive oil also reduces your risk of heart disease, stroke, and type 2 diabetes, helps you maintain a healthy weight, and may even aid in fighting Alzheimer's disease. 
That's why cooking with high-quality olive oil matters. Here are a few brands we always trust.
Read more: Why & How to Cook With Avocado Oil
Bona Furtuna grows its olives on a vast estate in the Sicani Mountain region of Sicily, Italy, on trees up to 1,500 years old. Picked by local farmers and hand-inspected to ensure their olives are the picture of quality, Bona Furtuna's 100 percent organic olive oil is cold-pressed and bottled within 24 hours of harvest. For a taste you've never experienced, try the Biancolilla Centinara, made with an ancient varietal that features hints of wild herbs, dried flowers, and the aroma of tomato, fresh grass, almond, and artichoke. And because they're also USDA organic certified, a member of 1% for the Planet, and a Certified B Corporation, you can trust their commitment to social and environmental responsibility.
You may think of Brightland as just another trendy brand with an Instagrammable aesthetic, but their custom-blended olive oils rank among the best. Their olives are meticulously sourced from a family-run farm in California and you won't find any fillers or preservatives in them, either. Not sure what to try first? Check out The Mini Essentials kit that includes two 3.4oz bottles of bestsellers Awake and Alive extra virgin olive oils along with a bottle of each of their craft balsamic and champagne vinegar.
Instead of allowing their product to sit in a warehouse, New York-based Olive Oil Jones guarantees peak freshness by waiting to bottle their premium olive oils until you've pressed 'purchase.' They also utilize an early-harvest process to preserve the healthy antioxidants in green olives and to create extra virgin olive oils that stand out for their peppery, spicy taste and slight bitterness. Don't be alarmed if the liquid in your bottle looks a little cloudy, they pride themselves on unfiltered olive oil that allows the flavor and fragrance to shine.
Read more: The Best (and Worst) Oils to Cook With
The first olive oil company in the world to become a Certified B Corporation, McEvoy Ranch's extra virgin olive oils are also certified organic by California Certified Organic Farmers. Their product line ranges from traditional blends to seasonal varieties and limited editions you can only get in the spring. Plus, they produce flavored oils using a technique known as the Agrumato process, in which fruits and herbs are milled right along with the olives. For an added kick to your favorite dish, we highly recommend the Organic Jalapeño Olive Oil.
Another B Corporation that balances purpose and profit, the Fratelli Carli family has been making exquisite olive oil in the Mediterranean region of Liguria for four generations — since 1911 to be exact. They take great care developing each of their blends, selecting the best batches from each years' yield, and combining them to create an exceptional product with a smooth, balanced flavor. Their Extra Virgin Olive Oil Fruttato is perfect for everyday cooking, but for something more unique, give their Garlic and Rosemary Infused EVOO a try. 
The Bragg brand has a long history of providing quality health foods — the original owner Paul Bragg founded the first health food store in the U.S. So if you're going to buy olive oil from the grocery store, Bragg is a safe bet for a high-quality product you can trust. Their organic, unrefined extra virgin olive oil is made from Greek Koronneiki olives sourced 100 percent from Greece, no fillers, additives, or other oils. It's a classic product you can use for everyday cooking and to add extra flavor to your favorite dish.
Read more: What is Zero-Waste Cooking?
Have feedback on our story? Email us at [email protected] to let us know what you think!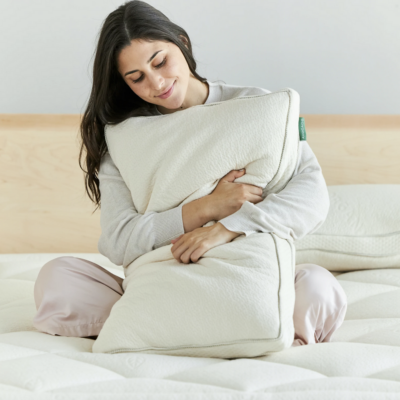 Shop Pillows
The Essential Organic Pillow Collection
Gentle, breathable, non-toxic support.
Buy Now