Traditional mattresses often contain fiberglass. But fiberglass in mattresses can be really dangerous. Here's how to avoid it.
My bedroom is my sanctuary — and my bed is the main attraction. It's there for me when all I want to do is cozy up with a good book, when a nap is the only antidote for a stressful day, and night after night when I drift off into sweet slumber. So when I got wind that people were getting sick due to fiberglass in their mattresses, I had a moment of panic.
Then I remembered, I have an Avocado. The Green Mattress, to be exact. And like all of their mattresses, they craft every layer with the finest natural and sustainable materials like certified organic cotton, wool (a natural fire barrier), and latex. What you won't find are chemical flame retardants, polyurethane foams, toxic glues or adhesives, and — you guessed it — fiberglass.
Read more: Why Cotton is THE Thing You Should Always Buy Organic
So what is fiberglass anyways, and why would the other guys put fiberglass in their mattresses to begin with? I'm glad you asked.
Otherwise known as glass fiber, fiberglass is made by heating glass and forcing it through small holes to create super-thin glass filaments. It can be left unstructured and used to improve insulation or woven together to increase its strength and durability for use in things like swimming pools, sporting equipment, and cars.
Fiberglass is also one of the main components in glass-reinforced plastic, or plastic that's woven together and embedded with glass, then bonded together using resin. It can then be flattened into a sheet or woven into fabric. That particular type of fiberglass is commonly used in mattresses as a flame retardant.
Read more: Why We Need to Ditch Plastic Packaging
Here's the backstory. In 2007, in an effort to keep consumers safe, the U.S. Consumer Product Safety Commission issued new standards that require a mattress to include enough flame retardants for it to resist catching fire from a two-foot-wide blowtorch for at least 70 seconds.
To meet these new specifications, mattress manufacturers use glass-reinforced plastic as a cheap way to increase a bed's resistance to fire and avoid chemical flame retardants. The woven glass and plastic material often surround more flammable textiles — like memory foam — to decrease flammability when exposed to an open flame and are then secured by an external material like a cover.
But if fiberglass makes its way out of a mattress, either by way of wear and tear or washing the cover, it can migrate into your bedroom and other parts of your home and cause serious health issues. Simply coming into contact with fiberglass can cause irritation of the skin and eyes, and, if inhaled, can impact the lungs, induce vomiting, and cause asthma-like symptoms.   
Read more: What's Inside Your Mattress Matters
Another major concern with fiberglass-filled mattresses is that they can emit harmful chemicals when they burn. Mattresses that contain fiberglass may release toxic fumes, including formaldehyde and other carcinogens, when they are exposed to fire. These fumes can be inhaled and cause serious health problems, including respiratory problems, headaches, and eye irritation.
That's why it's so important to choose a mattress or crib mattress from brands like Avocado. Avocado only uses certified organic wool as a natural fire barrier (our Vegan Mattress uses natural graphite powder), and each mattress boasts the trusted MADE SAFE® certification, a rigorous scientific screening process that ensures your bed doesn't include ingredients that are not known or suspected to harm human health, animals, aquatic life, or ecosystems. 
When products are truly made with the planet and people in mind, there's no need for all that other stuff.
Read more: Why The MADESAFE® Logo Matters
Have feedback on our story? Email [email protected] to let us know what you think!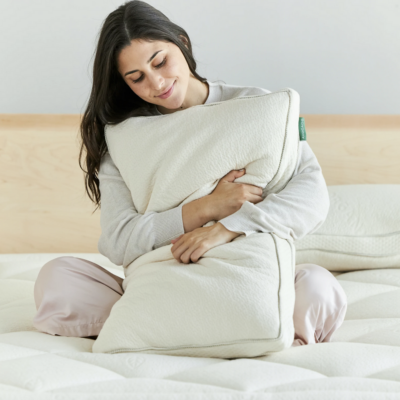 Shop Pillows
The Essential Organic Pillow Collection
Gentle, breathable, non-toxic support.
Buy Now