Wellness
What's Inside Your Mattress Matters
We need to talk about off-gassing, VOCs, and the toxic chemicals found in some mattresses. Here's how to be sure you're buying a healthy alternative.
For decades, big-box mattress companies have told us that comfort is king. Well, we've been living a lie. Comfort certainly tops the list, but the first — and most crucial — question you should ask when buying a mattress is: What is it made of? And how do I avoid buying a toxic mattress?
The sad truth is the majority of mattresses on the market include synthetic materials that emit harsh chemicals into the air and into your body. So, what's in your mattress matters — a lot. But thanks to a push toward transparent and sustainable business practices — and health-focused, MADE SAFE-certified companies like Avocado — there are non-toxic alternatives that use only organic, natural materials.
Petroleum-based polyurethane foam, flame retardants, chemical adhesives. These substances don't belong in your home, let alone your bedroom. However, they're all commonly found in modern, toxic mattress designs. What's worse, they release volatile organic compounds (VOCs) — like formaldehyde, toluene, benzene, phthalates, and more — through a process called off-gassing, which can be intensified by the heat from your body when you sleep.
Long-term exposure can result in numerous negative health effects. For instance, toluene diisocyanate (TDI) — a common compound found in polyurethane foam and a known carcinogen — can trigger asthma attacks, skin irritation, respiratory disease, and has even been linked to cancer. Flame retardants can cause endocrine disruption, fertility issues, thyroid dysfunction, and cancer. As far as chemical adhesives go, everything from chloroform to carbon tetrachloride and cyanide have been found lurking in the ingredients. We're not the only ones affected, either. VOCs that off-gas from mattresses also end up in our environment and can have a devastating impact on air quality, animals, and ecosystems.
And if you think baby mattresses are exempt from these harmful substances — think again. Crib mattresses contain toxic chemicals that can negatively affect lifelong health and development. In fact, because babies spend 50 to 60 percent of their days sleeping, they're especially vulnerable to exposure.
Something else you need to be wary of? Greenwashing. Sustainability is as popular as ever, and companies tackling a diverse range of products and services are stepping in to answer the call. But not everyone is as environmentally conscious as they claim. Businesses — including those that sell mattresses — are using clever marketing strategies, buzzwords like 'cruelty-free,' and vague details to mislead consumers into thinking they're making a responsible purchasing choice when the opposite is true. And they're only getting better at it.
Luckily, there are ways to determine if your mattress lives up to its labels. As a general rule, if it has the MADE SAFE logo, it's a brand you can trust. The same goes for mattresses that are made with Global Organic Latex Standard (GOLS) and Global Organic Textile Standard (GOTS) certified materials. Unlike synthetic textiles, natural, organic fabrics are already flame resistant and temperature-regulating, so there's no reason to add potentially health-altering chemicals to the end product.
At Avocado, our mattresses check all of these boxes and then some. Our GOTS and OEKO-TEX-certified wool is sourced from pasture-raised sheep living in the foothills of the Indian Himalayas. We don't use conventional cotton, polyester, or synthetic stretch-knit blends in any of our mattresses or pillows, either. Instead, they're crafted with soft, GOTS certified organic cotton and wool, plus GOLS-certified latex. Plus, every mattress we manufacture is free of polyurethane foams, chemical adhesives, and flame retardants. And our GREENGUARD Gold certification ensures we adhere to strict emissions standards for chemical exposure and pollutants, including VOCs, formaldehyde, and phthalates. 
Now that you know how dangerous toxic chemicals and synthetic materials are for our health and the environment, investing in a mattress made entirely of natural, organic fabrics is a no-brainer. When you're ready to make the switch, we've got you covered.
Do you love your Avocado mattress? Let us know why it stands out on Instagram or Facebook.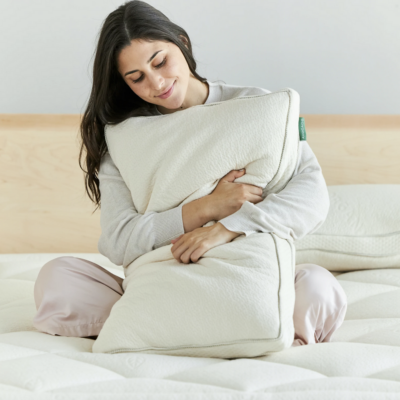 Shop Pillows
The Essential Organic Pillow Collection
Gentle, breathable, non-toxic support.
Buy Now