Book clubs are more than an excuse to drink wine.
I am a lady who book clubs. The book group I'm in stems from a women's organization I'm also part of. So, as you can imagine, the topics and titles we choose often revolve around feminism, female empowerment, and women in history.
And we have the first women's (sort of secret) book club to thank for paving the way. Intrigued? I thought so.
It began in 1634 when a woman named Anne Hutchinson formed a female discussion group while on a ship headed to the Massachusetts Bay Colony. The group's purpose was to examine weekly sermons. Sounds innocent enough. But in short order, suspicions arose — women shouldn't be reading and scrutinizing religious text — and the club was condemned. That didn't stop Anne. She continued to hold Bible studies in the privacy of her home until she was put on trial for the activity and banished to Rhode Island.
In the centuries that followed, women have continued to use literary gatherings as a form of resistance as well as political activism. In 1778, radical Hannah Mather Crocker created a reading society in Boston to analyze science and literature — in her opinion, studying was a more dignified use of women's time than what society expected of them.
Around the 1820s, the first African-American women's reading circle, the Society of Young Ladies, was established in Lynn, Massachusetts, prompting the creation of similar groups across the Northeast. Shortly afterward, in the 1840s, Margaret Fuller began hosting "Conversations" for women in her Boston bookstore in the "pursuit of public influence."
Read more: A BIPOC Reading List for a New World
During the turn of the century, women's reform groups, church groups, the National Council of Jewish Women, and the American Association of University Women gave way to progressive era female reading collectives. Conscious-raising feminist groups, influenced by the women's liberation movement, followed closely behind in the 1960s and '70s, and are credited for shaping the book clubs of today.
One such club? Oprah Winfrey's wildly popular television book club that launched in 1996. Catering to a largely female audience, her picks introduced readers to thought-provoking ideas via titles like Caste by Isabel Wilkerson, which examines the underlying societal hierarchy that shaped America, and female perspectives with memoirs like Michelle Obama's Becoming. The result was a new generation of women gathering around kitchen tables and in living rooms to discuss and dissect themes, plot points, and thoughts related to their latest read.
Today, we live in a time where women have more autonomy than ever — we're CEOs, Supreme Court Justices, political leaders (hello, madam Vice President of the United States, Kamala Harris), climate activists, professional athletes, astronauts, and scientists — and the humble book club continues to act as a place where women can speak freely, amplify fellow female voices, discover new stories, and engage in conversation about cultures, politics, and history.
Currently, you can join Oprah's Book Club 2.0. Or, check out online clubs like Well-Read Black Girl, which focuses on the works of Black women, feminist-leaning Badass Women's Book Club, PEN America's Read the Resistance, or actress Emma Robertson's Belletrist, among many, many more.
One thing they all have in common: Resistance against the status quo and empowerment through the pursuit of knowledge.
Read more: Our 5 Favorite Books by Native American Authors
Have thoughts on our story? Email [email protected] to let us know what you think!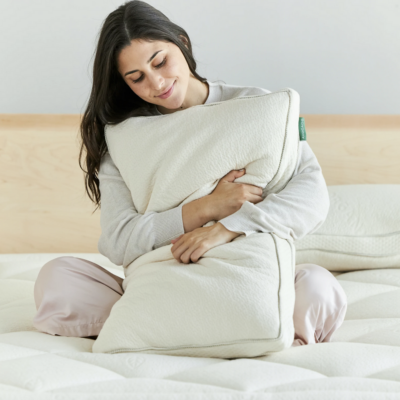 Shop Pillows
The Essential Organic Pillow Collection
Gentle, breathable, non-toxic support.
Buy Now