Vegetarians and vegans, rejoice. Cookout season just got a delicious upgrade thanks to our savory and satisfying Curry Chickpea Burger Recipe.
For plant-based eaters, backyard barbecues typically mean filling up on pasta salad, chips, and extra desserts. Not this summer. Loaded with flavorful spices, healthy proteins, and fresh herbs, our Curry Chickpea Burger recipe will be the talk of your friend group — and even tempt your meat-eating buddies to ask for a bite.
Why You'll Love These Curry Chickpea Burgers
Utilizes pantry staples. The main ingredients in this vegan burger recipe include chickpeas, rice, and mouth-watering spices you likely already have in your cabinet that combine to create a flavorful patty you'll make all summer long.
Nourishing and filling. Chickpeas are loaded with both protein and fiber, which makes these burgers satisfying and filling. Swap the white bread bun for a whole grain version for an added nutritional punch.
Versatile. Enjoy this vegan burger classic style between a bun or serve it as an individual patty to add texture and a delicious bite to a healthy grain bowl.
Read more: 8 Plant-Based Meats We Love
Embracing Curry Spices
There are plenty of reasons we should all include more spices in our lives — and our Curry Chickpea Burger recipe helps you do just that. Here are the benefits of the chief spices in our vegan burger recipe, which just scratches the surface of how spices can enhance your health.
Turmeric: This spice is teeming with potent antioxidants associated with reduced inflammation and is really essential among individuals dealing with arthritis. The antioxidant curcumin is responsible for this effect and is easier to absorb when paired with black pepper and fat. And by being easier to absorb, we mean it increases absorption of this antioxidant 10-fold.
Mustard: Another spice high in antioxidants, mustard is packed with carotenoids, isorhamnetin, and kaempferol. These antioxidants are associated with increased protection against type 2 diabetes, heart disease, and certain cancers.
Cumin: Research points to the antioxidants in cumin for being effective when it comes to improving digestion and reducing chronic disease risk. Cumin is also a great source of iron, which helps support gut health and the immune system.
Coriander: This antioxidant loaded ingredient adds a nutty flavor to our recipe and may help lower blood pressure and reduce cholesterol.
Ginger: This spice is known to reduce inflammation and can be especially powerful when it comes to alleviating symptoms of nausea or an upset stomach.
Read more: 7 Essential Antioxidant-Rich Foods
Curry Chickpea Burgers (Makes 6 patties)
Ingredients
1, 15 oz. can of chickpeas, rinsed and drained
1 cup cooled cooked white or brown rice
⅓ cup walnuts
½ medium red onion, roughly chopped
1 jalapeño, roughly chopped
1 tbsp ground flax seeds
2 tbsp water
¼ cup fresh cilantro, stems removed
2 cloves garlic, minced
1 tsp cumin seeds
1 tsp garlic powder
½ tsp ground mustard powder
½ tsp ground coriander
½ tsp ground turmeric
½ tsp salt
¼ tsp black pepper
1 tbsp avocado oil, plus extra for shaping the patties
Instructions
Preheat the oven to 375ºF. Line a baking sheet with parchment paper.
In a small bowl, combine ground flaxseed and water. Once mixed, set aside and allow to gel into a flax egg for 5 minutes.
Place the chickpeas, rice, flax egg, walnuts, onion, jalapeño, garlic, spices, and cilantro in a food processor and pulse the ingredients together, scraping down the sides of the food processor as needed until the ingredients start to hold together.
Rub some extra oil on your hands and scoop a ¼ cup of the spiced chickpea mix into your hand. Mold into a burger shape and place on the parchment-lined baking sheet. Repeat with the remaining burger mix.
Bake the burgers in the oven for 20 minutes. Flip and bake for an additional 10 minutes. For a firmer texture and crispier brown, pan-fry the cooked burger patties in a high-heat oil on both sides before serving.
Serve the burgers with your favorite condiments. Add a dash of curry powder to your ketchup for extra flavor!
Read more: Our 7 Favorite Vegetarian Cookbooks
Did you try out our Curry Chickpea Burger recipe? Share it with us by tagging @avocadogreenbrands on Instagram or Facebook. You can also follow Catherine @plantbasedrd for more delicious, nutritious recipes.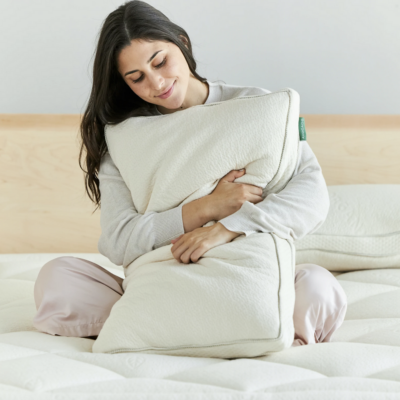 Shop Pillows
The Essential Organic Pillow Collection
Gentle, breathable, non-toxic support.
Buy Now