Cheesy, healthy, and totally satisfying. You don't need an excuse to make this sweet potato black bean quesadillas recipe for dinner.
In my house, quesadillas are comfort food. You can also whip them up in minutes, which is great for busy weeknights and weekends. But depending on the ingredients (and how hard you go on the cheese), these handhelds aren't exactly the healthiest meal option. Until now.
Introducing our Sweet Potato and Black Bean Quesadillas Recipe. Packed with protein and a hint of tangy spice, this recipe's nutritious, delicious filling is about to become your new favorite way to enjoy a quesadilla.
Why You'll Love These Sweet Potato Black Bean Quesadillas
A cinch to make. These quesadillas can be made in just 15 minutes. You can even make the filling in advance and store in the fridge for up to four days for an easy, make-ahead lunch or dinner.
Easy to customize. Add extra veggies, adjust the spices, or throw in a different type of bean — this recipe is your oyster and infinitely customizable. Just fold everything into the base mix and adjust everything to your preference.
Loaded with nutrition. The combination of the sweet potatoes and the black beans make these quesadillas rich in fiber, iron, folate, and vitamin A and C — along with a number of antioxidants like beta-carotene, which is associated with a healthy gut, good vision, and anti-inflammatory benefits.
Read more: Our 7 Favorite Vegetarian Cookbooks
How to Add More Nutrition to Your Quesadillas
Quesadillas are the perfect vehicle for all sorts of veggies and protein. Here are a few ways to sneak in extra nutrients the next time you whip up this sweet potato black bean quesadillas recipe. 
Up the vitamin C ante: Fold in some vitamin C-rich veggies like diced bell peppers to help your body better absorb the iron from the black beans.

Sprinkle in herbs: Herbs are one of the most nutrient-dense greens. Just chop up some fresh herbs and sprinkle them into the filling for a boost in micronutrients and flavor.

Serve with salsas: Salsas are a blend of veggies and herbs, which makes them a nutrient powerhouse. Add a savory salsa to the filling or use it as a dip when serving.

Add B vitamins: For some extra cheesy umami flavor — but without the dairy — add 1-2 tablespoons of fortified nutritional yeast to the filling for a boost of B vitamins like B12, which helps keep your nerve cells healthy.
Read more: Quick and Easy 5-Ingredient Vegetarian Chili Recipe
Sweet Potato Black Bean Quesadillas (Serves 4)
Ingredients
1, 15 oz can black beans, drained and rinsed
1-2 chipotle peppers from a can in adobo sauce, finely minced
2 tbsp adobo sauce from the can of chipotle peppers
1 medium sweet potato, cooked and peeled
1 tsp garlic powder
½ tsp ground coriander
½ tsp dry oregano
½ tsp onion powder
Salt to taste
½ cup dairy-free cheese shreds
4 large tortillas
Instructions
Add drained black beans to a large mixing bowl along with the cooked sweet potato*, chipotle peppers, adobo sauce, seasonings, and a generous pinch of salt. Using a fork or potato masher, mash the ingredients together until well mixed and the mixture holds its shape.
Place a large tortilla in a dry skillet, heat for 1-2 minutes. Once warm, spread a few scoops of the filling over half the tortillas, then top with a sprinkle of your favorite dairy-free cheese.
Fold the other half of the tortilla over the filling to close it. Allow the bottom of the tortilla to brown and crisp up for 2-3 minutes. Flip and cook the other side until golden and toasted, about 3-4 minutes.
* To cook your sweet potato, poke holes into the skin of the potato with a fork, then roast or microwave your potato until fully cooked and softened. To cook in the microwave, place the potato on a microwave safe plate and use the potato button on your microwave to cook the potato. You can also roast your potato in the oven at 425ºF and cook for 50 minutes to an hour until soft.
Read more: Easy Red Thai Curry Noodle Soup Recipe
Did you try out our Sweet Potato Black Bean Quesadillas recipe? Share it with us by tagging @avocado.green on Instagram or Facebook. You can also follow Catherine @plantbasedrd for more delicious, nutritious recipes.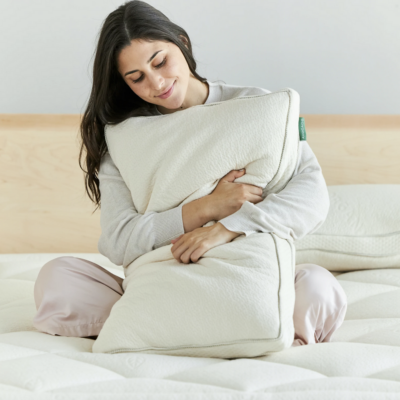 Shop Pillows
The Essential Organic Pillow Collection
Gentle, breathable, non-toxic support.
Buy Now