On a cold or rainy day, nothing tastes better than a savory soup.
Our easy Meal Prep Red Thai Curry Noodle Soup recipe is delicious, customizable, and features fresh, authentic Thai flavors. Make it ahead of time and get ready for comforting meals all week long.
Why You'll Love This Meal Prep Red Thai Curry Noodle Soup
No stove-top cooking required. Once your ingredients are prepared, all you have to do is add boiling water — so it's easy to whip up a few cups ahead of time for a simple grab-and-go lunch.

Balanced and nourishing. Not only does this recipe layer in flavor, but the vegetables, beans, tofu, and noodles also pack in a ton of nutrition to fuel you throughout the day.

Customizable. Since this is a build-your-own-jar creation, you can swap shredded vegetables in the recipe for varieties you already have and even change up the flavors in your soup base. The combinations are endless.
Read more: How to Shop For Local Produce in Winter
Reasons You Should Be Eating More Soup
It's as nutritious as a salad. We tend to prefer warmer meals during the winter months. So if you can't fathom the thought of a cold salad for lunch or dinner, opt for soup instead. Cooking the vegetables also makes them softer and easier to digest.

Keeps you hydrated. We often underestimate our hydration needs in the winter and can become dehydrated as our craving for water decreases during this time. The good news is broth-based soups are primarily water, making soup the ideal way to stay hydrated during the cold, dry months.

It's filling and satisfying. Soups are a great way to introduce more fiber into your meals. By infusing our recipe with fiber-rich noodles, veggies, and beans, you'll give your body essential daily nutrients and feel more satisfied for longer between meals.
Read more: Creamy Curried Butternut Squash Soup Recipe
Red Thai Curry Noodle Soup Recipe (Serves 1)
Ingredients
1 tbsp red Thai curry paste
1 tbsp tamari or soy sauce
1 vegetable bouillon cube or 1 tsp vegetable bouillon paste
1 garlic clove, grated
½ inch fresh ginger, grated
1 scallion, sliced
Juice of half a lime
¼ cup red cabbage, shredded
¼ cup green cabbage, shredded
¼ cup carrots, shredded
⅓ cup frozen edamame, thawed
3 oz smoked tofu, cubed
2 tbsp fresh cilantro, roughly chopped
1 block of thin vermicelli brown rice noodles
2 cups boiling water
Instructions
Add curry paste, soy sauce, crushed vegetable bouillon cube, grated garlic and ginger, white portion of the scallions, and lime juice to a 32oz mason jar or glass meal prep container. Whisk to combine.
Layer in red and green cabbage followed by carrots, edamame, green scallions, tofu, and cilantro. Place the block of noodles on top. Seal the container and store in the refrigerator.
When ready to enjoy, allow the jar to come to room temperature. Boil water and carefully pour it over the noodles until fully covered. Cover the jar and let it sit for 3-5 minutes to allow the noodles to soften.
Mix with a spoon and savor!
Read more: 7 Essential Antioxidant-Rich Foods
Did you try out our Meal Prep Red Thai Curry Noodle Soup recipe? Share it with us by tagging @avocadogreenbrands on Instagram or Facebook. You can also follow Catherine @plantbasedrd for more delicious, nutritious recipes.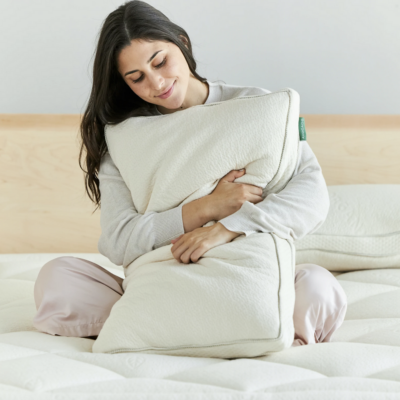 Shop Pillows
The Essential Organic Pillow Collection
Gentle, breathable, non-toxic support.
Buy Now