Our Curried Butternut Squash Soup recipe is savory, sweet — and delivers a little heat for an extra depth of flavor.
It's officially soup season. Celebrate with this nourishing recipe. Our Creamy Curried Butternut Squash Soup recipe blends together Thai curry paste, fresh ginger, and coriander for a rich, velvety meal you'll turn to throughout the colder months.
Why You'll Love This Curried Butternut Squash Soup
Roasts in one pan. No stove top needed. Just roast your base ingredients in the oven and blend them together to create a creamy soup.
Full of warming flavors. The red Thai curry paste in this recipe adds warm, comforting flavors to offset the naturally sweet butternut squash.
A seasonal and nutritious meal. Fall produce is packed with nutrients that help support your health and immune system during the dreary cold weather seasons.
Read more: Air Fryer Baked Apple Recipe For Fall
Keeps You Healthy and Nourished in Colder Months
Strengthen your body's defenses this cold and flu season by adding our Curried Butternut Squash Soup recipe to your lunch or dinner rotation. Here's how the ingredients in this soup help boost your immune system.
Butternut Squash: This winter squash is loaded with antioxidant-rich beta-carotene, vitamin C, and vitamin E — all associated with supporting your immune system. The beta-carotene, along with vitamin E, are also great for skin health and eye health, and lower the risk of chronic disease.

Thai Red Curry Paste: This savory paste is made using lots of red chili peppers, which are teeming with a compound called capsaicin, the substance responsible for the spicy sensation you get when you enjoy hot peppers. Capsaicin, plus the additional antioxidants found in hot peppers, are linked to improved heart health, reduced inflammation, and a strong immune system.

Ginger: This aromatic is fragrant, flavorful, and has a kick of spice. It has been long used in Eastern medicine. Ginger contains an anti-inflammatory compound called gingerol that is associated with numerous health benefits including its ability to help relieve stomach nausea.
Read more: How to Naturally Boost Your Immune System
Creamy Curried Butternut Squash Soup (Serves 4)
Ingredients
1.5 lb butternut squash, cut in half with seeds removed
1 small yellow onion, quartered
6 cloves of garlic, in peels
2 tbsp avocado oil
½ tsp ground coriander
1 tbsp red Thai curry paste
1 inch fresh ginger, grated
2 tsp maple syrup
2 cups boiling water or more if needed
1 vegetable bouillon cube or 1 tsp vegetable bouillon paste
½ cup full fat canned coconut milk
Juice of one lime
Salt and pepper to taste
If you don't have vegetable bouillon, heat up vegetable broth in the microwave and add to the blender once hot.
Instructions
Set your oven to 400º F and prepare a lined baking sheet with parchment paper.
Add the butternut squash halves, onions, and garlic on the baking tray. Drizzle with avocado oil and sprinkle with coriander and a pinch of salt. Mix to coat.
Place the tray of vegetables in the oven for 20 minutes. After 20 minutes, remove the garlic and roast the squash and onions for an extra 5-10 minutes or until the butternut squash is softened.
Remove from the oven and let cool for 10 minutes.
Scoop out the inside of the butternut squash and peel the garlic. Place squash, garlic, and onions in a high-speed blender with the remaining ingredients and blend on high until smooth. If you want a thinner soup, add extra vegetable broth and blend until desired consistency is achieved.
Serve and enjoy!
Read more: Colorful Fall Harvest Sheet Pan Dinner Recipe
Did you try out our Curried Butternut Squash Soup recipe? Share it with us by tagging @avocadogreenbrands on Instagram or Facebook. You can also follow Catherine @plantbasedrd for more delicious, nutritious recipes.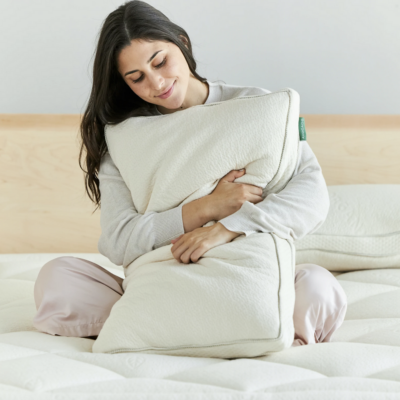 Shop Pillows
The Essential Organic Pillow Collection
Gentle, breathable, non-toxic support.
Buy Now