During cold and flu season, strengthen your body's defenses with these natural ways to boost your immune system.
Fall is finally upon us. The temperatures are dropping, leaves are turning, and people everywhere are breaking out their cozy sweaters. But as we bid farewell to summer, it's time to prepare for more than just crisp weather — it's about to be cold and flu season.
Influenza viruses spread year round, but circulation of the contagions are more prominent in the fall and winter, with flu activity beginning to increase in October. This is also the time of year when the number of Covid-19 cases begin to rise. Beyond getting vaccinated against the viruses (which is among the most effective ways to stay healthy during cold and flu season), there are actions you can take to support your immune system.
To find out more, we talked to Kathy Severson, a naturopathic doctor based in Seattle, about ways to boost immune support. For instance, when you've been traveling, know you've been exposed to someone who is sick, or are beginning to feel ill yourself.
Severson stresses that these tips should be paired with a foundation of good habits that support your immune system all year, like getting enough sleep, making time for moderate-intensity exercise, and eating a healthy and diverse diet. Once you've established a healthy routine, start to layer in everyday practices to further strengthen your body's defenses.
Here's how to boost your immunity naturally.
Read more: How Sleep Affects Metabolic Health
Supplement with Vitamins and Minerals
Adding minerals, vitamins, and herbal botanicals to your diet is an easy way to support your immune system — especially if you're already not feeling well or you have travel plans that will inevitably expose you to more germs than usual.
Severson suggests reaching for vitamins C and D, zinc, and bioflavonoid, a phytonutrient with antioxidant properties that's found in herbal medicines and vegetables. These vitamins play a role in supporting the body's immune response. Herbal botanicals that support a healthy body include echinacea, elderberry, astragalus, andrographis, ginger, and wild cherry. Most of these can be taken in pill form or sipped as hot tea. Elderberry can also be made into a syrup. Make your own using dried elderberries, honey, water, and herbs.
To give your immune system added support ahead of travel plans, begin incorporating a nightly hot tea of echinacea or elderberry, a daily dose of vitamin C, or even a homemade concoction called fire cider (a combination of apple cider vinegar, horseradish, ginger, garlic, and other ingredients that can be sipped in small doses).
Read more: Rosemary Gladstar's Fire Cider Recipe 
Tailor Your Diet
When it comes to supporting your immune system, what you eat matters. "Food is really a foundational piece of health," says Severson.
What foods should you prioritize? Dress up foods you already enjoy by adding spices or other additions that will bolster your natural immunity, says Severson. An easy way to do this is to cook with garlic, ginger, onion, and cayenne — spices known to be immune-boosting or anti-inflammatory. Another option: add manuka honey and ginger to hot water as an evening sip. Studies show that honey has anti-inflammatory properties that help modulate the immune system. If you're actively battling a bug, increase your fluids and electrolytes.
Of course, there are moments you may want to remove items from your diet as well. If you're hoping to give your immune system some TLC, Severson suggests temporarily eliminating inflammatory foods like sugar and dairy. Dairy, in particular, contributes to the production of mucus. So if you're already struggling with a post-nasal drip or otherwise feeling crumby, ditching dairy can help alleviate some of your symptoms.
Read more: 6 herbal Supplements That Support Longevity 
Head to the Spa
A spa experience is the ultimate way to relax — it also lowers your levels of immunity-harming cortisol. The real benefit, though, isn't the ability to kick up your feet, it's the access to tools like a sauna, a steam room, and a cold plunge. To give your immune system a leg up, Severson suggests contrasting hydrotherapy — a practice of going from hot to cold. For example, spending time in a sauna, then jumping into a cold pool of water. Some spas have dedicated cold plunges for this use. But you can just as easily practice contrast hydrotherapy at home by taking a hot shower before switching the water to cold. According to a 2014 study, contrast hydrotherapy can be effective in supporting the immune system.
Another reason to head to the spa? Steam rooms. Steam inhalation is great for cold and flu season, explains Severson. That's because sitting in a steamy room helps thin and expel mucus. Bonus points if you're able to add essential oils to your session.
Read more: How Cold Plunges Benefit Mental Health
Have feedback on our story? Email [email protected] to let us know what you think!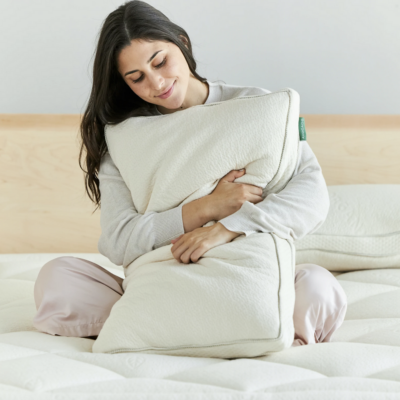 Shop Pillows
The Essential Organic Pillow Collection
Gentle, breathable, non-toxic support.
Buy Now