Aging is inevitable, but it's possible to slow the effects through a combination of balanced nutrition, exercise, healthy sleep, and herbal supplements that support longevity.
My dad was an artist and took a unique approach to life, especially when it came to health and wellness. He was deep into macrobiotics before it was trendy, preferred acupressure to Advil, and kept the pantry stocked with Traditional Chinese Medicines, holistic remedies, and herbal supplements. Think dried eggplant powder for toothaches, Ume Sho Kuzu — a tea made with fermented plums and root starch meant to cure everything from digestive issues to the flu — and chaga and cordyceps mushrooms instead of coffee. 
And even though it's been years since I lived at home, I still pull out the astragalus tincture when I feel a cold coming on, add ashwagandha powder to my smoothies to ward off stress and fatigue, and steep the same chaga and cordyceps tea when I'm up against a tight deadline.
But recently, I've found myself gravitating specifically toward adaptogens — immune-supporting, anti-inflammatory, and metabolism-regulating herbs that help your body and mind maintain balance amid daily stress — and other supplements that emphasize long-term well-being.
While we can't stop the clock, there are things we can do to maintain the best possible quality of life as we age, like managing the anxiety and inflammation thought to contribute to physical and cognitive decline. And when paired with movement, sufficient sleep, a nutrient-dense diet, and other healthy lifestyle habits, these six herbal supplements can support healthy aging and longevity (and maybe even slow the process down a bit).   
Talk to your doctor or herbalist before starting any new supplements to avoid contraindications with medications or other supplements.
Read more: Why You Should Try Adaptogens
Used as both a spice and a medicinal herb, turmeric is considered one of the most effective herbs in the world. A potent source of antioxidants, it has powerful anti-inflammatory properties, supports the heart and circulatory system, and helps regenerate cells in the nervous system (which can protect against Alzheimer's disease). 
The main active compound in turmeric, curcumin, is difficult to absorb into the bloodstream, so turmeric is best taken as a supplement. However, it will add a slight gingery flavor and golden color to your favorite curry dishes. 
Gingerol, the main compound in the herb, is a potent antioxidant and anti-inflammatory. Ginger has been used to treat everything from colds to cancer, and some studies suggest it can prevent age-related decline in brain function. 
To add ginger into your diet, try incorporating it into your routine a few times a week (either fresh, powdered, dried, or as an oil or juice). It can be especially helpful during cold and flu season.
Used for centuries in Traditional Chinese Medicine, these immune-boosting fungi can enhance energy, fight inflammation, and contain antioxidants that neutralize free radicals, which can contribute to disease and aging. You can purchase cordyceps mushrooms in pill form or powder. Cordyceps are virtually tasteless so you can add the powder to your pre-workout smoothie, coffee, soups, and more.  
To ensure you're buying cordyceps supplements containing the ingredients listed on the label — without impurities — look for brands that carry the United States Pharmacopeia (USP) or NSF International (NSF) seal.
Read more: 7 Essential Antioxidant-Rich Foods 
One of the oldest adaptogenic herbs, with antioxidant, anti-inflammatory, and potentially immunomodulatory properties, ginseng is known for increasing the body's resilience to stress as well as promoting energy (research suggests it may also improve memory). 
You can use ginseng in stir fry or soup recipes, add freshly sliced ginseng to hot water for tea, or take ginseng extract as a tincture, powder, capsule, or tablet. Whichever you choose, ginseng needs to be consumed every day for an extended period of time to reap the full benefits.
Green tea contains a compound called epigallocatechin gallate (EGCG) that offers a range of health benefits, from restoring mitochondrial function in cells — which is essential for energy, metabolism, and vitality — to reducing the risk of cancers and heart disease. And, according to one study, drinking green tea daily (or taking a supplement) may suppress brain aging.
Used to relieve anxiety and improve focus, this adaptogen is also high in antioxidants and may help support healthy aging by promoting immune function, reducing oxidative stress, and improving brain function, including memory. Ashwagandha is generally taken as a capsule, tablet, or powder — it mixes well with coffee, milk, and smoothies, and can even be used in baking. 
To ensure product quality, only purchase ashwagandha supplements with a Certificate of Analysis (COA) from a third-party testing organization. Ashwagandha is considered safe for most but should be avoided by people taking certain medications, people with thyroid disease, or if you're pregnant. Check with your doctor before adding it to your routine.
Read more: How to Boost Your Immunity Naturally
Have feedback on our story? Email [email protected] to let us know what you think!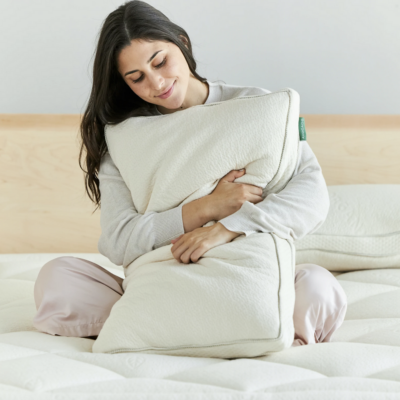 Shop Pillows
The Essential Organic Pillow Collection
Gentle, breathable, non-toxic support.
Buy Now