Our simple Air Fryer Baked Apple recipe features cozy fall spices and seasonal produce — and takes only minutes to make.
Topped with a scrumptious oat crumble, this indulgent dessert is made with wholesome, healthy ingredients and teeming with fall flavors. So this season, swap out your traditional apple pie and celebrate autumn with our Air Fryer Baked Apple recipe.    
Read more: Welcome Fall With Spaghetti Squash Alfredo
Why You'll Love These Air Fryer Baked Apples
Individual serving. Because this recipe makes a single serving, it's perfect for those moments when you're in the mood for a sweet treat but don't want to break out the large baking pans. 
Easy to make. All you need for this stuffed apple creation is a handful of pantry-friendly ingredients and your trusty air fryer for baking. 
Ready in minutes. These baked apples take just 12 minutes in the air fryer and are simple to assemble, so you can whip them up whenever the craving hits. 
Why Eat Seasonally?
As the seasons change, so does the available produce. The fall is perfect for fresh fruits and vegetables like apples, pears, figs, arugula, beets, broccoli, cauliflower, winter squash, eggplant, and peppers. Ready to eat with the seasons? Here's why that's so important.
Supports the environment: The carbon footprint associated with growing and transporting out-of-season produce is much higher than food grown naturally within its season. So if the option is available, choosing seasonal local produce is a great way to support the planet's health.

Better taste and nutrients: If you've ever eaten an apple outside of the fall and winter, you know it's not as appetizing as when it's in season — and for good reason. Produce picked at the peak of ripeness, usually in its season, will have the best taste and the most available nutrients.
Read more: Colorful Fall Harvest Sheet Pan Dinner Recipe
Air Fryer Baked Apples (Serves 1)
Ingredients
1 Pink Lady apple
¼ cup rolled oats
1 tbsp natural peanut butter
2 tsp maple syrup
1 tsp neutral oil, optional
½ tsp ground cinnamon
Pinch of ground ginger
Pinch of salt
Optional: plant-based yogurt or coconut whipped cream
Instructions
In a small bowl, combine the oats, peanut butter, maple syrup, oil, cinnamon, ginger, and salt. Mix to combine and set to the side.
Cut the apple in half, and carefully remove the core. Divide and spoon the oat crumble evenly between the tops of both apple halves.
Carefully transport both apple halves to the air fryer basket and loosely cover the tops with foil. Set the air fryer to 350F and bake the apples for 12 minutes, making sure to remove the foil halfway through to allow time for the crumble on top to crisp up. 
Enjoy the apple halves with plant-based yogurt or coconut whipped cream on the side!  
Read more: How to Practice Zero-Waste Cooking
Did you try out our Air Fryer Baked Apple recipe? Share it with us by tagging @avocadogreenbrands on Instagram or Facebook. You can also follow Catherine @plantbasedrd for more delicious, nutritious recipes.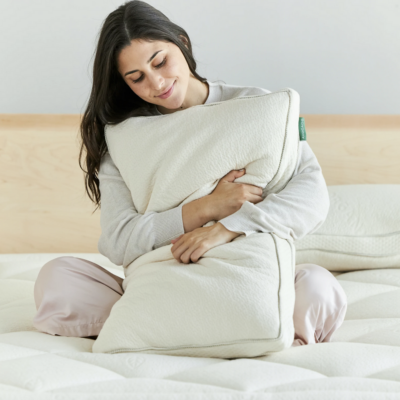 Shop Pillows
The Essential Organic Pillow Collection
Gentle, breathable, non-toxic support.
Buy Now