The warmer months aren't the only time to take advantage of seasonal produce. Here's how to find a local bounty in winter.
It's hard to beat a spring or summer farmers' market haul, but nothing says cozy season like roasted root vegetables, hardy greens, and bright citrus. And local, seasonal produce doesn't just taste better. If your produce is harvested and sold at peak ripeness rather than being picked early and ripening on transport, both flavor and nutrient density are at their best.
Local produce is also better for the environment. If food doesn't travel as far to reach your plate, that means reduced carbon emissions and less packaging waste. Supporting local farmers also helps protect land and wildlife by maintaining green spaces and encourages sustainable agriculture that can increase biodiversity, protect pollinators, and support cleaner air, water, and soil.
Plus, directly contributing to the local economy increases employment and income in your community and connects you to your neighbors.
Here's how to shop for produce, dairy, meat, and more from local purveyors year round.
Read more: How to Make Your Own Eco-Friendly Produce Bags
Join a CSA 
Signing up with a local community-supported agriculture group (CSA) is a win-win, especially in winter. You get a box of fresh produce harvested at peak flavor and nutritional value and farmers can maintain their business through the leaner months. Some also sell pantry staples, eggs, dairy products, and meat, partnering with farmers who take pride in treating their animals humanely.
While most CSAs started out by delivering a predetermined assortment of seasonal produce, outfits like Seattle-based Pacific Coast Harvest have expanded on the model, offering curated boxes and the option to customize your order or add specialty items, like Honeycrisp apple cider and fresh pasta. Others, like Locovorious out of Ann Arbor, think beyond the growing season by partnering with area farms to freeze summer produce to sell locally throughout the year. Find CSA options near you through Local Harvest.  
Read more: Why Regenerative Agriculture Produces Healthier Soil and Farms
Visit a Winter Farmers' Market
While some farmers' markets close for the season, others run throughout the year, rain or shine, or set up shop indoors. Options dwindle a bit as the colder weather sets in, but it's a good opportunity to learn about what's available in your area — and a key time to support local farmers. Without the summer crowds, you can get to know your local farmers and vendors, ask questions about their farming or sustainability methods, and generally build a good rapport.
Have a favorite farmstand at the market? Follow them on social media or check to see if they have a newsletter for updates and information on how to support them through the winter months. Here's a growing list of winter farmers markets across the country.
Shop Local 
Even if there isn't a winter farmers' market in your area, you can often still find local produce at the grocery store. Check labels for source location and for signage featuring local farms and growers. Opt for in-season produce, which is typically abundant and more cost-effective.
Tips for Seasonal Cooking in Winter
Eating seasonally helps you develop an appreciation for local food and fosters deeper connections within your community.
Lean in to meal planning with fruits and vegetables harvested during cooler months — think squash, mushrooms, citrus, apples, figs, and hearty greens like kale and brussels sprouts. This seasonal food guide tells you when locally-grown produce is in peak season based on your location, plus recipes and background information on the produce — just choose your state and the time of year you plan to shop. The USDA's seasonal produce guide is another helpful resource. 
If you know you'll have a mid-winter hankering for berries or other summer produce, freeze or preserve them earlier in the season to enjoy in baked goods or jam.
Seasonal produce is already at its best flavor-wise, and pairs well with simple recipes and short ingredient lists.
Read more: Indoor Farming Is the Future of Agriculture 
Have feedback on our story? Email [email protected] to let us know what you think!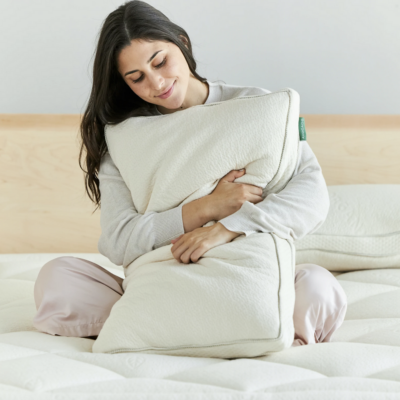 Shop Pillows
The Essential Organic Pillow Collection
Gentle, breathable, non-toxic support.
Buy Now