With a lower environmental impact, more abundant produce yields, and less waste, indoor farming is poised to upend the agriculture industry.
Imagine stepping foot into a nondescript warehouse or walking past a window-lined skyscraper and, instead of raw materials or office cubicles, you're met with a floor-to-ceiling farm. Among the towering rows is an abundance of produce in all stages of growth. What you've encountered is a vertical indoor farm — and it's one of the innovations expected to shape the future of the farming industry.
The negative environmental and health impacts of industrial agriculture practices are too substantial to ignore. But according to advocates, indoor farming is a sustainable solution, one that can address food insecurity, food waste, environmental degradation, and climate change associated with the agriculture industry.
Agricultural expansion is responsible for 90 percent of global deforestation and livestock grazing has resulted in the loss of 40 percent of forests. Worldwide, 70 percent of freshwater is used by the agriculture industry, much of which is diverted from rivers, aquifers, and groundwater systems already threatened by drought exacerbated by climate change. This is the case for the Colorado River, which has dropped 20 percent since the 1900s.
In addition to straining our water supply, toxic pesticides, herbicides, and synthetic fertilizers synonymous with small and large-scale farms make their way into our groundwater and rivers, polluting lakes and waterways, and harming plant species and wildlife. Exposure to these substances has also been linked to birth defects, cancer, and developmental issues in humans. Then there are emissions. The agriculture industry makes up 9.6 percent of U.S. greenhouse gas emissions and about 36 percent of methane emissions — primarily from livestock — both of which are among the leading causes of climate change.
Read more: Why We Need to Curb Methane Emissions Now
What's more, according to the World Health Organization, world hunger is outpacing population growth. In 2020, more than 2.3 billion people, or 30 percent of the global population, lacked adequate, year-round access to food. And with a global population that's expected to reach nine billion by 2050, we'll need to increase food production by 69 percent to feed everyone.
Hydroponic greenhouses and vertical farms are the industry's darlings. Both systems rely on soilless infrastructure and hydroponic growing systems that use 95 percent less water than traditional farming methods and utilize land more efficiently. For example, open-field farming yields roughly eight-and-a-half pounds of lettuce per square meter of ground space, a greenhouse yields approximately 90 pounds, and a vertical farm produces a massive 220 pounds of lettuce per square meter of space. Vertical farms are able to produce such a high yield due to their vertical structure, which stacks rows of plants from floor to ceiling. Some farms also make use of aeroponic growing systems that lead to greater plant productivity.
"Growing indoors all-year-round means we can produce food up to 90 times the productivity rate in comparison to field farming," says Marc Oshima, CMO and Co-Founder of AeroFarms, a sustainable vertical farming company based in Newark, New Jersey. "Our model also allows us to feed our communities and offer year-round jobs with fair wages and benefits, providing our team members with a consistent opportunity to learn, grow, and advance within this quickly developing new industry."
Both indoor setups are also climate-controlled, so crop losses from environmental impact and wildlife are drastically reduced — there's no need for toxic pesticides to keep invasive species and weeds at bay, either.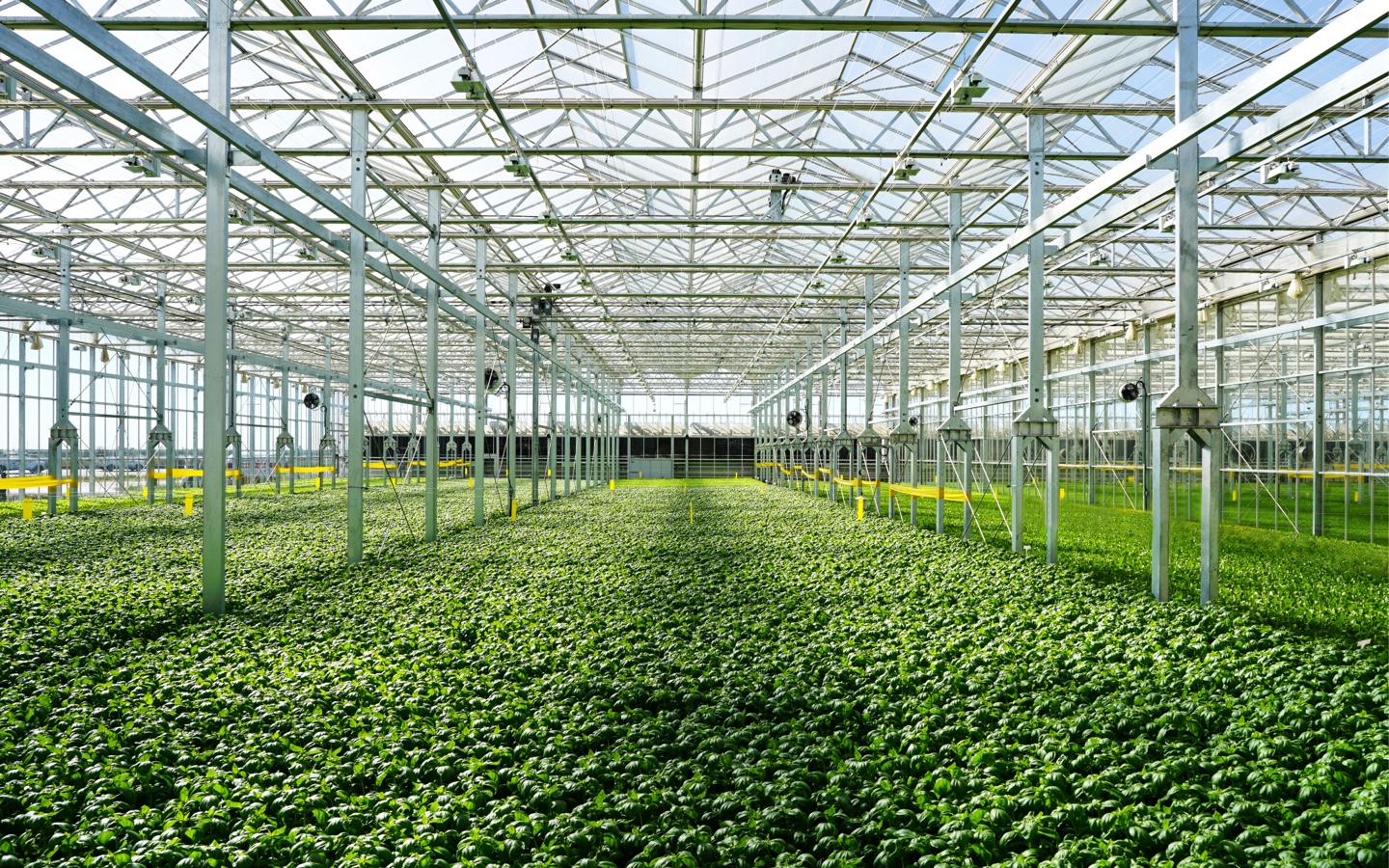 Read more: The Superweeds Are Winning
And, you can build indoor farms anywhere. "Indoor farming plays a role in economic development," says Viraj Puri, CEO and Co-founder of hydroponic greenhouse company Gotham Greens. "When we're scouting new greenhouse locations, we've often been drawn to adaptive reuse projects in cities across America — which help revitalize urban communities by transforming otherwise underutilized real estate into productive agriculture — with the goal of breathing new life, high-quality jobs, and economic development into local communities."
For example, Gotham Greens' 100,000-square-foot greenhouse in Baltimore is located on the site of the former Bethlehem Steel Mill, and their Providence, R.I. greenhouse is built on the site of a former GE lighting factory.
The ability for indoor farming to utilize warehouses and locations in urban areas allows crops to be grown physically closer to the people who will consume them. The result is fresher fruits and vegetables, decreased reliance on imported goods, less waste due to spoilage during shipping, reduced greenhouse gas emissions during transport, and improved access to healthy food in underserved areas and food deserts.
"By enabling local production, we bypass a complex supply chain for traditional field farming that is very energy-intensive for refrigeration, transportation miles, and food loss along the way," says Oshima. "Per the FAO, 14 percent of the world's food is lost after harvesting and before reaching the store shelf. We harvest our greens and quickly distribute them to reduce the amount of food waste on its way to the grocery store. This means our greens will last longer once purchased, which provides more time to enjoy and results in less food waste in the home."
Indoor farming has its pitfalls. The upstart costs for both vertical and hydroponic greenhouse farms are in the tens of thousands for a single setup. International company Freight Farms coughs up between $82,000 and $85,000 for each of its shipping container vertical farms — a price that could purchase 10 acres of farmland. The farms' LED grow lights and climate-controlled infrastructure is also energy-intensive. In Freight Farms' case, they use about 80 kWh per day to power their lights and pumps, or two to three times that of the average U.S. household. This amount of electricity use equates to about 44,000 of CO2 per container per year.
Read more: The Startup Turning Sugar Into Concrete
Combined, the upfront and operational costs make growing produce in indoor facilities incredibly expensive, and those fees are passed down to the consumer. Price tags on produce from these farms can be up to two times that of organic varieties, making them cost-prohibitive for the average consumer and low-income families. And, as it stands, vertical and hydroponic farms are only used to grow lettuce, microgreens, tomatoes, and strawberries, so nutrient-rich produce like squash, carrots, and eggplant still need to be grown the old-fashioned way.
Despite the costs, the vertical farming market is projected to boom. The hope is as adoption becomes widespread and advancements in LED technology bring electricity prices down, vertical farm operations will become profitable — and their products cheaper for consumers.
"A lot of the unit economics of growing vertically is about scale. Our next generation of farms are designed to help us reach a volume that can support more cost-friendly price points," says Hannah Bouline, Director of Impact & Sustainability at Vertical Harvest, a vertical farming operation whose flagship farm is located in Jackson, Wyoming. "We're also exploring programs like USDA permission to accept SNAP benefits and Healthy Corners-style programs that prioritize local small businesses within the community to help them stock and sell fresh, whole but also perishable foods in areas that might be considered food deserts."
Globally, the industry is expected to grow from $4.3 million in 2021 to $19.8 million by 2028. In the first three quarters of 2020, a record $754 million in venture capital was invested in the technology. And in April 2022, Wyoming-based vertical farming company Vertical Harvest raised $8.35 million in Series A funding for expansion. Meanwhile, the hydroponics market is poised to expand at a compound annual growth rate of 7.8 percent from 2017 to 2027.
But if vertical and hydroponic farming is to become the sustainable agriculture solutions they're predicted to be, the industry as a whole needs to find a way to make it cheaper, less energy-intensive, and decarbonize our energy grid so the power it does require comes from renewable sources.
"Vertical farming is a clear improvement in three of the four major measures of climate resiliency — water conservation, toxin reduction, and the preservation of arable land — but on the fourth, greenhouse gas emissions, there is still more that we, and other controlled environment agriculture companies, can do," says Bouline.
Vertical Harvest and Gotham Greens' operations provide a roadmap to do just that. Vertical Harvest sources 80 percent of its energy mix from renewables and its new farm in Westbrooke, Maine will have on-premises rooftop solar and be equipped with the latest energy-efficient LED lighting, according to Bouline. And because plants consume CO2, Vertical Harvest's farms serve as a type of carbon sink. The company also reserves a portion of its greenhouse as a growing space for native plant starts, which they plan to introduce on rewilded land to help with carbon capture.
"Vertical farms are a key part of the future of agriculture — but by no means a silver bullet. The reality is demand for yields is growing, as are climate pressures," says Bouline. "The ways we've been going about growing won't be enough in the coming decades, as water becomes more scarce and weather more extreme. Cities will also have to start viewing food production as a part of their resilience planning and essential civic infrastructure. It's time for local governments to future-proof their food supplies and vertical farms."
For its part, Certified B Corp Gotham Greens powers its hydroponic growing systems with 100 percent renewable energy-powered greenhouses. By 2024, the company plans to reduce both its energy use intensity and Scope 1 and 2 greenhouse gas emission intensity by five percent. To achieve this, Gotham Greens will reduce its energy use and reliance on fossil fuels, switch to more LEDs, and invest in cleaner, more efficient, and smarter equipment to power their facilities, according to Puri.
"The continued effects of climate change, the rising cost of transportation and logistics, and the increasing food safety incidents demonstrate the downfalls of conventional farming and its supply chain," says Puri. "These shortcomings continue to fuel innovation in the indoor farming industry. By growing crops in a controlled environment, we can produce consistent and reliable supply for both retailers and consumers."
Read more: The Tech Company Fighting Food Waste
Have feedback on our story? Email [email protected] to let us know what you think!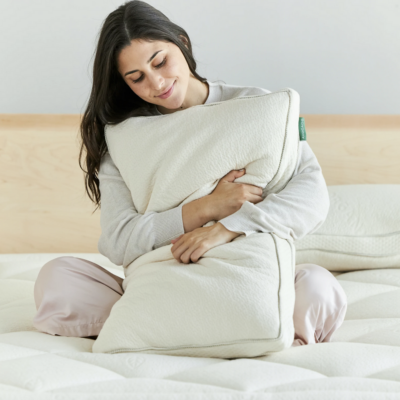 Shop Pillows
The Essential Organic Pillow Collection
Gentle, breathable, non-toxic support.
Buy Now