Methane emissions warm the planet at a much faster rate than carbon dioxide. Reducing the amount of this long-overlooked greenhouse gas is key to fighting climate change.
Sharon Wilson, a senior field advocate at Earthworks, has been observing oil and gas facilities for more than a decade, so she's found herself in the presence of methane plumes more than once. "When you get downwind of these plumes, you can be panic-stricken," she says. "You really feel like you're going to suffocate if you don't get out of the plume."
Wilson knows how horrifying methane's effects are for both people and the climate; she's advocated for years about its long-underestimated role in warming the planet. Lately, it seems like the rest of the world is finally catching up. With a growing body of research putting numbers to that fact, more and more policymakers are focusing on methane emissions as a critical element of mitigating climate change. The question now is if we can act fast enough.
Wilson is a fifth-generation Texan who used to work for the oil and gas industry — that is, before she witnessed firsthand the negative effects of fracking in her community. She joined Earthworks' Oil and Gas Accountability Project in 2010, and in 2014, became a certified optical gas imaging thermographer, which means she captures evidence of invisible plumes of gas that facilities release into the atmosphere. That's key in monitoring methane because we really have no idea how much is released into the atmosphere each year. The EPA estimates methane emissions with calculations from self-reported data from companies. However, a study published this year found that actual field observations, using methods like satellites and flyovers, revealed emissions 1.5 to 2 times greater than those estimates.
"I have come to the conclusion that the oil and gas industry cannot prevent methane emissions. It's a volatile gas under pressure. It is going to escape and they cannot keep these promises. The only way that methane levels are going to reduce is to stop all new production."
Read more: The True Cost of Air Pollution
Methane has historically been neglected in conversations about greenhouse gases, in part because it acts differently in the atmosphere than carbon dioxide. Though it doesn't stay in our atmosphere as long as carbon dioxide (think decades, not centuries), its potential to warm the planet is a lot higher in its short lifetime — an estimated 86 times higher. That also means slashing methane could be a much bigger tool in fighting climate change than we've given it credit for. This idea came to the fore in the latest IPCC climate change report, which emphasized that cutting methane is more important now than previously thought. In fact, it would be the fastest way to slow warming, essentially buying us time to deal with carbon dioxide in the atmosphere. "I do feel like there is finally an awareness of methane," says Wilson, "and I'm really glad because it was driving me nuts."
The last few months alone have seen a handful of public statements in support of tackling methane. The EPA's proposed Clean Air Act includes measures to increase monitoring and regulation of both new and existing methane production. At the COP26 summit, more than 100 countries pledged to cut methane emissions by 30 percent by 2030. But Wilson, after years of working in the field, says that more dramatic action is needed to really address the problem. "I have come to the conclusion that the oil and gas industry cannot prevent methane emissions," says Wilson. "It's a volatile gas under pressure. It is going to escape and they cannot keep these promises. The only way that methane levels are going to reduce is to stop all new production."
While she is all for more monitoring of methane, that's the very problem with pledges like the one at COP26. "You don't even know how much you're emitting," she says. "So how are you going to know when you have met those goals?" More regulation is a good thing, but a massive amount of it would be required to adequately cut down on emissions. More than that, Wilson has seen enough of how oil and gas production works to know that methane will keep escaping as long as it continues.
Accidents happen, and actions that release methane into the air are also part of standard practice. Flaring, or the deliberate burning of natural gas, is a common practice at oil wells — but in 2020, Wilson found unlit flares at oil and gas production sites that were left both accidentally and deliberately, releasing methane into the air at 34 percent of sites she visited. Employees frequently open tank hatches in order to take routine measurements and samples, which allows gas to escape. And when they need to shut down equipment for repairs, they are required to release all the gas from it first. All of this also makes for dangerous working conditions.
"The gas is volatile, it's explosive, and it's going to find a way out," says Wilson. "There are so many problems. It's a big mess. No, they can't just stop."
Read more: Why You Should Switch to a Heat Pump
What would be able to stop the production? Wilson would like to see President Biden declare a climate emergency, which would allow for more urgent action and funding to go toward addressing one of the greatest crises in our lifetimes. And yes, that could include moves to halt oil and gas production and cut down on our dependence on fossil fuels. Though the idea has support from lots of climate activists and within the government, Biden has so far only employed "climate emergency" as a manner of speech and not as an executive action. In fact, Biden has approved more oil and gas drilling permits per month than Trump did in his presidency.
Of course, the dangers of continuing on our current trajectory of methane emissions are a matter of human welfare as well as a danger to our climate. Methane emissions create air and groundwater pollution that contributes to increased risk of short- and long-term health effects.
"There are people who live in the plume all the time. When I go out in the field and I meet these people and I take videos around their houses, I get to go home," says Wilson. "They are home. They don't get to leave."
And though she often gets pushback from natural gas workers who don't want to be out of a job, she sees an alternative that would offer safer jobs and living conditions for the people who must live and work closest to these facilities. "We could create a new world with cleaner air, cleaner and safer jobs," she says. "Why are we messing around doing the same old thing?"
Read more: Why Creative Agencies Are Boycotting the Fossil Fuel Industry
Have feedback on our story? Email us at [email protected] to let us know what you think!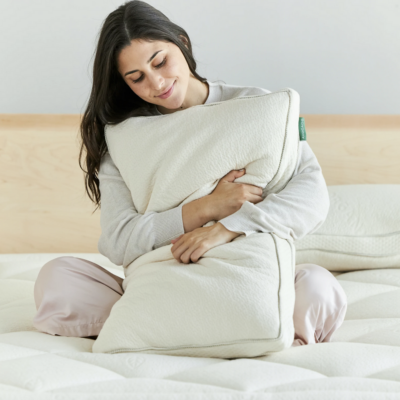 Shop Pillows
The Essential Organic Pillow Collection
Gentle, breathable, non-toxic support.
Buy Now