By creating sustainable, emissions-free chemicals using corn syrup, Solugen is decarbonizing the trillion dollar chemical industry.
It sounds like science fiction: What if, instead of using fossil fuels to make chemicals, we used fermented sugar? While the proposal sounds far-fetched, physician-founded startup Solugen is trying to do just that with the prospect of removing a billion tons of carbon dioxide from the atmosphere per year.
The company's novel technology — BioForge — combines corn syrup, deionized water, and compressed air, then utilizes engineered enzymes and metal catalysts to transform them into the desired chemical. Solugen has already leveraged the technology to create a sustainable water treatment product that effectively controls the buildup of calcium phosphate scale and reduces corrosion of mild steel and aluminum. Now, they are developing a molecule that makes concrete harder. The end goal is to create a vital building material that's safer, stronger, longer-lasting, and more sustainable, thus reducing the amount of cement we use in the long-run.
At first glance, a tour of Solugen's headquarters resembles a typical chemical processing plant. It's industrial, located in Houston, Texas — built on the footprint of a "dirty" petrochemical plant that ran off fossil fuels and violently exploded in 2006 — and there are machines at every turn. But if you pay closer attention, you'll notice an absence of coal-fired burners. That's because the plant runs entirely off wind-powered electricity. There are no wastewater discharge facilities or air emissions, either.
Read more: What You Need to Know About the Wind Energy Revolution
The startup is reimagining how the typical chemical processing plant operates — and serving as a blueprint for future sustainable builds — in an effort to reduce the amount of climate change-causing greenhouse gasses produced by the $6 trillion petrochemical industry. In 2021, the industry's emissions accounted for an estimated 923 million tons of carbon dioxide, resulting in further warming of our Earth's atmosphere, more intense weather events, sea level rise, an increase in human health issues like respiratory disease due to worsening air pollution, and more. At present, greenhouse gasses are at the highest levels ever recorded.
According to TechCrunch, Solugen's innovative idea — to turn fermented sugars into fuel — was inspired during a poker game in 2016. Sean Hunt, now-CTO of Solugen, met Dr. Gaurab Chakrabarti, now-CEO of Solugen, and they began strategizing about combining their research to decarbonize the chemical industry. Both are scientists and realized that, together, they could potentially approach chemical-creation in an entirely new and sustainable way.
Read more: 7 Sustainability Trends You'll See in 2022
Solugen's proprietary BioForge bio technology speeds up the (usually slow) process of fermentation, and because their plant is powered by 100 percent renewable wind energy, greenhouse gas emissions are drastically reduced or eliminated. (For every 1,000 tons of product that is replaced by Solugen products, they save enough energy to power 200 homes for a year, according to their website.) The cutting-edge infrastructure also produces zero wastewater or air emissions and utilizes an interconnected drain system that collects and reworks unused materials so no byproducts are generated.
First, Solugen's founders focused on using BioForge with water treatment chemistries — a super specific niche. Once the concept proved itself, they began working on other, more commonly used chemicals.
As the startup expands its range of green, cost-competitive chemicals, it could theoretically produce 90 percent of chemicals now produced by fossil fuels, using their methods, according to a Fast Company analysis. But this may not happen soon.
"​​Making alternatives for everything will take time — the company has to design enzymes for each chemical, and that's a challenging process that isn't necessarily guaranteed to work," Adele Peters writes in Fast Company.
As for what's next, according to a 2021 press release, Solugen recently raised $350 million. And according to their most recent press release, in the immediate future, they plan to use the additional capital to research the production of healthy personal care items and cleaning products — like bio-based detergent builders and industrial cleaners — as well as to continue work on the water treatment product they've already developed. As a result, Solugen hopes to remove the CO2 equivalent of taking two millions cars off the road by 2030 by sequestering 10 million tons of CO2 from the atmosphere, and aim to become a major producer of bio-plastic monomers using their BioForge technology.
"Our breakthroughs in enzyme and metal catalyst engineering allow us to produce chemicals in a more sustainable and profitable way," said Chakrabarti in the release. "We can now deliver for our customers performance benefits, cost savings, and most importantly, lower carbon footprints."
Read more: The Packaging Startup Helping Big Brands Tackle Waste
Have feedback on our story? Email us at [email protected] to let us know what you think!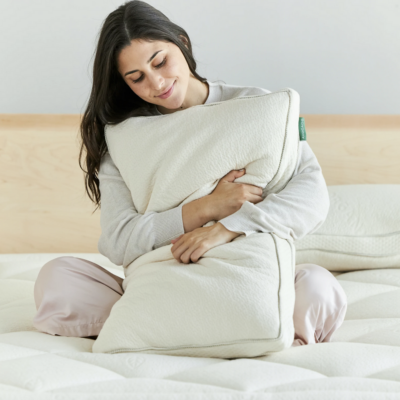 Shop Pillows
The Essential Organic Pillow Collection
Gentle, breathable, non-toxic support.
Buy Now