Copenhagen-based Paboco is partnering with companies like Carlsberg, Coca-Cola, and L'Oréal to pioneer a shift to bio-based bottles.
Since the 1950s, the rate of plastic production has grown faster than any other material, and in the early 2000s, global output of plastic waste rose more in a single decade than it had in the previous 40 years combined. The problem? Less than 10 percent of all plastic waste is ever actually recycled. The rest is incinerated (which produces greenhouse gas emissions) or ends up in landfills or our environment. After cigarette butts, plastic bottles are the most common single-use plastic found in nature.
But in 2015, Danish packaging company EcoXPac partnered with multinational brewer Carlsberg to explore a solution: a 3D molded paper bottle made using an entirely new technology, one that required very little energy compared to traditional methods. Shortly after Carlsberg shared the "Green Fiber Bottle" concept at the 2019 World Economic Forum in Davos, Swedish pulp and paper manufacturer BillerudKorsnäs joined the project, followed by packaging and bottle manufacturing specialist ALPLA. With new partners came a new name, and EcoXPac became Paboco, short for the Paper Bottle Company.
The presentation at Davos caught the eye of a number of international brands with their own sustainability initiatives, from Coca-Cola (its World Without Waste program debuted in 2018) to L'Oréal (L'Oréal for the Future launched in 2013). Paboco selected its "pioneer brands" intentionally, looking for a small group interested in taking a long-term, collaborative approach to exploring the paper bottle concept, companies that could each bring expertise in packaging material, design, and technology.
Read more: 4 Innovative Plastic Pollution Solutions We're Rooting For
"We sought companies who were willing to take the step into some innovation uncertainty as part of developments toward a new packaging concept," says Paboco Commercial Manager Michael Michelsen. "It is highly encouraging to see these companies take a position in dedication toward non-traditional problem-solving and reduction programs."
"A paper bottle opens up a whole new world of packaging possibilities, and we are convinced that paper packaging has a role to play in the future."

Stijn Franssen, R&D packaging innovation manager at Coca-Cola
The first iteration of the bottle is fiber-based, with the exception of a thin plastic barrier and cap, made from fossil fuel-based PET or recycled PET materials. The design allows for up to a 65 percent reduction of plastic and the ability to separate out the barrier for recycling. Carlsberg, Absolut, L'Oréal, and Coca-Cola launched pilot tests of fiber bottles for drinks and cosmetic products in Europe in 2019, and Proctor & Gamble will begin their trial rollout in 2022, also in Europe. The goal is twofold: lower their own carbon footprint while providing the paper bottle concept a soft launch into the mainstream market.
"A paper bottle opens up a whole new world of packaging possibilities, and we are convinced that paper packaging has a role to play in the future," says Stijn Franssen, the R&D packaging innovation manager at Coca-Cola.
Paboco's objective isn't to entirely replace plastics or packaging (analysts now predict plastic production to triple by 2050). Instead, it aims to provide a sustainable alternative as momentum grows for a circular economy, which considers every stage of a product's journey. As a result, they hope to eliminate unnecessary plastics, ensure the plastics we do need are designed to be safely reused, recycled, or composted, and circulate the rest within the economy and out of the environment.
Read more: The Nonprofit Reducing Plastic Waste One Community at a Time
For Paboco, putting this principle into design means not only rethinking the product but the business model. "You need to expand your dialogue beyond your own industry field and engage with recyclers, brands, consumers, and returns systems from your relevant markets," says Michelsen. "It works upward in the value chain as well, such as ensuring the origin of our material comes from responsibly managed sources or uses recycled material where possible."
According to research from the Ellen MacArthur Foundation, the circular economy approach is not only "vital to stopping plastic pollution, it also offers strong economic, social, and climate benefits." It projects that by 2040, this shift has the potential to reduce the annual volume of plastics entering our oceans by 80 percent; reduce greenhouse gas emissions by 25 percent; generate savings of $200 billion per year, and create 700,000 net additional jobs. Today, at least 8 million tons of plastics leak into the ocean every year — the same as dumping one garbage truck into the ocean per minute — and if no action is taken, this is expected to rise to four per minute by 2050.
This May, Paboco unveiled the prototype for its "next generation" bottle, currently still in development. The design is fully bio-based and recyclable, with an integrated barrier (meaning that while this element is plant-based and recyclable, it's technically still plastic). This moves Paboco that much closer to creating 100 percent bio-based fiber packaging.
Read more: How Ocean-Bound Plastic Bottles Become Useful Stuff
As companies face the challenges of meeting global environmental standards and their own sustainability commitments, Paboco's co-development method might be a model for how collaboration between corporations can enable open innovation and change at a more rapid pace.
"I believe Paboco is one example of how such a collaboration can break down the walls of traditional thinking and sole-origin implementation," says Michelsen. "For companies in similar situations, I can only highly recommend that a community or joint approach is sought between its working partners — there is often more that connects such companies than what sets them apart."
Have feedback on our article? Email [email protected] to let us know what you think!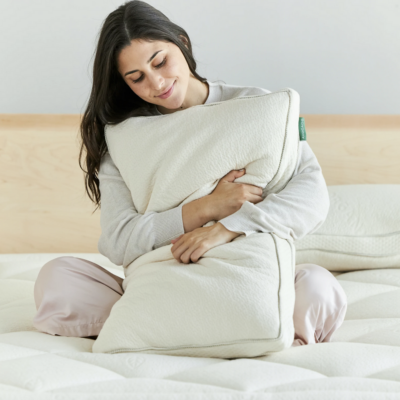 Shop Pillows
The Essential Organic Pillow Collection
Gentle, breathable, non-toxic support.
Buy Now