First Mile transforms plastic bottles into clothing and other goods while providing reliable, safe jobs in some of the world's poorest communities.
When First Mile CEO and founder Ian Rosenberger traveled to Haiti in 2010 following the devastating Port-au-Prince earthquake that shook the capital, he had a lightbulb moment: Turning trash into money = good. In other words, he saw an opportunity to recycle plastic bottles into usable materials (textured fiber that can be turned into yarn) while empowering the local population through job creation.
583.3 billion plastic bottles. No, that's not a typo — that's the estimated number of plastic bottles projected to be produced in 2021. And if that number doesn't give you pause, it should. The majority of plastic never gets recycled. Instead, it ends up in landfills and in our oceans, further harming wildlife and contributing to increased pollution and climate change.
But First Mile is on a mission to ease the damage.
Read more: The Nonprofit Reducing Plastic Waste One Community at a Time
After a few years of hard work and hustle, the First Mile team made their dream of doing good a reality. Initially operating under the name Thread International, they partnered with already-established collection centers and recycling centers in Haiti to set up environmentally and socially conscious supply chains.
"We didn't want to come in and set up our own recycling facilities and become a competitor in this space," said Kelsey Halling, Head of Partnerships at First Mile and member of the company's founding team. "We wanted to drive more demand to these local businesses so that they would really have the chance to flourish."
Read more: We Need to Cancel Single-Use Plastics Now
Here's how it works:
First Mile collectors bring plastic bottles to a collection center and trade the bottles for cash.
The collection center preps and bundles the plastic bottles, then transports them to the recycling center.
Non-PET material (caps and labels) are removed, and the recycling center grinds the bottles into high-quality plastic flakes that are melted and shaped into pellets.
The plastic pellets are turned into fine strands, then texturized into soft fibers.
The fibers are spun into a more substantial strand of yarn.
First Mile recycled yarn is used to make sustainable fabrics and textures for clothing, apparel, and more.
Seems simple, right?
First Mile has made major strides since that first 'aha' moment. What started as a small operation in Haiti has expanded to a multi-country effort, operating sustainable supply chains in Honduras and Taiwan and touting partnerships with major brands including Timberland, PUMA, HP, Aerie, Ralph Lauren, Converse, and more — plus a pretty sweet backpack under their direct-to-consumer brand Day Owl.
"As we have continued to grow and expand, we know that plastic has a lot of different applications, and so we are no longer solely focused on the textile or apparel industry," said Halling. "[We] have some really wonderful partnerships with multinational corporations like HP, which utilizes responsibly collected plastic in more than 50 products at this point and has been a really impactful partner in Haiti."
But recycling and transparent supply chains are just part of the equation. The other part is a commitment to positive social impact. First Mile works with collection center owners to provide skills-based educational programming, including how to recruit, hire, and train collectors, along with access to resources like low-income loans to ensure local entrepreneurs have the tools to run successful, long-term businesses.
It doesn't stop there. First Mile CEO Rosenberger has also created a separate organization, WORK. The non-profit focuses on combating child labor and helping families in Haiti end the cycle of poverty by providing meaningful, dignified jobs. By partnering with First Mile, HP, Timberland, and ACOP (The First Mile Coalition), WORK is able to ensure family members are prepared for the workforce while enabling school-age kids to receive an education.
"In Haiti specifically, they have helped to develop programming to ensure that collectors have access to medical care, access to education, and we've transitioned more than 150 children out of collection and into being full-time students," said Halling.
A continued commitment to doing what's right for the planet and the people living in it has paid off. In July 2020, First Mile celebrated a huge milestone — 100 million plastic bottles recycled into clothing, accessories, and printer cartridges. That's a big deal. 100 million bottles equates to over five million pounds of plastic redirected from landfills and oceans. Here's what else that breaks down to, according to First Mile:
$690,000 earned by waste collectors in Haiti, Honduras, and Taiwan.
The transition of more than 100 kids out of full-time collection and into full-time education.
Dozens of entrepreneurs running recycling businesses that are transforming their neighborhoods.
100 million plastic bottles recycled is definitely worthy of bragging rights, but First Mile is just getting started. Keep an eye out in 2021 and beyond for expansion announcements, new brand partnerships, and — you guessed it — awesome co-branded gear created with recycled plastic.
Know of another brand making major moves in the sustainability space? Shoot us a DM on Instagram, a message on Facebook, or tag us in a post! @AvocadoMattress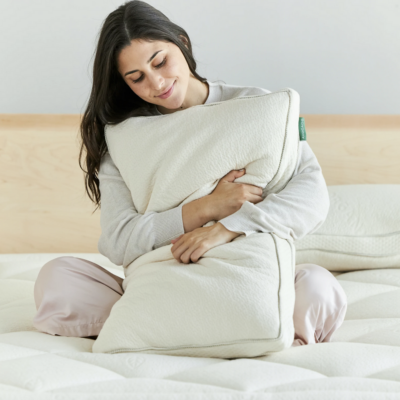 Shop Pillows
The Essential Organic Pillow Collection
Gentle, breathable, non-toxic support.
Buy Now