Sustainability
The Nonprofit Reducing Plastic Waste One Community at a Time
Plastic Oceans International works with local groups worldwide to curb plastic pollution and inspire sustainable, lifelong change.
This month, we're celebrating the heroes that embody this year's Earth Day theme: Restore Our Earth. Last week, we wrote about the solar co-op addressing energy injustice. For our second story in the series, we're spotlighting Plastic Oceans International. Don't miss our first story: Are Solar Co-ops the Future of Clean Energy?
When Tod Hardin first thought about joining Plastic Oceans International, he was a part-owner of a global advertising and communications agency — and was burnt out.
"My physical and mental health were suffering, and I wasn't doing work that I felt passionate about," he said. As part of his job, he'd been helping with marketing for the award-winning 2017 documentary film, A Plastic Ocean. The experience made him realize he didn't have to stay in a position that was making him unhappy. Instead, he could walk away from the agency and help the organization attached to the film grow its impact. He's never regretted it.
Plastic Oceans International is a non-profit focused on ending plastic pollution and helping to foster sustainable communities. Their mission, one that Hardin now focuses on daily as the organization's COO, is to drive behavior change by inspiring sustainable action in communities. To reduce plastic use, we have to make major changes from the top down — in public policy, corporate practices, and our individual behaviors. It's a tough sell, but the reality is that plastic isn't a long-term solution. If we want future generations to enjoy the same planet we do today, we need to make a monumental shift away from plastics — now.
Read More: How Plastic Oceans International Inspired Me to Help Save Our Seas
"Most of what's out there are petroleum-based plastics that never really go away," says Hardin. "More than 90% of every piece of plastic ever made is still on our planet, as the material takes hundreds of years to break down."
Plastic pollutes our oceans, lakes, and rivers. It kills wildlife due to entanglement or ingestion. And scientific data has shown that plastics — especially microplastics and nanoplastics — may also negatively impact human health.
"We don't know yet the full extent of what this means," says Hardin. "But I personally believe that as more research comes out, we will see a very direct connection between plastic and human health issues."
Plastic Oceans International believes in helping to create a "circular economy" that doesn't rely on plastic. In a circular economy, nothing goes to waste; if you've heard of "zero wasters," you may have seen examples of this lifestyle, which involves using materials that don't create waste, to limit your footprint. Of course, this is a lofty goal and one that can be difficult to achieve — but Hardin says even taking small steps toward this kind of system will push organizations, corporations, individuals, and governments to reimagine our current setup and make a change for the better.
Read More: We Need to Cancel Plastics Now
To get more people to understand and eventually adopt a circular economy mindset, Plastic Oceans keeps a local focus; after all, it's much easier if locals generate solutions that work in their own communities.
"We strongly believe in the idea that we can, and must, act at the local level in order to inspire and create change on a global scale."

Tod Hardin
For the Campeche Turtle project in Mexico, Plastic Oceans has partnered with community organizations to clean up beaches and educate youth about sustainable living through the overarching branch turtle conservation. Local groups in Mexico also run an organization called Mercado Verde that brings together 60 to 70 local families who make sustainable products, which are then sold to those in the surrounding neighborhoods. Rather than starting something new, Plastic Oceans partners with already established organizations to support other tools that keep these initiatives running.
"We strongly believe in the idea that we can, and must, act at the local level in order to inspire and create change on a global scale," Hardin says. "For us, the power is that the solutions and projects come from those local partners and local communities. We don't want to go in and say we're here to save you. We look for projects and communities that are engaged in making those projects successful. They're already there and already working. It's the most powerful and lasting way to create changes in consumer behavior, corporate practices, and public policy."
Plastic Oceans has changed significantly since their launch in 2016. At the time, reducing plastic seemed like a pipe dream. Now, folks seem to be buying into the idea with more enthusiasm. The organization's social media following has increased 50 percent since they were founded, and their web traffic has seen a 15 percent growth year-over-year. They've also expanded globally to include branches in Canada, Chile, Europe, and Mexico.
Nonprofit work has been especially tough during the Covid-19 pandemic, due to drops in individual donations, but Hardin says it's also given Plastic Oceans an opportunity to redefine their goals and structure. They're coming out of the pandemic more focused and with several key initiatives lined up.
Their big projects for 2021 include BlueCommunities, an initiative that focuses on developing partnerships with coastal communities whose economy is driven by the water. In partnership with Plastic Oceans, these local areas will work to solve plastic pollution and promote sustainability on the ground by adopting circular economy principles.
They're also focused on Rethink.Refill, an education program that empowers young people to eliminate reliance on single-use plastic bottles by delivering clean drinking water and reusable bottles to underserved schools worldwide.
Read More: How Ocean-Bound Plastic Bottles Become Useful Stuff
Plastic Oceans — and Avocado — are working together on an inaugural event in August in Patagonia called Trees and Seas. The six-day festival, which they hope will become an annual gathering, is aimed at making a connection between ocean and forest conversation. Over the course of the event, the goal is to have at least 20 other initiatives taking place simultaneously worldwide, plant 50,000 trees, engage in 20 forest and coastal cleanups, and host 100 forest and ocean conservation education workshops.
The nonprofit is also getting back into the documentary film game — which is where the organization got its start. Hardin even directed one of the projects, Against the Current himself. The film follows a South African endurance swimmer who attempts to become the first person to swim around Easter Island (Rapa Nui) nonstop.
On plastic reduction, Hardin acknowledges that we have a long way to go — but people are starting to wake up and change is happening. "We can certainly do better than we are now," he says, "But it takes individuals, corporations, governments, and full communities working together."
At the end of the day, we're all one planet and one ecosystem.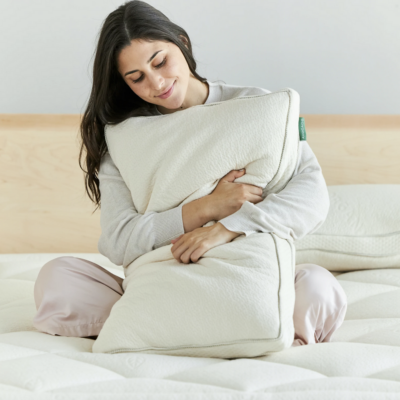 Shop Pillows
The Essential Organic Pillow Collection
Gentle, breathable, non-toxic support.
Buy Now