A silver lining to my quarantine: Spending more time educating myself on climate change, circularity, plastic pollution, and environmental policies with books, documentaries, virtual discussions, and podcasts.
Growing up, my mom always made sure she got the most mileage out of our goods like plastic straws and bags, disposable cups, plastic water bottles, and the 32 ounce Dannon yogurt containers by washing and reusing them. While it almost embarrassed me then, I have a whole new perspective on how this frugal practice was actually something profoundly environmentally conscious. I have since outfitted my mom with reusable straws, storage bags (my favorite is the beloved Stasher bags), and water bottles. I remember how excited she was when I brought these to her — it was as if she had been preparing for these innovations without even knowing it.
Now, I'm always taking extra steps to find new ways to reduce what I contribute to landfills and to discover plastic-free alternatives that lower what I have to recycle. A few weeks ago, I spent a quiet Friday night diving into a documentary that truly opened my eyes to plastic pollution and how it affects both marine life and humans, called A Plastic Ocean. Without giving too much away (you have to see it with your own eyes), two things I was reminded of were: 1. Businesses, as the producers of these commodities, have the power to prevent plastic pollution. 2. There are people less fortunate than me that literally have to live with the terrible, lingering after-effects of plastic production.
This is not breaking news. Plastic pollution is a global issue and experts predict that more than 1.3 billion tons of plastic will wind up in our oceans by the year 2040. After learning about Social Plastic®, a regenerative solution to stop plastic from entering the ocean in the first place, and how plastic waste could be the future of sustainable building, it is now clear to me that corporations really do have the power to mindfully make products.
This is where teams such as Plastic Oceans International, a nonprofit organization that is on a mission to end this unsustainable and ecologically damaging activity, comes into play. Through advocacy, activism, education, and science, their hope is to change the world's attitude toward plastic and thereby influence public policy and consumer and corporate behavior.
Upon introducing Plastic Oceans International to our giving program, I got the chance to take this new-found inspiration and connect with their team to learn about two important programs they've put into place.
#1 — Rethink.Refill.
Rethink.Refill is a program dedicated to underprivileged youth around the world. They are bringing safe drinking water, refilling stations, and reusable bottles for five schools here in the U.S. and Mexico with hopes to expand to other countries. The program also focuses on educating students on the devastating effects plastic pollution has on our planet.
#2 — Campeche Turtle Project
With more than 85 nests under their care and over 6,400 hatchlings that have made their way to the sea with the help of this project, Plastic Oceans International is fighting the good fight to keep the most endangered marine animal, the Hawskbill Sea Turtle, safe. Located in Mexico's Yucatan Peninsula, the goal of the five-year-old project is to learn how to support and learn from the people of Campeche.
"Within those communities we partner with at least two local NGOs (Non-Governmental Organizations) that have existing programs related to our mission of ending plastic pollution and/or fostering sustainability," explains Tod Hardin, Chief Operating Officer at Plastic Oceans International.
It's fulfilling to work with organizations like Plastic Oceans International. As I carry on with learning how to completely cut out bringing plastic into my home, and how businesses can further introduce and advocate for circularity, I'm thankful for my mom (somewhat) engraining these practices into my upbringing.
If you're also eager to continue your education on how to protect our precious ecosystems, Plastic Oceans International has also produced, distributed, and supported a number of educational films. I also recommend the new podcast "How to Save a Planet."
What's keeping you inspired to do better? Share your recommendations with us on Instagram and tag us in the post! @AvocadoMattress and #AvocadoGreenGiving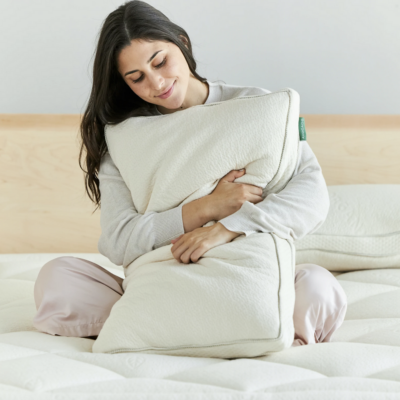 Shop Pillows
The Essential Organic Pillow Collection
Gentle, breathable, non-toxic support.
Buy Now