If we all do our part to use less plastic and minimize our environmental impact, we can make the planet a healthier place to live.
If you're anything like us, you're always looking for simple swaps you can make to live more sustainably. We're here to share our favorites. From laundry and cleaning supplies to pet products and interior design, these are our tried-and-true sustainability swaps to help lessen your impact on the planet.
1. How To Do Your Laundry More Sustainably
Dryer sheets, fabric softeners, and traditional detergents can damage our health — and the planet's. These safe, effective, and affordable tips make it simple to replace them.
2. Go Green With Blueland, Our Favorite Plastic-Free Cleaning Brand
Who doesn't love the fresh feeling of a sparkling clean home? In our efforts to live a greener and cleaner life, we can't overlook what we're cleaning with. That's where sustainable, non-toxic cleaning brand Blueland comes in.
3. How to Shop For New Styles Sustainably
The temptation to buy all-new everything is always strong, but it's especially tempting during seasonal shifts when we're ready for refreshed styles. But buying new has major environmental consequences. Here are our suggestions for shopping more sustainably.
4. The Do's and Don'ts of Sustainable Interior Design
Three sustainable interior design professionals share how to create beautiful, eco-friendly spaces in your home by upcycling, looking for vintage goods, and sourcing locally.
5. What is Zero-Waste Cooking?
Zero-waste cooking reimagines your relationship with food. By ensuring you use all of your ingredients, you can reduce your environmental impact, not to mention your budget.
6. 4 Green Alternatives to Dry Cleaning
Most of us know that dry cleaning isn't great for the environment, but it's also pretty terrible for our health. The good news? Many dry-clean-only items can be washed at home without the nasty chemicals and solvents required by the conventional method.
7. 9 Eco-Friendly & Sustainable Products Your Pet Will Love
Whether you're a new dog owner or grew up with them, nothing compares to the joy our furry companions add to our lives. From dog food to treats, beds, and toys, these are our favorite eco-friendly and sustainable pet products.
Have feedback on our story? Email [email protected] to let us know what you think!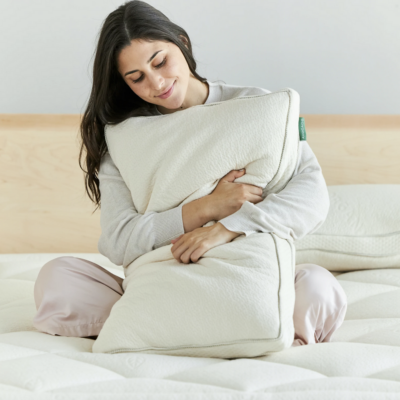 Shop Pillows
The Essential Organic Pillow Collection
Gentle, breathable, non-toxic support.
Buy Now