Our Sustainable Holiday Gift Guide has you covered with an eco-friendly gift for everyone on your list.
It's better to give than to receive. And seeing your loved ones' eyes light up at the gift you picked especially for them — well, there's no greater feeling.
This year, you won't have to spend hours scouring store shelves in search of the perfect presents. Discover a natural gift for your whole shopping list with our curated holiday bundles featuring luxurious, sustainable, and cozy gifts for everyone.
Here's our 2022 Sustainable Holiday Gift Guide.
Read more: 4 No-Waste Ways to Wrap a Gift
1.
The Luxe Lounger 
Relaxing is a lifestyle. For the friends and family who have nailed it, surprise them with sustainable loungewear. Gift them pants, shorts, or a jumpsuit (all of the above?) from our Modal Pajama Collection, and complete the look with our modal tank top, tee, or long robe. Stitched in Los Angeles with natural, renewable Lenzing-certified modal, every piece is wondrously soft, cool to the touch, and made for lazy days around the house. Want to snag matching PJs? Check out our Long Sleeve and Short Sleeve pajama sets featuring classic piping detail and luxurious comfort.
2.
The Sustainable Stylist
We all have that person in our lives who has a knack for design. Wow them with a new accent piece they'll love to show off. Our Zero Waste Collection, crafted entirely from upcycled wood from our Los Angeles woodshop, features whimsical, sustainably made furniture that looks great on its own or styled together. Get them started with a Wood Stool, Slatted Wood Side Table, or a few Wood Vases. For a touch of warmth, pair the furniture with our Alpaca Wool Throw, Organic Throw Pillow, and Alpaca Wool Throw Pillow Cover — all made from ethically and responsibly sourced materials.
Read more: A Behind-The-Scenes Look at Our Zero Waste Furniture
3.
The Wellness Enthusiast 
For the loved one who lives and breathes yoga, you can't go wrong with all-natural yoga meditation pillows. We generously stuff our MADE SAFE® certified yoga pillows with plant-based buckwheat hulls for optimal support, and our team stitches the cozy cover with GOTS certified organic cotton. Choose from a traditional Yoga Meditation Pillow,  Pranayama Pillow, Yoga Bolster, or Square Meditation Pillow. (We don't blame you if you purchase the whole set.) Whatever you do, don't forget the Natural Canvas Storage Bag — designed specifically for the yoga collection.
4.
The Cozy Connoisseur
If cozy is the aesthetic you're going for, treat them to gifts that will elevate everyone's favorite place to cuddle up — the bedroom. Upgrade their sheet set with naturally breathable, temperature-regulating, luxuriously soft bedding, like our Organic Cotton, Organic Superfine Suvin Cotton, Organic Linen, or Organic Hemp sheets. And if you really want them to sleep in the lap of luxury, spring for our Silk Pillowcase, stitched from 22-Momme Mulberry silk — one of the finest silks in the world.
Read more: The Best Fabrics for Sleeping and Lounging
5.
The Lover of Luxury 
Your friends and family are about to have at-home spa days down to a science — thanks to you. Set them up with the entire Avocado Bath + Body Collection. Plant-based and non-toxic, the bundle features our muscle-relaxing Snoozy Body Soak with Magnesium Flakes, intensely moisturizing Supercharged Reishi Body Melt, and renewing Grounding Dry Body Oil. Pair the collection with our spa-quality Organic Cotton Bath Towels and a piece from our sustainable Wooden Bath Collection. Top off the show-stopping gift set with an Organic Cotton or French Terry robe and buttery soft Modal Pajamas (in long and short sleeve versions!) they'll want to live in.
6.
The Eco-Minded Parent
Practicing sustainability with a toddler in tow isn't easy. Help the parents you know live a little more carefree with gifts that are safe for their little ones and the environment. MADE SAFE® certified and crafted with GOLS certified organic latex, and GOTS certified organic cotton, our Organic Toddler Pillow is gentle, supportive, and totally non-toxic. (Expect a sigh of relief upon opening it.) Ensure the pillow stays fresh and stain-free with our Organic Toddler Pillow Protector and Organic Toddler Pillowcase.
And for pet parents, they'll appreciate our certified organic, anti-odor, hypoallergenic Dog Bed with a matching Pillow — and an excuse to kick the dog off their own mattress.
Read more: How to Practice Sustainability as a New Parent
Have feedback on our story? Email [email protected] to let us know what you think!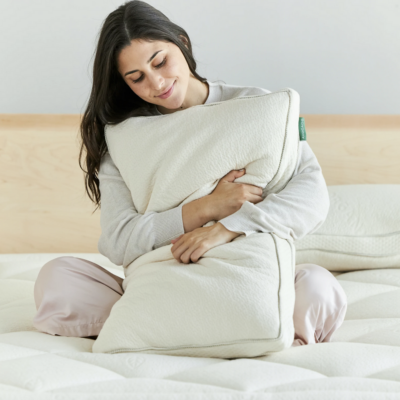 Shop Pillows
The Essential Organic Pillow Collection
Gentle, breathable, non-toxic support.
Buy Now