Protect Our Winters Executive Director Mario Molina shares the best ways to rest up and fight back against climate change.
This is the first article in our Earth Month series offering an in-depth look at our 1% For the Planet partner, Protect Our Winters, and how they're leveraging the outdoor industry to protect the outdoors.
Raised in the Guatemalan highlands, Mario Molina grew up with a natural respect for the outdoors. Molina now lives near Nederland, Colorado. He's an alpinist, snowboarder, mountain biker, and the executive director of Protect Our Winters — a nonprofit dedicated to safeguarding the outdoor places we love. Avocado is donating 1% of all revenue to POW through our membership with 1% For the Planet. We spoke with Molina about the importance of rest, adventure, and how to be an effective climate advocate.
What is your favorite sleeping position?
On my side.
Why is protecting our winters important?
Protect our Winters (POW) aims to mobilize the 50 million people in the United States who identify as snowboarders and skiers but also mountain bikers, climbers, and trail runners. POW is about much more than just winter, it is about protecting the places and lifestyles that people love. We should care about much more than just winter, we should care about protecting our natural playgrounds. The Outdoor Sports Community is an industry that supports 7.6 million jobs and creates $887 billion in economic revenue. POW turns passionate outdoor people into effective climate advocates. No matter what your outdoor sport of choice is, you are a part of this community and have a voice to protect it from climate change.
Read more: What Is 1% For the Planet?
How should we be feeling about climate change right now? Is there any good news?
Yes! The United States just passed the most comprehensive clean energy package in history, which will accelerate the transition to clean energy. Clean energy technology is now cheaper and more effective than fossil fuels in most markets. American innovation is leading the way in new technologies that will make clean energy cheaper and enable low-carbon technologies to be deployed at scale within the next 10 to 20 years.
How has your mission, or your approach to that mission, changed since launching POW?
Since launching POW, we have expanded our audiences to reach beyond the winter sports community and include mountain bikers, trail runners, climbers, and also expanded our alliance beyond athletes to include creatives, scientists, CEOs, and other business leaders from the outdoor sports and adjacent communities.
What are POW's greatest successes?
Over the last five years, POW has successfully shifted the culture of the outdoor sports community to make civic engagement on climate a priority by encouraging our audiences to vote at every election and to remain engaged in political advocacy with elected officials.
In 2022, we were a critical part of the elected efforts to advocate for the passage of clean energy incentives and electric vehicle provisions in the Inflation Reduction Act, as well as grid upgrades in the bipartisan Infrastructure Act.
Why are athletes so central to championing this fight?
Athletes bring a unique and powerful voice when meeting with decision makers. The power of their personal experience with the changing climate in the outdoors brings a new refreshing perspective to the conversations with decision makers and elected officials. In addition, they are seen as credible messengers by the millions of people that they reach across their platforms.
What are an individual's most effective tools for helping in this fight?
Get involved in the political process by voting at the state, local, and federal levels and get directly involved at the local level by supporting a shift to clean energy from our electricity providers.
Read more: How Activists In Cancer Alley Are Fighting Back
Politics can move so slowly. What are other ways we can do good now?
We should all walk the talk and shift our lifestyles to the minimum impact possible. We should support brands and products that make reducing greenhouse gas emissions a priority and engage in advocacy. Lastly, we should also always be looking to find opportunities to leverage any influence we have with decision makers across local, state, and federal levels as well as our businesses and individual networks to make our voice heard on the importance of climate advocacy and protecting the places we live and love.
What should the business role in this fight look like?
It is important for businesses to look at their own footprint and supply chains, but most importantly, businesses can add a powerful voice to advocacy efforts for system policy changes and their implementation.
Read more: The Businesses Championing Climate Change Legislation
This is a big, scary, global problem. How do you take care of yourself while working on such an anxiety-inducing catastrophe?
I spend as much time outdoors as possible and enjoy the benefits of the places and the lifestyles we are working to protect.
Climate change is kind of nightmarish. How do you make sure you get enough rest? What's your sleep routine?
I aim for an eight-hour sleep window each night. I also stick to a pre-bedtime routine which includes no cell phones, no television, and no electronic devices before bed.
Have feedback on our story? Email [email protected] to let us know what you think!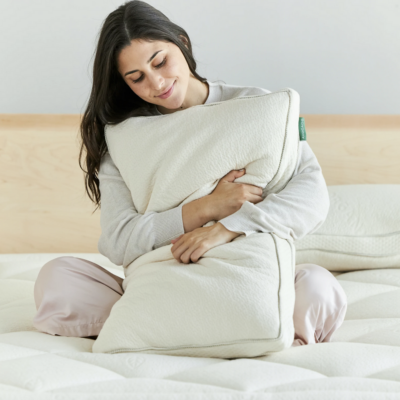 Shop Pillows
The Essential Organic Pillow Collection
Gentle, breathable, non-toxic support.
Buy Now