We're in a mental health crisis. But you can get help without leaving the comfort of your own home thanks to these trusted online therapy platforms.
In a time of global unrest and a continual unsettling pandemic, it's no surprise that nearly 50 million Americans are struggling with mental health issues. Effective tools like mental health counseling — also known as talk therapy — and psychotherapy can help manage anxiety, depression, and other emotional issues. Even during less challenging times, we could all benefit from someone to talk to.
But counselors are difficult to find, especially right now. Because so many people are in need of mental health support, fully booked therapists aren't taking on new patients; in-person appointments are rare because of Covid, and mental health professionals themselves are burnt out and struggling under the weight of the growing mental health crisis. It's heavy.
Enter: online therapy, a service that has grown significantly during the pandemic. Online therapy and telehealth platforms allow you to talk with a therapist in a way similar to how you might in an in-person appointment, but in the comfort of your own home. Flexible and easy-to-access, online counseling is a great option for anyone, particularly for folks with complicated schedules, those who live in areas where mental health support can be hard to come by, or who might simply feel more comfortable in a digital setting.
Studies have found that online therapy is as valuable as in-person counseling, and is both more accessible and more comfortable. But, as with anything on the Internet, not all options are equal, and it can be confusing to decide which is best for you. When looking for mental health support, the American Psychological Association says to take into account how and where a therapist is licensed, what services they provide, and how they take payment. To get you started, here are six of the best resources for online therapy.
Read more: How to Find The Right Therapist For You
Better Help, the world's largest online therapy service, has more than 20,000 licensed and accredited therapists available, so your options are virtually endless. Plus, the interface is super user-friendly and you can communicate with your therapist via messaging, phone, or video. While they do assign you a therapist based on survey preferences — which some users don't love — switching providers within the system is easy, and you can be anonymous if you want. The downside is their therapists can't prescribe medications, and it can be hard to get it covered by insurance. Better Help isn't covered by major providers like Medicaid and Medicare.
With more than 60,000 five-star reviews, Talkspace must be doing something right. Similar to Better Help, the platform offers an easy-to-use interface and treatment options based on your needs, whether that's depression, anxiety, OCD, trauma, or grief. You can also choose from relationship-based couples therapy, teen therapy, and psychiatry. Even better, you can pick your own provider, which may help you feel like you're in more control of your treatment plan. Talkspace also accepts a variety of insurance plans, and because they have a psychiatry department, you can manage your medications and prescriptions on the platform. One downside, however, is that they don't have availability on weekends.
Amwell gets high marks for its accessibility. Providers are available all hours of the day, and in addition to therapists and psychiatrists, you can access nutritionists and health care providers that specialize in services like women's health, menopause counseling, and pregnancy and postpartum therapy. The interface is intuitive, and they take some, but not all insurance plans, so be sure to check that you're covered before making an appointment. 
Read more: 7 Essential Mental Health Podcasts
A sister company to Better Help, Teen Counseling is — as the name suggests — specifically targeted at teens 13 to 19 years old and the issues they often face, like eating disorders, bullying, anxiety, and low self-esteem. The professional therapy platform protects their privacy and gives them a safe space to work through their mental health struggles and develop healthy coping skills. If they choose, parents and teens can talk to the same person — one of more than 12,000 licensed therapists — but in separate chats, which gives the teen the feeling of independence and privacy, while keeping the guardian in the loop.
Ayana Therapy bills itself as "Mental healthcare for marginalized and intersectional communities," which is a crucial piece of the mental health puzzle. They have therapists trained to work with clients based on culture, race, and individual experiences, and they match users with their ideal therapist based on their own culturally sensitive questionnaire and algorithm. The platform is still building up its roster of therapists, but it's growing fast and filling a big gap in talk therapy, which can often be heavily white, privileged, and Eurocentric.
If you're looking for free, easy-to-access help, or you don't have insurance that covers mental health, Seven Cups is a great option. The providers aren't licensed therapists, although they're trained in crisis management, addiction, and anxiety, and are available to talk or chat 24/7. If you're going through a mental health crisis and need immediate support, the Crisis Help Line, a text-based platform that always has people on standby, is another good alternative. Either way, if you need someone to talk to, but can't or don't have the means for paid therapy, there are resources out there you can rely on for help.
Read more: How Park Prescriptions Improve Health
If you or someone you know is experiencing a mental health crisis or contemplating suicide, text 'Home' to the Crisis Help Line at 741741 or the National Suicide Prevention Lifeline at 1-800-273-8255.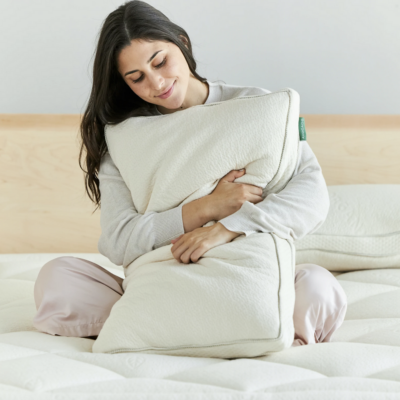 Shop Pillows
The Essential Organic Pillow Collection
Gentle, breathable, non-toxic support.
Buy Now