Made without toxic chemicals and air pollutants, these zero-VOC, non-toxic paint brands are safer for you, your family, and the planet.
Our homes are our sanctuaries. The furniture we choose, the appliances we buy, the soap and detergents we use — the quality of these products is vital to creating a safe, comfortable space. Still, most of us don't give much thought to the paint coating our walls. But we should.
Most paints on the market are harmful for the environment and can even put our health at risk. That familiar, strong paint odor results from several toxic chemicals, like volatile organic compounds (VOC), which can combine with pollutants outdoors to create smog. Inside the home, VOCs, along with the plasticizers contained in conventional paint, are hazardous pollutants that create unhealthy air and can cause respiratory and metabolic illnesses, headaches, dizziness, and other health issues. And indoors, the adverse effects of VOCs are up to five times more significant than in an outdoor environment. Conventional paints also contain fossil fuel-based compounds — one of the main causes of the global climate crisis.
Using a certified, low-VOC paint is certainly better for your health, but it doesn't necessarily mean the product is eco-friendly. The best way to ensure the new color on your walls is safe for your family and the planet is to choose paint brands with minimal odors, plasticizers, and zero VOCs. Here are six eco-friendly, non-toxic interior paint brands we trust.
Read more: The Do's and Don'ts of Sustainable Interior Design
1.
The Real Milk Paint Co.
This innovative company makes its 56 colors from organic milk protein. The paints are water-based, rather than latex or oil-based, making them eco-friendly and even biodegradable. Their products are also completely odorless and contain zero VOCs — every ingredient is 100 percent non-toxic, organic, food contact safe, and kid- and pet-friendly. Choose from traditional creams and blues to bright hues such as persimmon and tropical jade. You can also buy the paint in loose pigment form to create an entirely unique shade. Renovating an old piece of furniture? The Real Milk Paint Co. offers a variety of organic, non-VOC finishes and waxes.
2.
BioShield
BioShield is an earthy, eco-friendly paint company originating in Germany. The company's headquarters are located in bright, colorful Santa Fe, New Mexico, and its products are similarly vivid and inventive. Expect stunning colors like Rosalina and pink granite, along with floor and furniture finishes, and organic wood stains. BioShield deals mostly in clay paints, which contain no solvents or VOCs, and are sourced from earthen clay, a renewable material. Their paints leave a matte, grainy finish and are a beautiful alternative to conventional paints.
3.
AFM Safecoat
Founded in 1984, the AFM Safecoat original paint formula was created for medical purposes to meet the needs of chemically sensitive patients. Today, the company boasts a perfected paint recipe that has zero VOCs — every ingredient in the paint is carefully evaluated and selected for its safety and sustainability. However, their paints are only available in a few colors, including eggshell and pure white. You can partner with DesignWell studios on the AFM website to create eco-friendly colors mixed with AFM Safecoat paints — however, several nature-inspired color palettes are readily available.
Read more: 9 Black Interior Designers We Love to Follow
4.
ECOS Paints
Perhaps the most glamorous on the list, ECOS Paints have been featured on many prestigious walls, including the Louvre and Westminster Abbey, and are trusted by companies like Avocado. Plus, these paints are completely free of VOCs and toxic pollutants, contain minimal odors, and are water-based. You can also find a vast selection of colors, from chafed wheat and summer blush to cowhide, water droplet, and black heath. ECOS also sells primers, as well as stains and varnishes, and its specialty products range from pet-friendly paints to air-purifying varieties, which absorb indoor air pollutants to create healthier air.
5.
Graphenstone
The overall winner for improving our global emissions, even incrementally, is the Graphenstone paints, which absorb carbon dioxide from the surrounding air. The complex formula contains organic lime, which acts as an absorbent. Three 15-liter cans will absorb the same amount of CO2 as a fully grown tree over a year. The paint cans are also made from 100 percent recycled or recyclable plastic. The only downfall — the paints are not completely VOC-free, and the color range is fairly neutral.
6.
Clare
Clare paints are another great, eco-friendly option for homeowners looking to make healthy, sustainable choices. The paints are zero VOC and contain no hazardous air pollutants or toxic air contaminants. The Clare lineup is also energy- and waste-efficient. Everything from paint containers and trays to liners is made from recycled materials, and their shipping and packing materials are also made from 100 percent recycled paperboard with 90 percent post-consumer content.
Read more: How to Design an Eco-Friendly Kids Room
Have feedback on our story? Email [email protected] to let us know what you think!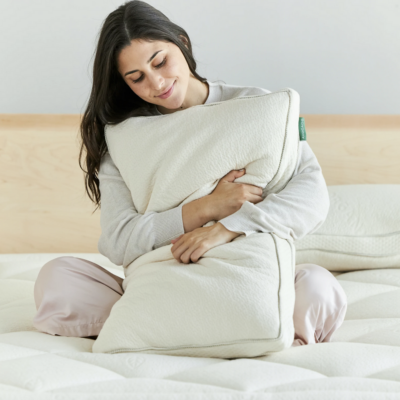 Shop Pillows
The Essential Organic Pillow Collection
Gentle, breathable, non-toxic support.
Buy Now