From cribs and furniture to organic and recycled materials, we're sharing our tips for creating a healthy, eco-friendly kids room.
Whether they're expecting for the first time or already have a home full of little ones, parents spend a lot of energy picking out the safest products for their kids. From car seats to toys, every item is thoroughly researched and vetted before it makes its way into our vehicles and homes.
However, when it comes to the nursery, sustainable and organic materials often take a backseat to creating the right aesthetic.
But ethically made, non-toxic products are more popular than ever, so it's 100 percent possible to keep both the health of your environment and your children in mind when picking out furniture and décor. Here are a few expert tips to help you design an eco-friendly kids' room that's still beautiful — plus some of our go-to brands to check out.
Think Quality Over Quantity
It's easy to go overboard when shopping for kids (everything is just so darn cute!), but Vancouver interior stylist Melissa Barling recommends giving all purchases a second thought before hitting the buy button. For example, you may want to consider a crib that converts into a toddler bed so you're ultimately buying fewer products. "Be intentional with the number of items you choose," says Barling, who specializes in designing kid's spaces under her studio Winter Daisy. "If chosen carefully, quality items can last a lifetime!"
Read More: What's in Your Mattress Matters
Look for the GREENGUARD Gold Label
There's a lot to think about when selecting and purchasing big-ticket items like cribs, chairs, and mattresses. In addition to cost and style, it's crucial to check for the GREENGUARD Gold designation, says the team at furniture maker Babyletto. This certifies that the product has low chemical emissions, something that's especially important for tiny humans. "This ensures that the indoor air newborn babies and toddlers breathe is cleaner, making the nursery a safer place to sleep and play." Both Avocado's Organic Crib Mattress and Luxury Organic Crib Mattress are GREENGUARD Gold certified.
Use Eco-Friendly Paint
The best hue for a nursery is a matter of personal preference, but whatever you choose, there's one thing the paint colors should have in common: low VOCs, or volatile organic compounds. The Environmental Protection Agency (EPA) recommends reducing exposure to VOCs as much as possible. One way to do so is by choosing an eco-friendly paint. According to Bob Vila, you can look for options that use a natural base and have Green Seal or, again, GREENGUARD Gold certification. "Our go-to is Benjamin Moore's Natura," say Erin Coren and Lina Galvão, the founders of Curated Nest Interiors. "No smell, no unwanted chemicals."
Read More: Clean Paint for Cleaner Air: Meet Clare
When in Doubt, Go Natural
If sustainability is a top priority, opt for organic materials over synthetic ones. "Choose natural materials where possible — in bedding, rugs, furniture, window coverings," recommends Barling. "We love to use cotton, linen, and wood in particular."
Add Some Green — As in Plants!
Greenery isn't just a wonderful form of natural décor, say Coren and Galvão. "Add some plants to your child's room to cultivate an early appreciation for nature. Older kids can be in charge of watering and plant care." It's important, of course, to choose non-toxic, children-safe options, such as African violets and spider plants.
Recycled Makes a Difference, Too
Furniture and accents made from recycled products are having a moment. "Parents can find more sustainable options that incorporate recycled materials such as REPREVE® polyester yarn, which is made from post-consumer plastic bottles," says the Babyletto team. Planet-friendly brand Brentwood Home, for example, offers a REPREVE® Lounger and Kids' Play Couch made of recycled plastic bottles, both of which are water and stain repellent — a must for young children.  
In addition to Brentwood Home and Babyletto, there are many home design companies to shop from if you're looking for eco-friendly pieces. These are a few we love.
Made in New England, Kalon's furniture is crafted from local timber and boasts a timeless design. They're created to meet safety standards in the United States, Canada, Europe, and Australia.
This Brooklyn-based studio is a favorite among sustainably minded parents looking for a one-stop-shop for furniture, décor, and clothing.
Her sister's cancer diagnosis inspired Huckleberry's founder to curate a collection of fun, non-toxic kid's furniture, ranging from beds to desk chairs.
Using materials sourced from the Pacific Northwest, Sprout keeps sustainability at top of mind when it comes to its Montessori-inspired furniture, using non-VOC finishes that are easy to clean and care for.
No harmful dyes or chemicals are used to make the bedding from this Australian company. They also take care to make sure farming and production happen under ethical conditions and donate a portion of proceeds to the Australian Childhood Foundation.
Read More: 13 of the Best Green Books for Kids
Share your sustainably, kid-friendly design tips with us by tagging us on Facebook or Instagram @avocadomattress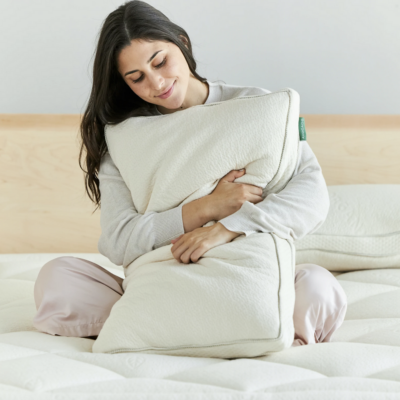 Shop Pillows
The Essential Organic Pillow Collection
Gentle, breathable, non-toxic support.
Buy Now