Interior paints can release a whole host of not so nice gases, so what's a budding designer to do? We found a solution that's clean, green, and delivers to your door.

I hate taping off baseboards and door frames, but I LOVE painting. Seriously, if I had the time and energy to do it seasonally, my bedroom would look like a rustic candle shop in the fall and a yoga studio in the spring.

But I do NOT love the fumes or the migraines they give me.

The thing is, interior paints and finishes are part of a health concern a lot of people aren't talking about yet: indoor air pollution. What starts as a few flame retardants on a couch and some funky aromatherapy candles escalates into wood seals, finishes, stains, cleaners — an ENDLESS barrage of chemical toxins we're exposed to for 80% of our day.

In pursuit of a cleaner kind of paint and better air, while I get creative on my walls again, I discovered Clare.
WHAT ARE VOCS?
First, a little light chemistry lesson. VOCs are what are known as volatile organic compounds, chemical concoctions that have a high rate of evaporation. What this means is that these chemicals react really quickly with the surrounding area (thanks to their low boiling points), and are super easy to inhale.

The problem? VOCs usually carry with them all sorts of things that have no business being in your lungs, like formaldehyde.

WHY PAINT MATTERS
What you put on your walls you inadvertently breathe in for months and years at a time. Even after that paint dries, it continues to off-gas a little bit. This means that you continue to inhale and ingest the paint long after you finish the last coat.

CLEAN PAINTS FOR YOUR HOME
Cleaning up paint's act means reading some labels, but not every label discloses as much as you might like. Here are a few buzzwords to look out for.

Low VOC
Low VOC paints are always going to be better than the standard. There's still some volatility to the chemical compounds in these paints, still some odor, but overall they're much less pungent than your typical gallon.

Zero VOC

Zero VOC paints have the lowest amount of emissions, with little to no chemical compounds that wind up suspended in the air and breathed into your lungs. The result is a very low odor paint that's ideal for indoor use, particularly around babies and people with smell sensitivities.
MEET CLARE
Clare is paint the way it SHOULD be. Seriously — no more standing in line at the paint counter, and no more banging those gallons on your hip all the way up the driveway.

Clare does designer paint delivered right to your door, making it basically the Amazon Prime of redecorating.

What's even better about Clare though is that they're so committed to cleaner, non-toxic formulas. They disclose 100% of their ingredients on their labels — something that's pretty much unheard of in this industry — and every paint they sell is zero VOC.

Clare uses 90% post-consumer content in their packaging, recycled metal in their paint trays, and are even GreenGuard certified, with a LEED-compliant formula.

What does that mean?

It means this is the cleanest, greenest paint we've ever seen, and you have GOT to try it out.

CHECK OUT THESE SWATCHES
One of the things I love MOST about Clare are these crazy cool, brilliant color swatches. I don't know why it's 2019 and I'm just discovering them, but peel and stick paint swatches are the BEE'S KNEES.

Swatches are $2 each, but you can use code 5FOR5 to get 5 swatches for $10 + free shipping.

I hopped over to the Clare website to check out a really cool little feature they have called the Color Genius. If you're like me and the world's most indecisive person when it comes to choosing a hue, this thing is great.

The Color Genius asks you a few simple questions about the space you're painting, and then gives you three color recommendations at the end. Mine were spot on (I love my neutrals), but you've gotta see it for yourself.

Show us your Clare makeover on Facebook or Instagram and tag us in the post! @AvocadoMattress and @ClarePaint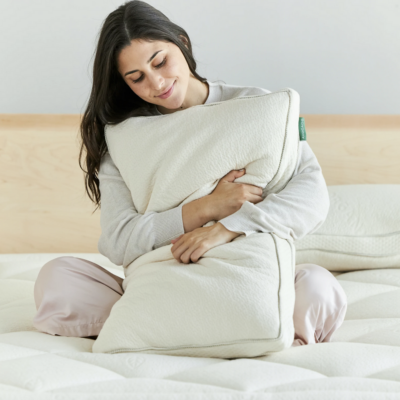 Shop Pillows
The Essential Organic Pillow Collection
Gentle, breathable, non-toxic support.
Buy Now