As everyone gears up for another crazy holiday shopping season, a lot of parents are saying no to another deluge of toys and gadgets, and instead asking friends and family to focus on books.
There are so many wonderful books out there, but this list is full of titles that teach important lessons in sustainability and stewardship of the earth. Check a few of them out and snag one for the little ones in your life!
1. Compost Stew: An A to Z Recipe for the Earth
One of my own son's favorite books, this ABCs book teaches kids how to make compost with a list of fun alphabetic ingredients. With beautiful illustrations and a nice cadence to the text, it's a great read for toddlers!
2. Farmer Phil's Permaculture
Permaculture is a big word, but a topic that's made simple by this adorable children's book. Teaching kids the importance of raising plants and animals the way nature intended, this book follows the story of a girl and her father who learn how to raise happier animals and healthier plants from Farmer Phil.
3. Shanleya's Quest
This beautiful story is a fantastic way to get children interested in using food as medicine, as well as plant identification! Follow Shanleya's journey as she sets forth on a canoe trip to learn about the traditions of her people, and teach your child that plants are more than just what are underfoot!
4. How to Help the Earth — by the Lorax
Because who doesn't love Dr. Seuss? The Lorax makes a comeback in this colorful book about easy ways that children can reduce their impact on the planet, from turning off the lights to carrying a lunchbox!
5. Energy Island
Alternative energy is a big topic to cover, but this book makes it easy to introduce the subject to little ones. This incredible true story tells the tale of the Danish island of Samsø, who reduced their carbon emissions by 140% and became almost completely energy independent with wind energy!
6. What If There Were No Bees?
This book throws into sharp relief the big difference these tiny creatures make in our ecosystems. Follow the chain reaction when bees are removed from the picture painted in this book, and give your child a greater respect and understanding for our priceless pollinators.
7. Generation Green: The Ultimate Teen Guide to Living an Eco-Friendly Life
That's right, there's even a book for teens! Rather than just spelling out the massive problems our planet faces, this book offers real-world, easily applicable solutions for teens who want to live greener and lessen their impact on the planet. From how they shop to what they eat, this book is a great way to get the conversation started.
8. Mama Miti
The gripping story of Wangari Maathai is told in this stunning, award-winning children's book, and it's a must have for illustrating the profound connections between nature and our own lives. In the book, Mama Miti solves everything from dirty water to hunger with the same simple solution: planting a tree.
9. One Plastic Bag
This beautiful book tells the story of a Gambian woman who starts turning piles of discarded plastic bags into strong, sturdy baskets. Not only does this book inspire with the powerful story of one woman who made an enormous difference, but on their website, you can even learn how to turn plastic bags into purses!
10. Whole World: Fun Eco Activities
This little activity book makes a great stocking stuffer for chilly days! With word puzzles and activities, plus hands-on ways they can help the environment, it's a great alternative to the conventional coloring book!
SHOP WHOLE WORLD ECO ACTIVITIES
11. The Omnivore's Dilemma: Young Reader's Edition
The New York Times Best seller is now available in a version that's more suitable to young readers, with the same profound messages that ask us all to question why we eat the way we do. In this book, the evolution of our culture and the way we eat is examined, and the health and environmental consequences outlined are shocking.
12. The Runaway Dandelion
Following the journey of a floating dandelion seed, this story tells the story of a dandelion who sets down new roots on a sustainable farm, and what it observes there. From water harvesting to growing medicinal herbs, the dandelion's journey becomes one for the reader to learn from as well!
13. The Beeman by Laurie Krebs
This book beautifully illustrates the story of a beekeeper who teaches his grandson about the important role bees play in our world. Printed on sustainably sourced paper with vegetable-based inks, all of the books from Barefoot Books are worth a look, and great for a wide range of ages!
Do you have a favorite sustainability book for kids? Share it with us on Facebook or Instagram, and tag us in the post! @AvocadoMattress or #AvocadoGreenMagazine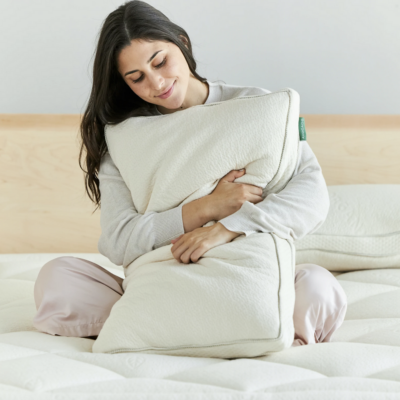 Shop Pillows
The Essential Organic Pillow Collection
Gentle, breathable, non-toxic support.
Buy Now