Stay bug-bite-free wherever your outdoor adventures take you with these natural bug and tick repellents.
Warm weather is the unofficial signal to spend as many hours as possible in the great outdoors. Backyard barbecues are in full swing, neighbors are gathering for weeknight baseball games, running and hiking shoes are getting dusted off, and bikes are being wheeled out of the garage.
But if you've noticed more mosquitos and ticks than ever before, you're not imagining things. Human-caused climate change has resulted in shorter, milder winters, earlier spring seasons, hotter summers, and more rainfall — just the right conditions for ticks and mosquitos to thrive.
It's not just itchy bug bites we have to worry about. Scientists are sounding the alarm about the increased risk of mosquito- and tick-borne diseases — like Lyme, West Nile, and illnesses that have been regionally eradicated like malaria and dengue — as populations grow and species evolve. And while the majority of insect repellents do an excellent job of shielding your legs, ankles, and arms, many contain DEET, a potentially toxic ingredient that has been linked to skin irritation, seizures, and dizziness. The EPA also considers the chemical slightly toxic to birds, fish, and invertebrates.
So, how do you keep yourself safe and stave off these annoying bloodsuckers? Here are the tips, tricks, and natural repellents we recommend so you can stay bug-bite-free wherever your adventures take you.
Read more: How to Prepare For Allergy Season
Where To Start
Before you break out the bug spray, try these simple hacks for repelling mosquitoes and ticks when you're hanging outside.
Wear loose-fitting clothing (and if it's cool enough, long sleeves and pants) to keep insects from penetrating through the fabric to your skin.
Stick to light colors, so you can easily spot a tick trying to hide among the folds of your pants or shirt.
If you're staying put in a general area, place a small fan on the outskirts to blow away mosquitoes trying to trespass on your territory.
When heading on a run, hike, or bike ride in a wooded area, wear a bandana around your neck, tuck your pants into your socks, and wear high-ankled boots if you can. And if you have long hair, consider putting it up or slipping it into a hat.
Read more: How Covid-19 Brought Us Back To Nature
Natural Bug Repellents We Trust
Kinfield Golden Hour – Sulfate-, paraben-, and phthalate-free, this formula's secret is a strain of Indonesian citronella that's more effective than traditional varieties used in other repellants. It's also DEET-free and smells great, too. Simply spray Golden Hour liberally and bask in fresh scents of citrus and vanilla.
BioFarm BiteBlocker – This insect repellent will hold up against your most active (read: sweaty) outdoor activities. It provides up to eight hours of protection and is waterproof, sweatproof, and totally plant-based.
Public Goods Insect Repellent – All natural and made in the USA, this DEET-free formula is safe enough for the whole family — pets included. Lemongrass essential oil stops fleas, ticks, and mosquitos in their tracks and vitamin E will keep your skin calm and nourished.
Murphy's Naturals Mosquito & Tick Repellent Spray – Plant-based and made with sustainably sourced lemon eucalyptus oil — the only ingredient recognized by the CDC to be as effective as DEET — this spray offers up to six hours of bite-free protection. Even better, the bottles are made of 25 percent post-consumer recycled materials, and Murphy's is a member of 1% for the Planet, so every purchase supports environmental nonprofits.
Read more: How Park Prescriptions Improve Health
Make Your Own
Of course, you can always go the DIY route and make your own natural bug repellent at home. Here's how.
Ingredients
10-20 drops citronella essential oil
10-20 drops cedarwood essential oil
10-20 drops eucalyptus essential oil
1 cup witch hazel (you can also use alcohol or apple cider vinegar)
8 oz spray bottle
Instructions
Combine all ingredients in the spray bottle.
Top off with distilled or filtered water.
Give the bottle a good shake.
Spray on skin every one to two hours while outside.
Read more: DIY Facial Rosewater Spray
Have feedback on our story? Email [email protected] to let us know what you think!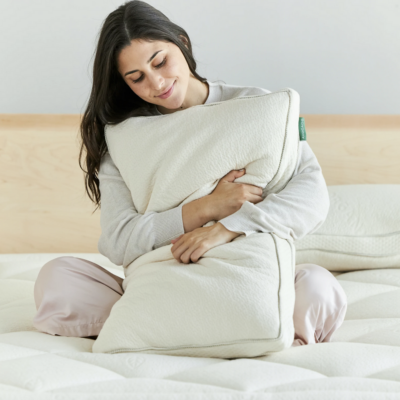 Shop Pillows
The Essential Organic Pillow Collection
Gentle, breathable, non-toxic support.
Buy Now