Climate change causes increased pollen production and a longer allergy season. Here's how to prepare for and lessen your symptoms.
If you have seasonal allergies, it's fair to be a little wary of the birds chirping, bees buzzing, and blossoms blooming as we transition into spring. Before the meds kick in, the sneezing, runny nose, stuffiness, and itchy throat, eyes, and ears can make you feel like you're in a Claritin commercial.
Seasonal allergies affect about 30 percent of the world population, and, according to a recent study from researchers at the University of Michigan, climate change is affecting the spring pollen season. If we continue burning fossil fuels at the current rate, we can expect an allergy season that arrives up to 40 days earlier and lasts 19 days longer than it does today.
Rising global temperatures will also extend the growing season, affecting both plant growth and pollen production. And more carbon dioxide in the atmosphere (which fuels photosynthesis and causes plants to grow larger and produce more pollen) will likely have a larger impact on future pollen counts.
If we continue burning fossil fuels at the current rate, we can expect an allergy season that arrives up to 40 days earlier and lasts 19 days longer than it does today. 
In Washington State, Executive Director of the Seattle Allergy & Asthma Research Institute, Daniel Petroni, MD, PhD, hasn't changed his approach to treating allergies but has seen a marked difference in the season in recent years. "We are definitely noting that pollen seasons are earlier and more intense than they used to be," he says.
We talked with Dr. Petroni about the best ways to prepare for and manage allergy season outside of stocking up on over-the-counter medications. (Though when it comes to allergy relief meds, starting them before the pollen season begins will give the medication a chance to kick in and stabilize your immune system before you're exposed to pollen). Here's what we found.
Read more: The True Cost of Air Pollution
Stay on Top of Cleaning
There's not much you can do about outside allergens, but you can prevent your home from becoming a trigger spot. Wipe down blinds, windowsills, doorframes, and other surfaces with a microfiber cloth to avoid allergens spreading into the air, and consider paring down dust-collecting clutter. Mop floors and vacuum carpets frequently, ideally using a vacuum with a small-particle or high-efficiency particulate air (HEPA) filter. Keep the broom in the closet, they kick up more dust than they remove.
Flush it Out
A saltwater sinus flush might sound intimidating, but it's a simple home remedy for congestion or seasonal allergy-related sinus irritation. "Saline nasal irrigation clears mucus from the nose and flushes out allergens in your nasal passage. I recommend doing this nightly, at least," says Dr. Petroni.
Sinus Flush: How to Do it Safely
Try Hypoallergenic Bedding
Bedding can be a major cause of allergens, especially dust mites. Choosing the right bedding can reduce exposure to allergens and regular washing (at least once a week) will also help prevent allergen buildup. Avocado's lightweight Alpaca Duvet Insert is naturally hypoallergenic and harnesses organic materials that resist dust mites and moisture. A mattress cover is another helpful layer of protection against dust mites.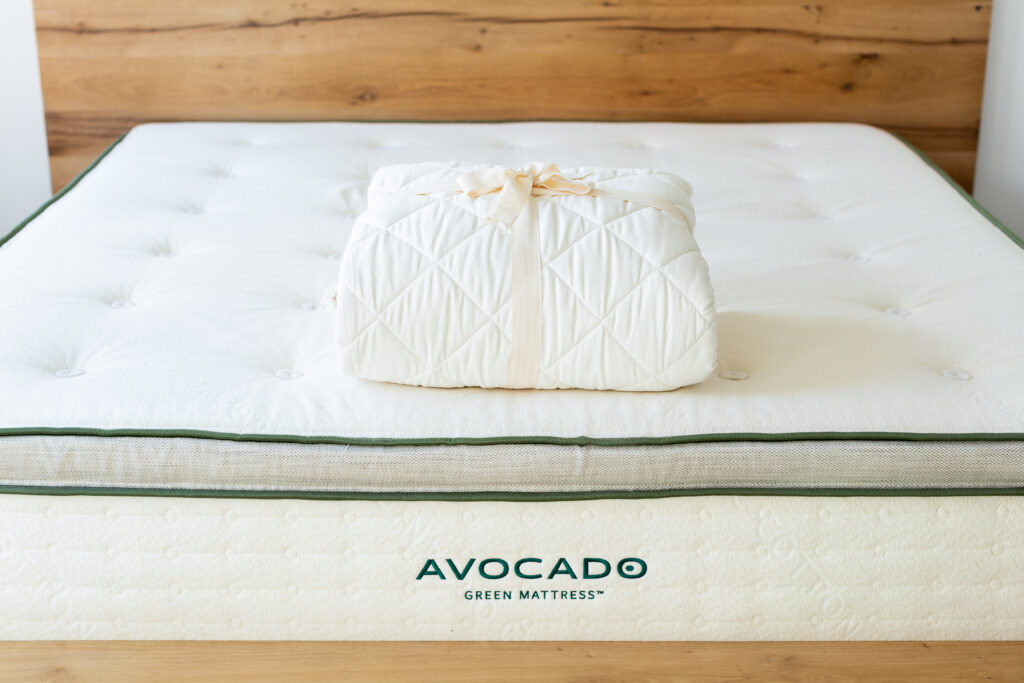 Avocado
Organic Cotton Mattress Pad Protector
199.00
Shop
Invest in an Air Purifier
Air purifiers target a range of allergens and help reduce symptoms. Keep the amount of space you're hoping to cover in mind when purchasing — units will show the clean air delivery rate (CADR) with how many square feet and particles an air purifier can reach. Dr. Petroni recommends using an air purifier with a HEPA filter, which can trap particles like dust and pollen and have a high CADR, and replacing HEPA filters every three months during pollen season.
Read more: How Often Should You Wash Your Sheets And Bedding?
Keep an Eye on the Pollen Count
Pollen counts are a real-time measure of the allergens present in the air — avoiding exposure during high pollen count days will help ease symptoms. But not all sources will have the same information.
"Many apps use historical data or make up data rather than getting true counts of the pollen from the regional collectors," says Dr. Petroni. "Given the change in our climate, historical data will not give an accurate picture of what is actually happening in an area."
The National Allergy Bureau's map is the best source for accurate information on pollen counts.
On a high pollen count day, Dr. Petroni suggests:
If possible, stay indoors and keep windows and doors closed
If you need to go outside, wear an N95 respiratory mask
If your allergy prevention strategies (along with over-the-counter medication) aren't doing the trick this season, it might be time to see an allergist.
"Seeing an allergist can help define your allergies and come up with a treatment strategy," says Dr. Petroni. "If you're interested in a more natural approach, this can also help get you started on allergy immunotherapy, aka allergy shots. This utilizes extracts of allergens to create a custom treatment that changes how the body responds to the allergies over time, rather than masking symptoms with medication."
Read more: How to Improve Your Home's Air Quality
Have feedback on our story? Email us at [email protected] to let us know what you think!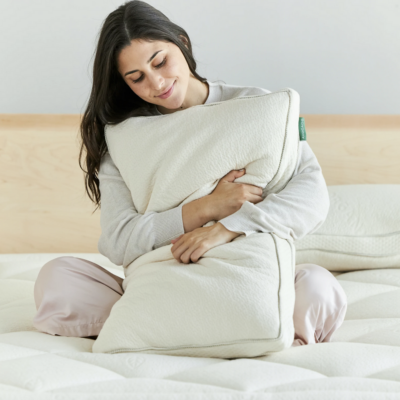 Shop Pillows
The Essential Organic Pillow Collection
Gentle, breathable, non-toxic support.
Buy Now