We're breaking down the most trusted mattress certifications so you can find the bed that fits your needs and values.
If you've ever been in the market for a new bed, you know the world of mattresses is intimidating and often confusing. Do you want a hybrid, all-latex, or vegan? Coils or no coils? Attached pillow top, one that's removable, or no pillow top at all? And the most critical question — is the mattress made with natural, certified organic, healthy materials? 
Most big-name brands utilize polyurethane foams, chemical flame retardants, and harmful adhesives in their mattresses. Once in your home, these synthetic materials release volatile organic compounds (VOCs), like formaldehyde, toluene, benzene, and phthalates through a process called off-gassing, which can be intensified by the heat from your body when you sleep. 
Long-term exposure to these substances is associated with everything from skin irritation, respiratory disease, and asthma attacks to endocrine disruption, fertility issues, and cancer. VOCs also end up in our environment, negatively impacting air quality, ecosystems, and wildlife.
Simply put, synthetic materials and harmful additives don't belong in your mattress. But it can be hard to sift through all the marketing speak, unsubstantiated claims, and, let's face it, greenwashing, to determine which mattresses are safe for you, your family, and the planet.
To ensure your bed lives up to the hype, look for these third-party certifications that are the gold standard in the industry. Here's what they all mean.
Read more: What's Inside Your Mattress Matters
1.
Global Organic Textile Standard (GOTS)
This seal of approval is the worldwide leading textile processing standard for organic fibers. The organization independently verifies that a company upholds stringent ecological and social responsibility standards and certifies the entire textile supply chain. GOTS also prohibits a long list of chemicals commonly used in all stages of conventional textile production for environmental or toxicological reasons and is the world's highest organic standard, recognized by the USDA National Organic Program.
So when a mattress is certified organic to the Global Organic Textile Standard, you can be sure the organic cotton or wool inside is free of dangerous chemicals and that the materials are, in fact, organic and ethically sourced. At Avocado, all of our mattresses are GOTS-certified organic products (CU 863637) — we even operate our own GOTS-certified factory in Los Angeles and co-own our farms and processing facilities in India and Guatemala.
2.
Global Organic Latex Standard (GOLS)
The most desirable latex is GOLS-certified organic latex (CU 863637) — grown ethically, sustainably, and responsibly — without persistent pesticides and herbicides, on USDA's NOP organic-certified family cooperatives, and processed in organic-certified facilities to stringent standards. GOLS is the foremost respected certification standard for natural, certified organic latex and validates that the latex foam used comes from organic sources and meets stringent organic criteria.
All of the latex we use at Avocado is GOLS-certified organic by Control Union and processed in a GOLS-certified factory we own in India. Our factory in Los Angeles is also a GOLS-certified facility.
3.
MADE SAFE®
Worried about harmful chemicals in your mattress? Seek out the MADE SAFE® seal. This third-party certification program ensures products are made with safe ingredients and involves rigorous screening to verify products are free of more than 6,500 known substances suspected to harm human health, animals, aquatic life, or ecosystems. Avocado mattresses, organic mattress pad protectors, toppers, and pillows are made with safe ingredients that meet rigorous MADE SAFE® seal standards.
Read more: Signs It's Time to Replace Your Mattress
4.
GREENGUARD Gold
This lab-based certification limits the emission levels of potentially harmful chemicals, ensuring healthier indoor environments. Products with this label have been scientifically tested to meet some of the world's most rigorous emissions standards for chemical exposure and pollutants, such as volatile organic compounds (VOCs), formaldehyde, and phthalates. Avocado mattresses and bedding have achieved GREENGUARD Gold Certification from UL.
5.
Formaldehyde-Free by UL Environment 
Formaldehyde is used to make one of the adhesives that hold mattresses together. The problem is it's also a VOC (an off-gassing chemical that can linger for months) that has been linked to asthma, allergies, and lung, nose, and throat cancers. The EPA considers it a probable human carcinogen. This certification requires laboratory testing and assessment of a product's ingredients and manufacturing processes to confirm that it doesn't contain formaldehyde or formaldehyde-releasing substances. Avocado mattresses have been lab-tested in environmental chambers and certified by UL Environment to be free from Formaldehyde.
6.
Forest Stewardship Council (FSC) 
When it comes to mattresses, FSC® is related to the latex trees relied on for natural latex foam. Founded by Rainforest Alliance, FSC® confirms that rubber tree forests are managed in a way that preserves biological diversity and benefits the lives of local people and workers while ensuring it sustains economic viability. Avocado's mattress factory and woodshop in Los Angeles are FSC®-certified facilities, and the latex we use is FSC®-certified as well — it meets their strict chain-of-custody requirements for natural latex responsibly sourced from sustainably managed rubber trees.
Read more: Why Fiberglass Doesn't Belong In Your Mattress
7.
eco-INSTITUTE® Label certified
If you want to be positive the latex in your mattress is made entirely of natural rubber and doesn't include toxic substances, look for the eco-INSTITUTE® label. Considered the most respected laboratory-tested seal, this certification confirms that the latex foam is made of natural rubber, not synthetic, and that it is lab tested for harmful substances and meets emission standards.
8.
Standard 100 by OEKO-TEX certified 
In place since 1992, the Standard 100 by OEKO-TEX® certification is widely recognized as a leading label for human and ecological safety and applies to cotton, wool, and latex. When you see this label, it means the material or materials have been tested in a lab and determined to be safe from 350 toxic chemicals as well as allergenic dyes, pesticides, chlorinated phenols, heavy metals, formaldehyde, and chloro-organic carriers.
9.
Certified B Corporation
If environmental and social responsibility is on your list of priorities fronm your mattress company, search for a Certified B Corporation. These businesses have been thoroughly vetted to make sure they meet the highest standards of verified social and environmental performance, public transparency, and legal accountability to balance profit and purpose. Plus, B Corps are part of a community of leaders and drive a global movement of people using business as a force for good.
Read more: What It Takes to Become a B Corp
10.
Climate Neutral
Climate Neutral Certified companies reduce greenhouse gas emissions as much as possible in every step of the supply chain, from sourcing and production to delivery, using carbon offsets to fill in the gaps.
In 2018, Avocado became the first mattress company to become Climate Neutral Certified, effectively making our business carbon neutral. A year later, we took it a step further by going carbon negative — offsetting more carbon emissions than the company generates. We work with Climate Neutral to verify our carbon emissions, including all of our scope 1, 2, and 3 emissions.
Have feedback on our story? Email [email protected] to let us know what you think!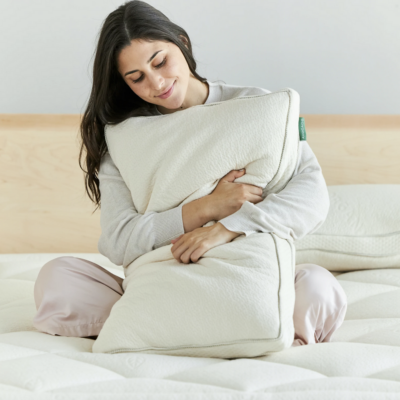 Shop Pillows
The Essential Organic Pillow Collection
Gentle, breathable, non-toxic support.
Buy Now