An inside look into the rigorous process of becoming a B Corp — and how the certification is reshaping business in America to benefit all.
It had been months of back and forth, scouring every line of our new 103 page, 82,000 word employee manual. The policies therein were an essential, but still small piece of how companies can score points on the B Impact Assessment. Finally, we were wrapping up the document and getting ready to share it company wide when I stepped back and it dawned on me: this is legit.
Ask anyone who has worked on the B Impact Assessment and they'll tell you the same thing. It's a six- to 12-month process that requires input and data from every department in the organization. The level of accountability for social and environmental responsibility is unmatched in the business world — the certification raises the bar for the business community.
That's exactly B Corp's goal. They want to redefine what success in business means for society, shifting from a model centered around shareholders — those who profit from a company — to stakeholders — those who are impacted by a company.
"Being a responsible company is built into the DNA of Avocado, so we always knew we wanted to become a Certified B Corp," says Avocado Chief Marketing Officer and Co-founder Mark Abrials. "We're proud to be part of the movement of like-minded businesses that are paving the way for a better future."
B Corp measures businesses by whether they are good actors and deliver value to all. This means reckoning with the broader implications of business decisions and understanding their impacts beyond the bottom line. And the certification is growing quickly. In 2019, about 3,000 companies were B Corp certified. Now, there are more than 6,400.
That's because prospective employees and shoppers are getting smart: they know to look for the B Corp logo, because B Corps are the gold standard for responsible business, demanding accountability toward a sustainable and inclusive economy.
The average company would score about 50 points on the B Impact Assessment. Eighty points is the minimum to qualify. Avocado Green became a Certified B Corp in May 2020, with a score of 126.2 — in the top seven percent of all B Corps. And in 2022, B Corp announced Avocado as one of their "Best For the World" companies. The award acknowledges we're in the top five percent of all B Corp companies in the "community" category because of our robust charitable giving and sustainability programs.
"While no company is perfect and even the best companies can and should continue to strive to improve, the B Corps recognized as Best for the World™ can provide us all — standards setters, B Corps, non-B Corps, and sustainability advocates — with inspiration on what true leadership in business can look like to make progress on addressing our current global challenges," says Dan Osusky, Head of Standards and Insights at B Lab Global.
Read more: Why B Corp "Best For The World" Matters
Companies must recertify every three years. Our recertification is due in May, and our goal is to improve upon our score.
The process requires responding with documentation to more than 200 questions that address governance and the treatment of workers, community, environment, and customers. The recertification requires us to reexamine all facets of the business to evaluate where we can do better.
"What we love about B Corp is that it always challenges us to improve," says Jessica Hann, Avocado's Senior Vice President of Brand Marketing and Sustainability. "We came in with a really high first score, and now our team is laser-focused on improving upon that score however we can. We can always raise the bar."
At the end of the day, the certification validates the original vision for Avocado.
"We don't think about Avocado as a mattress company," says Hann. "We consider ourselves an environmental platform that just happens to make great organic mattresses and bedding products. To truly create change, we need collective action and accountability, and becoming a B Corp is a great way for companies to actualize their commitment to using business as a force for good."
Have feedback on our story? Email [email protected] to let us know what you think!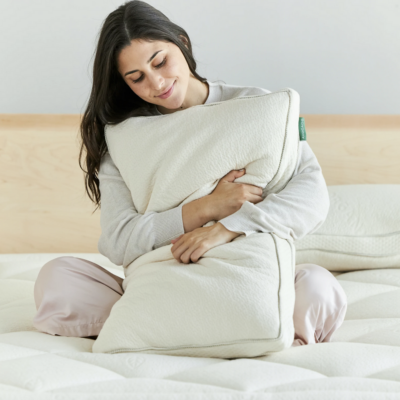 Shop Pillows
The Essential Organic Pillow Collection
Gentle, breathable, non-toxic support.
Buy Now