Baths are one of life's simple pleasures. But magnesium flakes will make your bath time as calming as an upscale spa session.
It doesn't take a scientist to prove that a good, hot bath is a balm for a tired body and mind. But if you need convincing, there's research to back this idea up. Immersion bathing, for instance, leads to better mental, physical, and emotional health. And a study conducted by medical researchers in Japan found that bathers had less fatigue and pain, better skin and bigger smiles (seriously!), and lower levels of anxiety, hostility, and depression than non-bathers.
There are concrete physiological processes behind some of those outcomes: increasing your body temperature increases blood flow and oxygenation to all the parts of your body that keep you healthy. For example, extra oxygen can help your muscles repair themselves faster and increase your body's ability to eliminate metabolic waste. Some of the less-tangible outcomes of a hot bath — like a happier disposition — may have more to do with dedicating time to quiet relaxation. It's why people love to go to the spa: you enter a different headspace. Things like gentle music, fuzzy robes, and woodsy scents communicate to your brain that it's time to chill out.
When it comes to achieving physiological responses, any tub of hot water will do. But channeling those more ambient, atmospheric changes so your mind relaxes takes strategy. As a recreational athlete and world-class worrier, regular baths are a big part of my self-care routine, and I've spent years perfecting the art of a spa-quality bath at home. Here's my advice.
Read more: How Hot Baths Improve Sleep
Step One: Pick Your Potion
Hot water has numerous healing and soothing properties, but don't stop there. One of the oldest tricks in the bathtime book is adding a generous scoop of bath salts to your tub. My powerhouse bath potion of choice? Avocado's Snoozy Bath Soak with Magnesium Flakes.
Magnesium is an essential nutrient that our bodies rely on for hundreds of critical processes. The mineral reduces inflammation, bodily stress, and fatigue, relaxes the muscles, and aids them in recovery.
Avocado's magnesium flake bath soak is also infused with skin-recharging Himalayan sea salts, hydrating coconut oil scent, and pink cabbage rose petals that lock in moisture (and float in the water to elevate the tranquil atmosphere). The soothing ingredients, not to mention the herbaceous lavender and rosewood essential oil blend, leaves my muscles — and mind — feeling melty and calm. And an hour-long soak after a hard workout or a long day in the mountains cuts my recovery time in half.
Reed + Gwen
Snoozy Bath Soak with Magnesium Flakes
38.00
Shop
Step Two: Set the Stage
Ambiance is everything. Even if your bathroom is — like mine — nothing special, a little mood lighting, music, and cleanliness can go a long way. Start with a clean bathroom. Spend a few minutes wiping down surfaces and putting away clutter before you draw a bath.
If the light in your bathroom is overly bright, drape it with a colored scarf or bring a floor lamp in from another room. Put on your favorite calming tunes — I love this acoustic Ram Das album when I'm really trying to mellow out — and stack whatever book or magazines you might want to read next to your tub with a dry hand towel. Don't forget a big jar of ice water (or wine, we don't judge), and, of course, light a candle or four.
When you're exhausted, precious prep work might sound like a pain, but hey — it takes some time to fill up the tub. Use those five minutes to set your stage.
Step Three: Actually Relax
Draw strong boundaries around bath time. Everything that you're working on, texting about, and worrying over can wait 45 minutes to be addressed. Keep your phone out of reach, and let yourself get bored, sleepy, or totally absorbed in a book. Once the water has cooled and you're ready to re-enter the real world, don't rush. Take time to slather on your favorite body oil, brush out your hair, and slip on your favorite silky soft pajamas. Remember: you're at the spa. Nobody here is in a hurry.
Read more: 8 Sustainable Bathroom Products For a Spa-Inspired Oasis
Have feedback on our story? Email [email protected] to let us know what you think!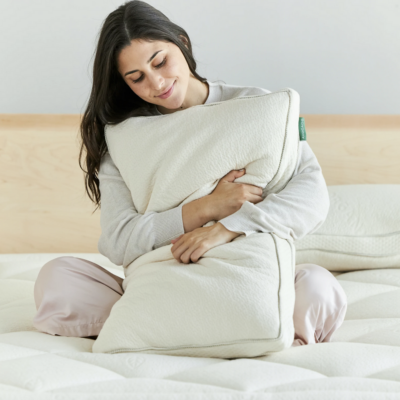 Shop Pillows
The Essential Organic Pillow Collection
Gentle, breathable, non-toxic support.
Buy Now