An eco-friendly approach to spring cleaning is easier than you might think. Here are our tips for giving your bathroom a sparkling spring clean.
When it comes to cleaning, the bathroom is one spot where you want to get the job done right. And while it's tempting to rely on the same familiar products and methods you've always used, there are plenty of alternatives that will help you achieve a satisfying deep clean without damaging the environment — or your health.
Implementing a more sustainable routine takes planning, but it'll pay off once you have a system in place. Start with a few small goals, like swapping out paper towels or scoping out your local refill shop for cleaning products, and add on from there.
Not sure where to start? Here are a few spring cleaning tips to try when tackling your bathroom this season.
Read more: How to Spring Clean Your Bedroom
Even eco-conscious cleaners might keep some of the stronger stuff on hand, but ammonia and bleach-based brands contain ingredients that are harmful to people (think coughing, sneezing, skin rashes, headaches, and other symptoms) and have an outsized environmental impact. After passing through water treatment plants, chemicals from cleaning products reach rivers, lakes, and the ocean and have an adverse effect on aquatic life.
Take stock of what's in your cabinet and make swaps where you can for brands that use naturally derived, non-toxic, and biodegradable ingredients. These products are also often made using sustainable practices and renewable resources. Better still, look for brands that use eco-friendly packaging or ship without plastic. We're fans of Branch Basic's All Purpose Concentrate and Blueland.
And keep an eye out for greenwashing to ensure what you're buying lives up to what's advertised. The Environmental Protection Agency has a helpful page dedicated to identifying greener cleaning products, and MADE SAFE® certified products undergo rigorous testing to verify products are made without harmful or toxic chemicals.
Read more: Go Green with Blueland, Our Favorite Plastic-Free Cleaning Brand
When it comes to sustainable cleaning methods, you don't have to be perfect — simply making an effort to use fewer single-use cleaning supplies and finding multiple uses for products goes a long way.
Swap out paper towels and cleaning wipes for washable microfiber cloths. In the spirit of repurposing, you can also use old towels or t-shirts.

Find a local shop that sells refills for cleaning products (most also offer hand soap, body wash, and other essentials). Or support a brand that sells refill products in eco-friendly packaging.

Choose concentrated cleaning products when possible — they offer just as much cleaning power and utilize much less of the product itself. Plus, you can add concentrated solutions to reusable spray bottles or use a reusable cloth, which reduces overall waste.

Use cleaning products for more than one purpose when you can. For example, dish soap can be used to eliminate grease and grime on bathroom light switches and cabinet doors. Meanwhile, vinegar is the Swiss army knife of cleaning and can tackle everything from mold and mildew removal to the toilet bowl and windows. If your showerhead is blocked or has calcium buildup from hard water, submerge it in vinegar overnight to get it sparkling and working like new.

Repurpose everyday items for storage like glass jars for toothbrushes or products you buy in bulk.
Don't forget to extend your recycling to the bathroom, especially since most cleaning products come in plastic packaging.
Read more: How to Do Your Laundry More Sustainably
Cleaning products are surprisingly simple to make and have less of an environmental impact when you DIY them. White vinegar and citrus cut through most grime, and baking soda is a natural deodorizer — great for scrubbing bathroom fixtures.
Store-bought air-freshening sprays and mists that disperse harmful synthetic chemicals into your home. Instead, add essential oils like lavender or eucalyptus to water in a spray bottle for that spring clean smell without the toxins.
Read more: How Often Should You Wash Your Sheets And Bedding?
Have feedback on our story? Email [email protected] to let us know what you think!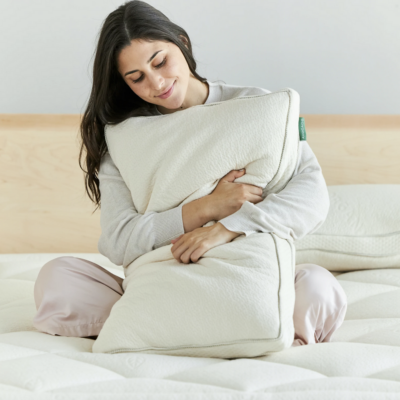 Shop Pillows
The Essential Organic Pillow Collection
Gentle, breathable, non-toxic support.
Buy Now