We spoke to Branch Basics' co-founder Allison Evans for her expert tips on giving your bedroom a revitalizing spring clean.
Your winter sweaters are packed away, flowers are blooming, and bees are buzzing. Spring has arrived, and with it, the perfect opportunity to reenergize your home with a dose of fresh air, sunlight, and a solid deep clean. But the first room you should tackle isn't your living room or kitchen — it's your bedroom.
We spend a third of our lives sleeping, which means we also spend that amount of time in our bedroom. And even if you wash your sheets every week, keep your pets off the bed, and regularly wipe down surfaces, dust, bacteria, and allergens can still build up. Plus, decluttering and spring cleaning your bedroom helps prevent respiratory issues, supports a healthy immune system, boosts your mood, and can decrease feelings of stress and depression.
We spoke to Allison Evans, co-founder of Branch Basics, a company that specializes in safe, non-toxic, plant-based cleaning products for your home, about her tips for a healthy spring clean in the bedroom.
"The bedroom is where we rest, restore, and rejuvenate," says Evans. "It's important to reduce the chemical and particulate load on the body at night so this powerful rejuvenation and repair can take place instead of using precious energy to detoxify dust, particulates, and other toxic chemicals in the room. If there is anyone that is not well in the home, creating a truly clean bedroom should be the first priority."
Read more: How Often Should You Wash Your Sheets And Bedding
Spring Cleaning Essentials
To ensure your spring cleaning routine is a success, you need to have the right cleaning tools and products. Here are a few key items Evans recommends you always keep on hand.
Branch Basics Concentrate: Think of this multipurpose concentrate as the swiss army knife of home cleaning products. When diluted with water, a single 33.8-ounce bottle fills three of Branch Basics' All Purpose Bottles, three Streak-Free Bottles, three Bathroom Bottles, three Foaming Wash Bottles, and cleans 64 laundry loads. It's essential for spring cleaning your bedroom, but it's a great all-around product for the whole house, too. It's also MADE SAFE® certified, cruelty-free, biodegradable, fragrance-free, and plant- and mineral-based.
Branch Basics Oxygen Boost: Known for its incredible stain- and odor-fighting power and its ability to whiten and brighten your white and colored sheets, this powdered deodorizer and cleaner is a must-have. And because it doesn't include bleach, ammonia, fragrances, or dyes, you can rest easy knowing it's safe for the planet and the whole family. Like the multipurpose concentrate, it's MADE SAFE® certified and cruelty-free, as well as EWG® Verified.
HEPA vacuum: Whether you have carpet, wood, or vinyl floors, a HEPA vacuum (we recommend this Dyson cordless model) is your best friend when it comes to ridding your bedroom of dust, allergens, dust mites, and pet hair and dander. It will instantly improve your room's air quality, and help you breathe (and sleep) better, too.
Old towels or dishcloths: Instead of using paper towels, which harm the environment and are wasteful, consider using stained or worn-out dishcloths, towels, or t-shirts for all your dusting and wiping needs. Not only is it a sustainable option, you'll lower your carbon footprint and protect the planet in the process.
Read more: How to Improve Your Home's Air Quality
6 Pro Tips For Spring Cleaning Your Bedroom
According to the EPA, indoor air can be anywhere from two to five times more polluted than outside air. An easy remedy? Open your windows. This "can increase oxygen levels, flush out carbon dioxide and airborne toxins, and generally improve your home's air quality," says Evans.
Start by stripping your mattress. Remove your sheets, pillowcases and protectors, and mattress protector. Consult the care tag, and, if machine-washable, throw them in the wash using Branch Basics Concentrate as an eco-friendly laundry detergent. And skip the dryer.

Instead, hang your bedding outside in the sun. "If possible, dry everything in the sun. The sun is a powerful and wonderful way to clean fabric naturally," says Evans. It's also a more sustainable drying method (dryers are a major greenhouse gas emitter), and the sun is a natural antimicrobial, so it's a great way to rid items that can't go in the wash of dust mites and bacteria.
What you're sleeping on matters. So if you've been planning on upgrading your dingy, chemical-laden mattress to a dreamy, non-toxic, GOTS certified organic mattress that's safe for you and the planet, spring cleaning is the ideal opportunity. If you're already sleeping on one of Avocado's luxurious, Earth- and parent-approved mattresses, give it a refresh.
Evans starts by sprinkling an even layer of Branch Basics' Oxygen Boost over her entire mattress. Let it sit for about 30 minutes while it works its magic by drawing out dirt, moisture, and odors from the fabric surface and materials underneath. Then vacuum it up — simple as that.
Branch Basics
Oxygen Boost
20.00
Shop
4.
Swap Out Your Winter Bedding
Use your spring cleaning routine as a reminder to switch out heavier bedding for lighter weight, more breathable options, like Avocado's Lightweight Alpaca Duvet Insert. Protect your insert with our Organic Linen, Organic Cotton, or Organic Hemp Duvet Covers and pair it with our organic sheet sets. No matter which you choose, you'll enjoy cool, sweat-free sleep and certified organic linens you can feel good about.
Avocado
Organic Linen Sheets
389.00
Shop
5.
Vacuum Your Floors and Curtains
Here's where your HEPA vacuum comes in handy. Use it to vacuum every square inch of your bedroom. Move the furniture away from the walls so you can get to the dust bunnies underneath, and pay special attention to corners and difficult-to-reach areas — and don't forget your closet! If you have curtains that can't be washed, use the arm attachment to get rid of any dust and hair clinging to the bottom and sides.
6.
Wipe Down Your Windows, Baseboards, and Hard Surfaces
For the finishing touch, Evans suggests using an upcycled dishcloth and spraying Branch Basics Streak-Free on the windows. It just takes one drop of concentrate to get your mirrors and windows shining and spotless (remember to clean the windowsill, too). Then, do a final sweep of your bedroom, wiping down hard surfaces with Branch Basics All-Purpose spray. Don't skip the top of your dresser and nightstand, the top of your bed frame, baseboards, and anywhere else that could use a little extra love.
"Spring cleaning is far more than just organizing and making your space look clean," says Evans. "When done correctly, it's one of the best ways to maintain the health of your home's air by removing built-up dust and particulates. Studies also show that decluttering and creating physical space and order positively affect our mental health!"
Read more: 3 Spring Cleaning Rituals to Refresh Your Home
Have feedback on our story? Email us at [email protected] to let us know what you think!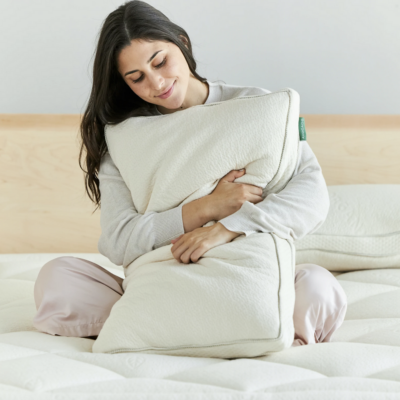 Shop Pillows
The Essential Organic Pillow Collection
Gentle, breathable, non-toxic support.
Buy Now