Need to round out your summer reading list? These climate-focused reads will help you better understand the climate crisis.
What do I need to know about climate change? How can I help? What does the future hold? In the midst of an ongoing climate change crisis, many people find themselves asking these very questions. And as we grapple with more frequent and intense wildfires, heat waves, prolonged drought, and flooding happening across the country, it's easy to get swept away by panic, despair, and eco-anxiety. (More than 67 percent of Americans are somewhat or extremely anxious about the impact of climate change on the planet.)
Luckily, we've never had more resources and literature on the topics of sustainability, our environment, and the most pressing issues related to climate change. So this summer, swap your beach romance novels for stories about endangered coral reefs, environmental justice, sustainable practices, climate activism, and how exactly to cope with eco-anxiety.
Here are eight climate-focused books to add to your summer reading list.
Read more: Using Art to Process Eco-Anxiety
1.
Under a White Sky, by Elizabeth Kolbert
In Under a White Sky, Elizabeth Kolbert tackles how humans continuously attempt to control and influence nature in order to alleviate the worst impacts of climate change. A bold and witty science journalist, Kolbert travels from Iceland — where scientists are trying to capture and convert carbon dioxide into rocks — to Australia, where researchers hope to develop a "super coral" immune to warming ocean waters. Often stumbling and entirely human, the scientists she encounters explore how to manipulate nature, going so far as to propose injecting the atmosphere with heat-reflecting aerosols. Through in-depth reporting and a deep understanding of science, Kolbert offers an honest, wry narrative about the efforts of humanity to save itself.
2.
Generation Dread: Finding Purpose in an Age of Climate Crisis, by Britt Wray
Writer Britt Wray uncovers the psychology behind eco-anxiety in Generation Dread and explores strategies for staying sane as the climate crisis rages around us. Eco-anxiety can lead to burnout, avoidance, or a disturbance of daily functioning, writes Wray. Containing perspectives from climate-aware therapists and other climate and psychology experts, the book details what exactly eco-anxiety is. It offers novel coping strategies and discussions about how mental health treatment may change with future climate change. With intimacy and compassion, Wray delves into the delicacy of societal mental well-being and its binding ties with the nature of Earth.
3.
Life on the Rocks: Building a Future for Coral Reefs, by Juli Berwald
Coral reefs are extraordinary ecosystems teeming with diverse marine life. But in the age of human-induced climate change, these fragile biomes are increasingly threatened by warming ocean waters. Author and marine biologist Juli Berwald fell in love with coral reefs at an early age. In her book, she embarks on a journey to help save coral reefs and preserve unique ocean life, meeting with activists, marine scientists, and those living alongside the ecosystems. As her story unfolds, it illuminates an extraordinary network of individuals willing to risk it all to save coral reefs. Despite the unavoidable extinction of life as we know it, these advocates find hope in the small victories.
Read more: How to Be a Climate Activist
4.
Practical Sustainability: A Guide to a More Sustainable Life, by Robert Brinkmann
In this everyday guidebook, Robert Brinkmann helps readers integrate sustainable practices into their daily lives. Packed with valuable advice, Practical Sustainability details easy ways individuals can reduce their carbon footprint and actively participate in green economies through personal choices. Readers also learn about the "three E's" of sustainable living ― environment, economy, and equity, all of which can be achieved on a small scale through lifestyle choices. Brinkmann explores how together, we can inspire the creation of greener schools, communities, and infrastructure, and make a larger environmental impact through a simple collection of small actions.
5.
What Climate Justice Means and Why We Should Care, by Elizabeth Cripps
Elizabeth Cripps, an author and modern philosopher, defines climate justice as dismantling and addressing the legacy of colonialism and entrenched racism as we work to solve climate change. In her book, she investigates existing institutions of environmental discrimination and future concerns surrounding climate justice. From a philosophical perspective, Cripps ponders our obligations not just to each other, but to the planet. An examination of morality and the implications of justice, What Climate Justice Means and Why We Should Care offers potential solutions to ensure equality in climate change resolution.
6.
Saving Us: A Climate Scientist's Case for Hope and Healing in a Divided World, by Katharine Hayhoe
Well-known climate scientist Katharine Hayhoe was recently named "one of the nation's most effective communicators on climate change" by the New York Times. She has faced climate denial, resistance to adaptation and mitigation, and international distrust of climate data. In her book, Hayhoe argues that in the era of global climate change, facts are unlikely to change the minds of those who doubt climate change. Instead, she suggests finding shared values and having open, honest conversations is the most effective method for tackling climate issues with a united front. Perhaps most importantly, Hayhoe also takes a look at the detrimental impacts of alarmism and doomsday rhetoric in climate change communication.
Read more: What is Intersectional Environmentalism
7.
Sustainability for the Rest of Us: Your No-Bullsh*t, Five-Point Plan for Saving the Planet, by John Pabon
Another valuable, practical playbook for leading more environmentally friendly, sustainable lives, Pabon asks his readers: Have you ever wondered whether all your plastic recycling, reusable cup carrying, and hybrid car driving are really making a difference? In Sustainability for the Rest of Us, he argues that many current sustainable practices are actually ineffective. Instead, he provides practical tips about how to truly make a positive environmental impact. Pabon's blunt perspective can be uncomfortable to read, but he makes important points about how to be an effective, authentic steward of the planet, and how to avoid greenwashing and performative environmental activism.
8.
A Field Guide to Climate Anxiety, by Sarah Jaquette Ray
Ray's guidebook for climate activism and anxiety is designed for late millennials and Generation Z readers, also known as the "climate generation." Using insights from psychology, sociology, social movements, mindfulness, and the environmental humanities, Ray explains why and how we need to let go of eco-guilt, resist burnout, and cultivate resilience while advocating for climate justice. She offers a toolkit for young activists who will likely face the worst impacts of climate change and discusses why the climate generation has no choice but to find solutions for a new generation of global issues.
Read more: Our 5 Favorite Books by Native American Authors
Have feedback on our story? Email [email protected] to let us know what you think!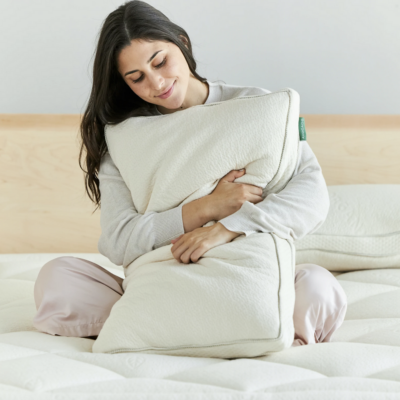 Shop Pillows
The Essential Organic Pillow Collection
Gentle, breathable, non-toxic support.
Buy Now