Fire, flood, drought, wind, heat, blackouts. Our homes are at risk like never before. Here's how to prepare your home for climate change.
When I lived in Washington State, we worried about earthquakes and tsunamis. Now, in Central Oregon, we mainly lose sleep over wildfires. Meanwhile, my friends in Florida are concerned about hurricanes and floods.
No matter where you live, the intensifying effects of climate change — rising temperatures, bigger storms, blackouts, and droughts — loom large. According to the National Oceanic and Atmospheric Administration, there were 20 weather and climate disasters in 2021 that caused more than $150 billion in damages in the U.S. alone. And the number of disasters will only increase year-over-year as temperatures continue to rise.
These are scary statistics, especially when it comes to protecting your home and your family. Most home insurance companies offer plans that cover some level of damage, should it occur.
Read more: How I'm Parenting In a Wildfire Zone
However, Alex Wilson, President of the nonprofit Resilient Design Institute, says that at this point, everyone has some level of risk and responsibility when it comes to the effects of climate change. "Everyone, for example, is vulnerable to extended power outages — which can result from a wide range of disturbances," says Wilson.
But Wilson also encourages people to be proactive, rather than reactive, to the effects of climate. After all, 20 percent of greenhouse gasses produced in the U.S. come from homes. Our work starts with seeing our houses as the next battleground for fighting climate change; the small changes we make now will have far-reaching effects.
Wilson's job at the Resilient Design Institute is to advise people on structural resilience, especially in light of our changing planet. Resilient homes can withstand climate pressures like extreme winds, wildfires, or floods. In many places, Wilson says, resilience also involves creating a home that's energy efficient; if there is an extended power outage, a resilient home will stay lit, warm, and safe.
Here's how to prepare your home for climate change.
1.
Evaluate the Primary Climate Hazards Where You Live
Riskfactor.com helps individuals assess their home's vulnerability to flooding, wildfire, and extreme heat. When I typed in my address, I found that not only should we be worried about wildfires, but my home is also at risk for extreme heat, which will influence the kinds of cooling systems we install in the coming years.
The Inspect to Protect website also allows you to enter an address to find out the code under which a home was built, the history of natural disasters in the area, and suggested retrofits to make the property more resilient. Entering my address into this system showed me a list of the natural disasters that have occurred in this area in the past. (I was surprised to see a few floods on the list and a bit concerned by the number of fires that have come through in the past 25 years.)
If you're considering buying a home, you may want to take this information into account before purchasing. And if, like me, you've already purchased a home, you can use this tool to figure out where you want to begin spending your time, money, and effort to make it more resilient to the effects of climate change.
Read more: Why the Number of Climate Migrants Will Continue to Rise
2.
Explore Which Renovations Make the Most Sense Based on Your Location 
According to Inspect to Protect, most of the suggested upgrades for my area include earthquake-proof reinforcements. Websites like Wilson's (resilientdesign.org) are also a good starting point for making decisions about where to spend your money most effectively.
3.
Start Small 
Speaking of money, while some estimates of climate proofing your home clock in at around $70,000 (yikes!), Wilson suggests starting small. For example, weatherizing your home — a process that includes sealing cracks and holes around your house and resealing doors with weatherstripping — will keep you safe if there's a loss of heat or fuel. Experts estimate that weatherizing costs an average of $200 (if you don't need to adapt or repair your appliances).
If you live in a flood zone, remove belongings from small, low-lying spaces like the basement.
For those who live in a wildfire zone, it's a good idea to regularly clean up the brush around your house, leaving a five-foot perimeter, and install an intensive sprinkler system. If you want to go a step further, you can "harden" your home by replacing wood materials with metal.
4.
Begin Electrifying Your Home
By replacing your gas-fueled appliances with electric ones, you'll reduce your environmental footprint and impact on climate change. A fully electric home can also function off-grid, which will help keep you and your family safe during a natural disaster.
First, make sure your home's current electrical system can handle a large electrical load: solar panels, heat pumps, and electric car chargers. Then, start swapping appliances. Experts recommend replacing your water heater with a heat pump, for example, which is four times as efficient as conventional gas or electric, and often comes with a hefty rebate.
To more efficiently heat and cool your home — which will reduce the emissions produced by furnaces and water heaters — use more blankets in the winter, and opt for natural ventilation in the summer. And unplug your appliances when they're not being used. Sound expensive? It doesn't have to be. Rewiring America has a handy tool that will tell you how much money you can save, based on your zip code and tax bracket, due to subsidies in the Inflation Reduction Act congress passed in 2022. Plus, once you get past the up-front investment, you'll save money every month on utility bills.
Read more: Induction Stoves Are Trending — Here's Why You Should Make The Switch
5.
Consider Your Water Supply
Another upgrade that applies no matter where you live is to set yourself up to endure a drought.  Start by storing water in case there's an interruption in municipal water, and you make sure you know how much water your family regularly consumes (a flow meter can help with this). If possible, choose systems that recycle greywater — or domestic wastewater from sinks, showers, or baths that doesn't contain fecal matter — from your home into the garden for irrigation.
"There are a lot of aspects of resilience — going well beyond structural integrity," says Wilson. "Yes, it's important to beef up structural design to account for more extreme winds that we're seeing with climate change, but it's also important to consider wildfire resilience in some parts of the country, flood resilience in coastal areas and near streams or rivers, and energy efficiency to create homes that will keep their occupants safe… A resilient home typically addresses multiple issues."
Read more: 6 Easy Ways to Reduce Water Consumption
Have feedback on our story? Email [email protected] to let us know what you think!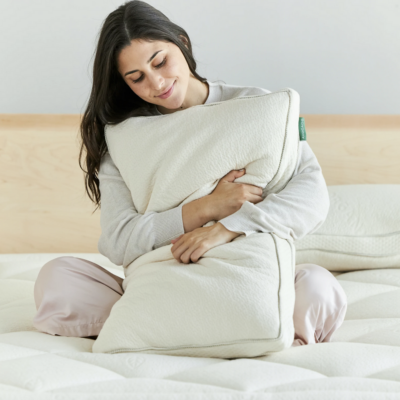 Shop Pillows
The Essential Organic Pillow Collection
Gentle, breathable, non-toxic support.
Buy Now